Heseltine Gallery
Art Gallery in Cornwall - Heseltine Gallery
The Heseltine Gallery was built above the Truro School Chapel in 2011 and was named after the previous Head of Art, David Heseltine, who was instrumental in building up the schools own art collection.
Often shown at the gallery, the Truro School art collection focuses on post-war artistic activity in the county, and showcases the work produced by three main centres of excellence – St Ives, Newlyn and Falmouth. The collection contains work by ex students and established artists alike.
"I selected pieces for their educational, rather than commercial value," said David Heseltine, who was head of art from 1976 to 2005, and who continues to curate and add to the collection.
"The works are exhibited in the school corridors and offer pupils an alternative way of seeing things. If they don't encounter good art, they'll never know how to recognise it. Just like the County Council School Art Collection which has been put together for the benefit of state schools, the Truro School collection is an invaluable teaching aid."
The gallery itself is a beautiful open, light and airy space above the chapel perfect for shows of paintings, mixed media or sculpture. The gallery is also available for hire for functions, wedding receptions, book launches, private views or meetings. You can have a fully catered function for up to 120 in the gallery and the studio contains an AV system with screen and projector.
Current and Upcoming Exhibitions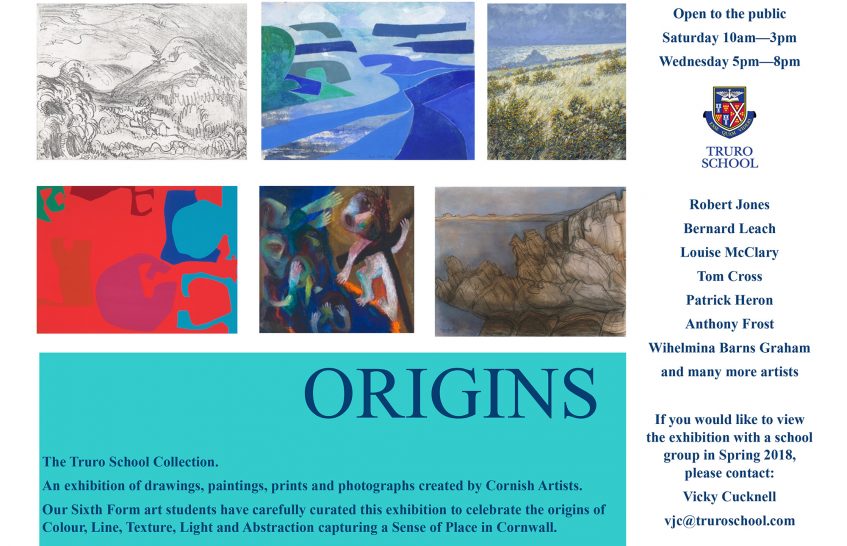 Kober – copper 'koh-bur'
Heseltine Gallery, Truro is inviting expressions of interest from printmakers to respond to the theme of Kober. This will be the first open art exhibition at Heseltine Gallery, with submissions being selected by professional printmaker John Howard and members of the Heseltine Guild.
Artists may interpret the theme in terms of copper's properties, manufacture, history or simply offer an innovative printmaking response that focuses and compliments artists' practice.
Heseltine Gallery is set within the heart of Truro School and offers a large and commanding space with a vaulted ceiling and beautiful stained glass windows to allow work to be viewed at a distance and intimately.
We wish to encourage emerging and established artists to apply from across Cornwall and beyond. Pieces selected for this show will be hung alongside some of the prints from the Truro School Art Collection; a prestigious selection of drawings, paintings, prints and photographs created by Cornish artists assembled over 40 years, including works by Sir Terry Frost, Bernard Leach, Tom Cross, Robert Jones, Louise McClary and Wilhelmina Barns-Graham.
How to Submit
Artists can submit up to four prints.
Submissions should be JPEGS, ideally 1- 2MB and high resolution of 300dpi.
Images must not be smaller than 250KB nor larger than 2MB.
Fill as much as possible of the image with the work
Avoid any distortion in the image, e.g. take the photo directly in front of the work
Do not include watermarks or copyright on the work
Please provide a title, print process and size of all submissions.  Links to your website and maximum of 250 word statement on your artistic practice.  This should include concepts of how your submitted work connects to the theme Kober.
The exhibition will open in mid-October and continue until December 2018.
The Private View will be held on the evening of Thursday 11 October.
Please send you submissions to heseltinegallery@truroschool.com by 30 June 2018
All information submitted belongs to the artist and will not be shared in any capacity without the artist's permission.  You will be notified by 16 July 2018 if your work has been selected.  If selected, you will be required to deliver your work to the gallery by October 1.  We will also ask you to sign a gallery exhibition agreement and a fee of £20.00 will be charged to cover costs associated with the exhibition.  Commission on sales is set at 20%, however, if you would like to offer a workshop or discussion session to pupils at Truro School this commission fee will be waived.
Exhibition policy
The Heseltine Gallery is a beautiful exhibition and working space located in the heart of the Truro School grounds above the original 18th century Chapel.
The Gallery usually offers a minimum of two curated exhibitions per year alongside a programme of student exhibitions and creative community events. We work with selected themes for which we invite artists, students and members of the creative community to respond.
Artists, Designers, Makers are invited to apply in writing via email; providing good quality digital imagery of recent work.  Exhibition work is considered and selected by The Heseltine Arts Guild Committee, a formation of experienced professionals all of whom have strong interests and expertise with in the Arts. We look for artists whose work encompasses ideas and work across a wide variety of disciplines, interests and media. We are interested in exhibiting work that enhances education in the arts and that is accessible for all age groups.
We will respond to expressions of interest and are happy for artists to arrange to view the space before applying.  Artists will be invited to deliver a workshop or talk on their work during the exhibition of their work.
If you have any queries regarding the Heseltine Gallery please contact Vicky on email: vjc@truroschool.com
Contact us to hire the Heseltine Gallery
Please contact Sarah Knowles, Events Manager on 01872 246059 or by email: events@truroschool.com if you are interested in exhibiting or hiring the gallery.