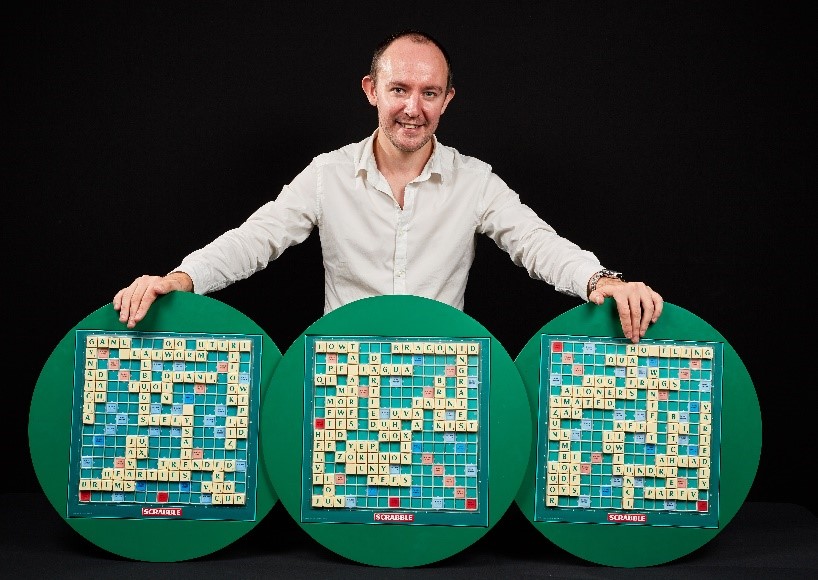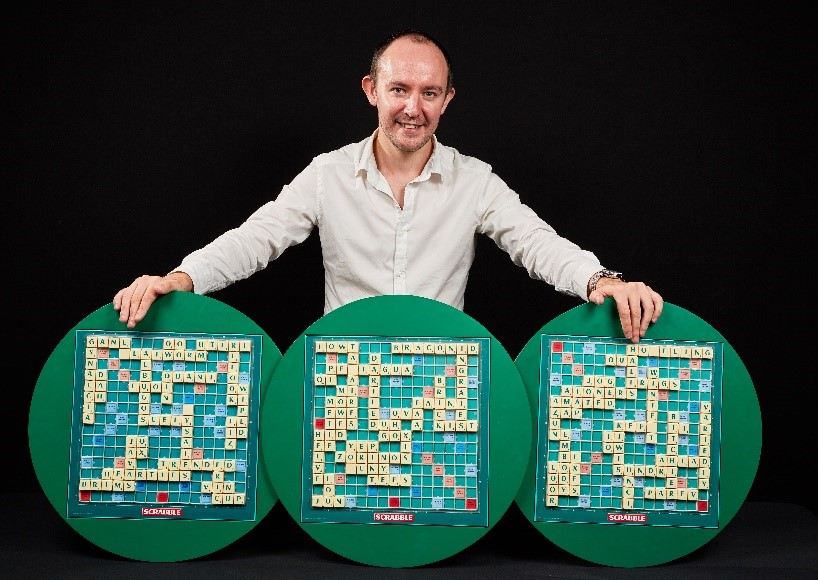 On Wednesday 31st August over 100 of the world's top Scrabble players came together from every continent to contest the Mindsports International World Scrabble Championship in Lille, France.
Among the attendees were multiple previous world champions, as well as the majority of the present top ten rated players on the planet, including me, then ranked at number three (but having previously been ranked at number one.)
The tournament was set to run over a total of five days, with twenty four games being played Wednesday – Friday, after which the top eight would progress to quarter-finals (best of three), semi-finals (best of five) and grand final on Sunday 4th September (also a best of five.)
Given the quality of the field I knew that it would be a challenging event, as befits a world championship. My opening game was memorable – I scored 685 and won by over 300. Solid high-scoring was to be a consistent theme for my tournament: by the end of day two I had one of the highest average game scores of the entire field (at around 475.6) However, a run of poor luck had led to a number of very small losses, meaning that heading into the final day of qualifying, I had to win seven of the eight remaining games. Given that I then found myself twice paired against the world number four, this wasn't going to be a simple task. I was delighted to win six of the first seven, placing me in a showdown with Nigel Richards, the present world number one, for a place in the finals. Nigel is an exceptionally gifted player (notably having won last year's *French* world championship after learning the entire French dictionary in six weeks, and being unable to speak the language…) so our game was a true clash of Titans. Fortunately, I edged it, knocking him out of the tournament for the second time in a row (having done so at the same stage at the last world championship in 2014.)
Having been down and out, I suddenly found myself in the quarter finals. In a blur of games, I won my quarter-final 2-0, and came back from 2-1 down to win the semi-final 3-2 (a breath-taking set of  games involving great words from both sides, such as ARMOZEEN, DOUZEPER, JELUTONG and YPSILOID.)
So, having fought my way back from two precipices I realised I'd made it to the Grand Final. My opponent was none other than Mark Nyman, champion in 1993, runner up in 1999 and known to many as having been producer of Channel 4 TV show Countdown. Indeed, before my own first appearance on the programme in 1997, Mark interviewed me and asked me what my ambition in life was – I told him that it was to take his title. Twenty years later, we were sitting down to play for the opportunity to do just that.
Game 1 saw my tiles alternate from nightmarish to sublime, culminating in a comfortable 582 – 363 win. Game 2, however, was a different story. Appalling combinations for me were met with some great tiles and strong play from Mark, leaving me 176 points adrift with only six moves remaining – it was looking like we'd be tied at 1-1. What then followed has been called, "one of the greatest turnarounds in the modern game" – a quick succession of increasingly huge plays, LYSATES (69), HEARTIES (81) and GYNAECIA (95) overhauled his lead and I somehow won 451 – 403. We were both shell-shocked and I was shaking. Had that really just happened in the final of the world championship?
Lunch was a welcome chance to calm down and recompose myself. 2-0 up. I just had to keep it together. 'Play each game as it comes', I repeated to myself.
If game two had been exciting, what came next was positively mind-blowing. Mark opened strongly, playing three consecutive 7/8 letter words (INGRATE, DARTLED, TARAIRES) While I was able to retaliate partially with my own PERIAGUA, I was well adrift. Until the next move.
My tiles were ABCDNOR. "Oh, if only I had an I, I could play BRACONID," I mused. Then I saw it, positioned between two triple word scores. It seemed impossible that Mark wouldn't block it…until he started playing the letters of TARAIRES elsewhere. I watched calmly, unflinching, but as soon as he completed his move, I placed BRACONID faster than any other play I've ever made, and announced its score, "one hundred and seventy six." His shoulders slumped. We both knew it was effectively game over. ZORINOS shortly after for 92 was an added bonus, but unnecessary. I won 638 – 377.
With only a minute or so to come to terms with what had just happened, I was whisked away to record press releases and start the first of many media interviews. I've now been interviewed by everyone from the BBC and ITN, to Al Jazeera, the Wall Street Journal and even on the ABC (Australia.) With still more media appearances to come, I hope that I will be able to fully utilise the coverage to raise the profile of Scrabble as being truly globally accessible and really should be something that we are actively trying to get children playing, to promote language and mathematics skills as well as social interaction.
It's been a long journey from when I first picked up the tiles at Truro school, playing in the Library, in the sessions Ann Weeks arranged, and being taken under the wing by Mary Oram (wife of the Bursar at the time and a keen Scrabble player.) I've travelled the world with the game, and met people from such diverse backgrounds, but I've made it. I'm World Champion…and I'm already studying to defend my title.
Article kindly written by Brett Smitheram