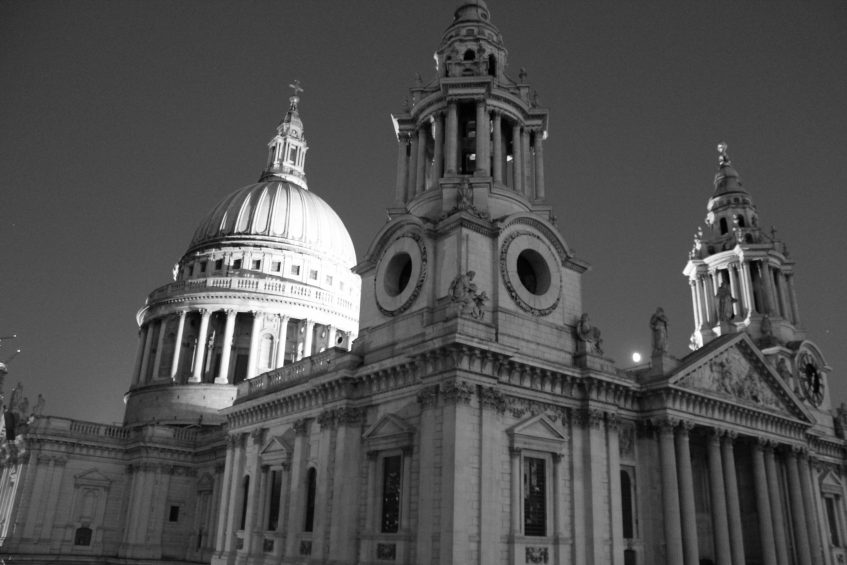 Over the last few years, the London Reunion has proven extremely popular with our alumni and after only 2 years at the East India Club, we found ourselves searching, yet again, for a larger venue.  We also changed from a Thursday evening, to Friday this year; as the TS Girl Choristers were due to perform Evensong at St Paul's Cathedral as part of their tour.  We couldn't miss the opportunity to offer this experience to our reunion guests and many enjoyed prime seats in the exclusive Quire area of St Paul's and under the Dome.  Our thanks to Chris Gray, Truro Cathedral Director of Music, and Rachel Vaughan, TSFPA Chair and Lead Mentor for TS Girl Choristers, for arranging this very special treat.
Ian Shrimpton CO55 wrote:
A short note to thank all concerned for inviting my wife and me to Evensong on Friday evening and the reception afterwards. It was good to hear the girl choristers and I think they acquitted themselves very well.  The reception was most enjoyable and gave me the opportunity of meeting the Headmaster for the first time, having a chat with Guy Dodd whom I have met before and meeting some other former pupils for the first time.  Altogether, a very memorable evening.  As usual, I look forward to the next Newsletter.   
Thank you Ian and we hope you enjoy this edition.
The drinks reception following Evensong, took place just across St Paul's Courtyard in Juxon House, the prestigious offices of Sarasin & Partners LLP where 94 former pupils, former staff, and guests gathered.  The weather was kind enabling our guests to enjoy the magnificent views afforded from the roof top terrace, which extended out from the Board Room, whilst enjoying drinks and canapés on such a beautiful autumn evening.  As always, Paul and Kathy Smith were there with their usual warm welcome for old friends and new.  Andrew Gordon-Brown, Headmaster, was delighted this year that another former headmaster, Guy Dodd and wife Helen, were also able to join the "ensemble".
Adam Smith CO03 said:
Thoroughly enjoyed attending the evening and lovely to see Guy Dodd this year.
Headmaster, Andrew Gordon-Brown, gave a short address during the evening thanking the Choristers for the wonderful performance in St Paul's Cathedral and the Development Office team for organising the reception.  He also warmly expressed his thanks to Guy, Helen, Paul and Kathy for once again continuing to support Truro School at every opportunity; especially since they all joined us, and over 100 alumni, only a few weeks ago at the Annual Reunion Dinner in the School Dining Hall.  He also thanked Guy Dodd for his continuing work in guiding the Truro School Foundation (TSF) in his capacity as Trustee and Chairman.  Andrew offered a brief update on the success to date of the TSF 20 x 20 Bursary Campaign, launched in March.  He remarked how, not only do the 4 and 6 figure donations received do great work, but also just how much difference the smaller, £10 a month regular contributions, can and are making.  He praised the power of collective giving; how together Truro School alumni can change the lives of youngsters, enabling then to benefit from a Truro School education and all it has to offer.  Andrew closed his address by thanking all the alumni and guests for attending and he hoped to see them all again at the next alumni event in Cornwall, or next year in London.
It was marvellous to welcome so many new faces – some who were attending their very first TS Alumni gathering – we hope they will return year-on-year.   With such a broad age range of former pupils present, spanning almost 70 years, all chatting and laughing together, it made a very special sight and equally warm atmosphere.  Dr Tom Stross CO48 was our most senior guest in attendance, chatting with Ian Berridge CO84, about Ian's late father, Peter, whom Tom was at school with for 7 years.  Tom was at TS from 1941 – 1948 and Peter from 1938 – 1948 as he began as a boarder at Treliske.  Tom was almost "pipped at the post" as most senior alumni in attendance, but Trevor Jaggar CO43 and wife Eiry, sadly were unable to join us at the last minute.  Trevor recently celebrated his 93rd birthday with his usual 1km swim, followed by lunch with his family; we hope to see them both very soon.  When accepting the invitation Trevor wrote to tell us:
It is 75 years this year, since I left TS for Bristol University.  I have now been retired for 28 years and been very fortunate with health and family.  I have had a good life and interesting work.  I owe Truro School a lot.  I still have some school team and prefect photographs.  Some of them include the renounced Freddy Wilkes and the celebrated Kendall-Carpenter who was a contemporary of mine.  Sadly, I know of no contemporaries who are still alive, though there may well be some. 
If you were at school with Trevor, or know of anyone who might have been, please do get in touch with us (tsfpa@truroschool.com) we would love to be able to pass the information on to him, and who knows, even put him in touch.
It was a joy catching up with Derek Man CO07, hearing about his planned trip to Japan to find out whether his latest project What Do You See, Old Apple Tree? wins the Grand Prize in the Canon New Cosmos of Photography Competition. – We wish Derek the best of luck and hope to hear good news in November.
John Coleman CO73 wrote: Thank you very much for inviting me to the St Paul's function on Friday.  I thoroughly enjoyed both the service and the reception. I met some wonderful people and it was great to feel 'included'.
It was no nice to see twin brothers Patrick and Richard Stevenson CO64 and their wives Fran and Catherine again. Richard organises a class of 64 reunion every 5 years, using Truro School Old Dining Hall, for a very special group of individuals who travel from far and wide (including across the globe) to return to TS.  It was one of the first reunions that I was privileged to help with when I joined the Development team in 2016.  Richard kindly sent us a note after the London Reunion:
Thank you for organising it so beautifully as usual and it was good to meet you and Ian again.  We would certainly like to attend next year but arranging Evensong in St.Paul's again might be a bit of a problem! 
At this point, I must say an enormous "thank you" to my husband and former pupil Ian, yet again he came along, not just to relax and enjoy the evening, but to take all the photographs and to carry all my bags, name badges, registers and banners across London.  I guess this is the advantage of being married to a TS former pupil – one of my wiser decisions in life, I must say!
It is always a pleasure when we have alumni attending one of our events for the first time, seeing them interact with their fellow former pupils, reminiscing and travelling back in time.  Following the Juxon House reception, we heard from Rob Riddle CO74:
Just a brief note to thank all concerned for Friday evening. This was my first "formal" reunion and it will not be my last. Again very many thanks to all concerned.
Welcoming back familiar faces is always good, as it reminds us that TS Alumni keep going from strength to strength and that our "Community" has so much knowledge and experience to offer.  It was great to see, Gabby Cecil CO11, Jack Hughes CO09, Sophie Hicks CO04 and Joe Hicks CO08, Max Levene CO10, Lydia Manuell CO08, Lawrence Sly CO09, (to name a few) all chatting away with Paul and Kathy Smith, catching them up since the last time with all that they are doing and achieving.
Timothy Tregidgo CO61 is a frequent London Reunion attendee, but we were delighted this year to welcome Pip, his wife.  Tim said:
Now that Pip is part of the gang I'm sure will come along to more things. He added that as they are often in Cornwall they might be able to make next year's Annual Reunion Dinner – We will hold you to that Tim and very much look forward to seeing Pip again too!
There were a group from class of 13: Alex Young, Callum Waldie, Katharine Lawrence and Thomas Harvey, who spent the evening together talking about their time since leaving school.  Alex has just relocated to Hertfordshire where he works for a large, Multinational IT Consultancy' Callum is in his final year of Medical School at Kings College London; Katharine has returned from overseas to join Guidepoint Global UK as an Associate and Tom has just completed an LLM (Master of Laws) degree at Queen Mary University London.   
Brothers Christopher and Michael Pooley are regular attendees and the London reunion and we were delighted they were able to join us again this year.  Christopher CO75 has had a long career in banking, working for Merchant Banking Group Singer & Friedlander Ltd in the City and since taking retirement worked on a contract basis for (among others) Zenith Bank a Nigerian Bank and for Santander Global and Commercial.  He is currently contracting for FBN Bank (UK) Ltd. Michael CO76 is Managing Director of his own Consultancy business, which he set up 5 years ago on his return to the UK after nearly 20 years working in Switzerland and Asia.  His experience is wide ranging, spanning nearly 40 years, across 5 continents, in sales, food and material sourcing, supply chain, 24/7 operations, customer service, hospitality, culinary excellence, logistics and new business development.  Michael is also a Mentor at Oxford Brookes University and offers regular advice:  He takes workshops on career options and next steps, to a number of students and alumni and supports their entry into employment where possible.  Christopher has generously offered his time and experience, to help students at Truro School and we are delighted to have been able to pass his contact details to Nancy Kenward, Head of Careers.  We look forward to seeing Michael at Truro School soon.
If you can offer time and help to Nancy and the students at Truro School, we would be delighted to hear from you: tsfpa@truroschool.com
There were so many present, it has not been possible to mention everyone by name but I hope you have been able to get a flavour of the evening from this article.  You can enjoy more photographs in our picture gallery and share the views from this special venue:  Alumni Community Events Gallery
We certainly look forward to seeing you all (and more) next October in London.  If you enjoyed the evening, spread the word.  We also hope many of you will consider attending the Annual Reunion Dinner on Saturday 7th September 2019, held at School in the Old Dining Hall.  Perhaps you could plan a visit to Cornwall to coincide and arrange to meet up with fellow classmates.  If you feel you might be able to organise a group, please do get in touch.
Nicky Berridge
Development Manager