A Level Art
A Level Art at Truro School's Sixth Form
Have the chance to work within the Heseltine Gallery in many different ways, from setting up and displaying your own work in exhibitions to meeting external artists and studying their collections.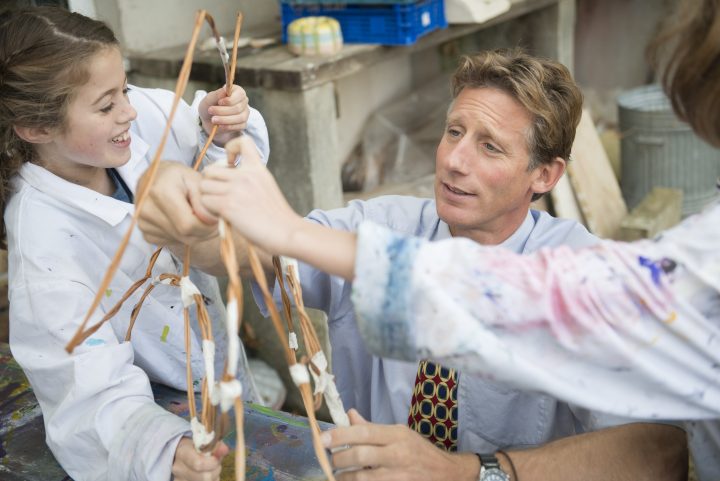 Head of Art: David Meads
Likes: Curry, cycling, surfing, humour, being part of a community, photography, sketching, sculpture, teamwork.
Dislikes: Politics, 'know-it-all's', concrete, conceptual art, people who don't see the importance of the arts.
Background/Experience: I gained a BA Hons in Graphic Design, specialising in print, illustration and computer-aided design. We were the first generation of Graphic Designers to come out of university knowing how to work on Apple Macs. I worked as a professional graphic designer at a small five person company called Bi-Design in Bristol, working with clients such as NUT, Bristol Development Corporation and Bristol City Museum. I was Head of Art at Kingswood School in Bath before joining at Truro School.
An A level in Art lays the foundations for a career in the creative industries, and the observational skills learnt during the course are sought after by many professions, such as Medicine or Dentistry. In 2014 the Conference of British Industries (CBI) stated the following: "The creative industries – ranging from advertising to architecture and fashion to film and computer gaming – constitute one of the fastest-growing sectors in the UK."
According to Harvard Medical School, trainee doctors who took art classes developed better skills of observation than their colleagues.
Why study A Level Art?
In our Art Department, you are taught by two highly skilled art teachers who are both practising artists and have had many years teaching A Level. Apart from your class teacher, you have the help of our two skilled technicians, who specialise in Ceramics and Textiles.
Your lessons are held in one of our large, light and well equipped studios and the Upper Sixth students each have their own work area. Exhibitions by well-known artists, which are held in our own art gallery, serve as excellent reference material; students also hold exhibitions of their own work, meet with other artists and help run the space.
The school owns a large collection of contemporary Cornish paintings and drawings which also serve as inspiration for our students.
What does an A Level in Art involve?
Learning how to think outside the box
Developing creative self-expression
Learning how to build a portfolio that is required by all creative subjects, especially architecture
Setting up an exhibition of your own work
Working alongside our professional practising ceramicist, Russell O'Connor and our textile technician, Sue Newell
Access to the widely acclaimed Truro School collection of over 250 famous Cornish artists
Meeting with many contemporary and famous artists who exhibit in our beautiful purpose built Heseltine Gallery
Attending life drawing classes each week held in the department after school
Opportunities to visit the world renowned Falmouth University and work with their students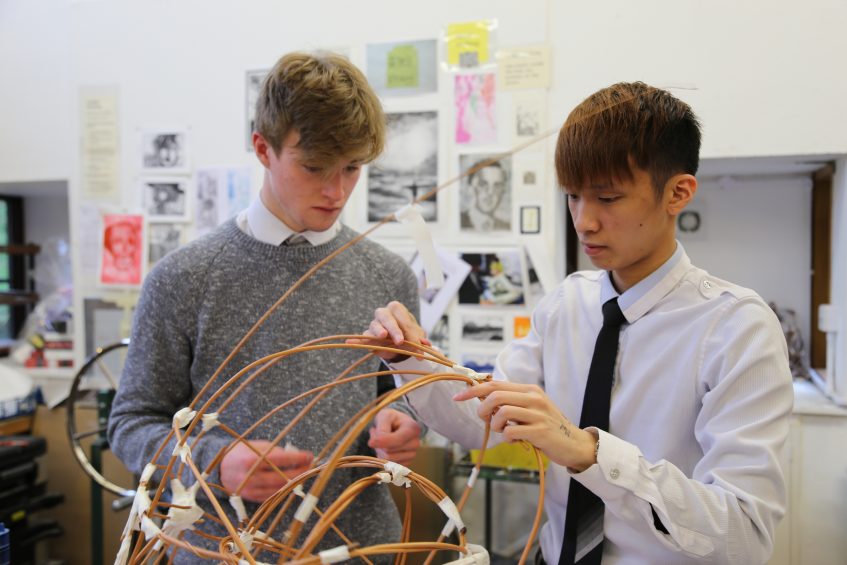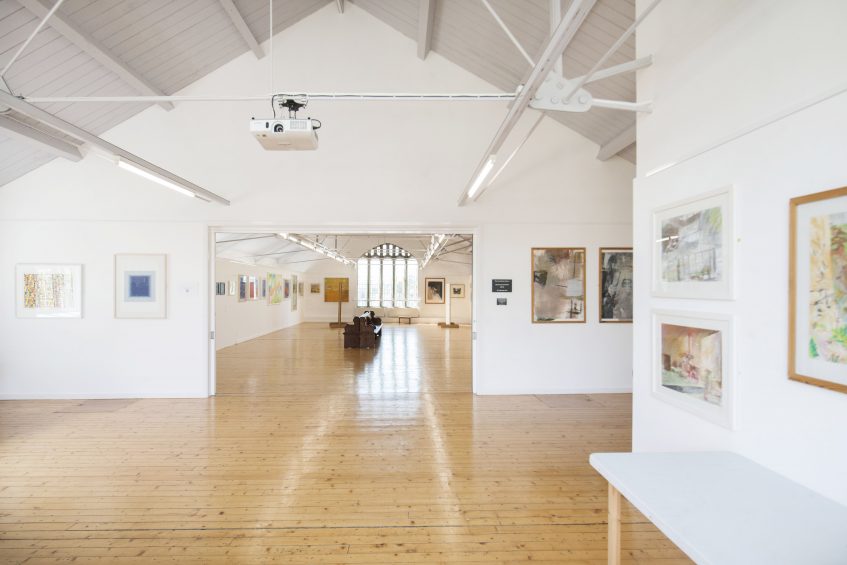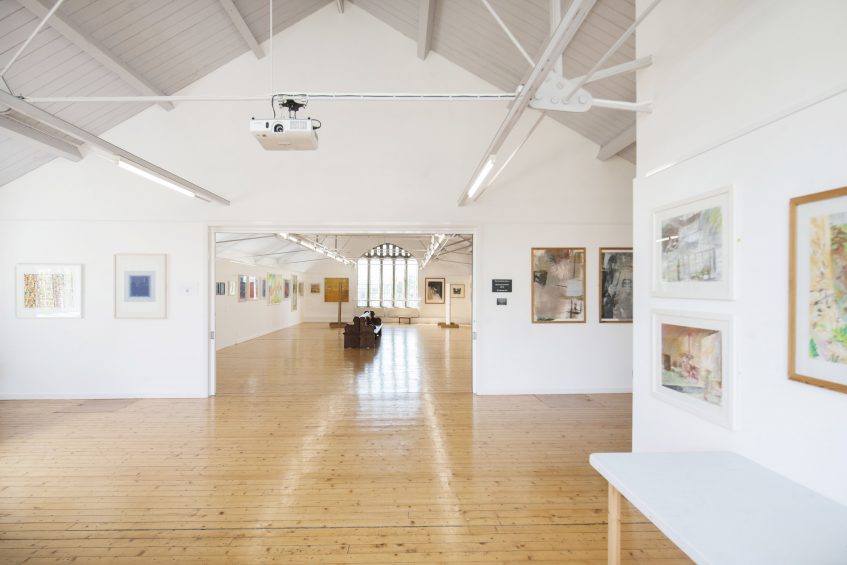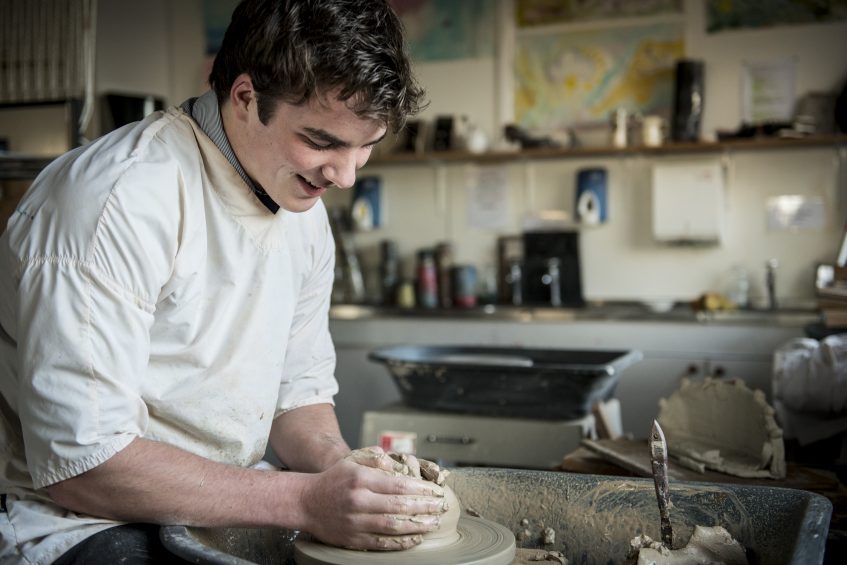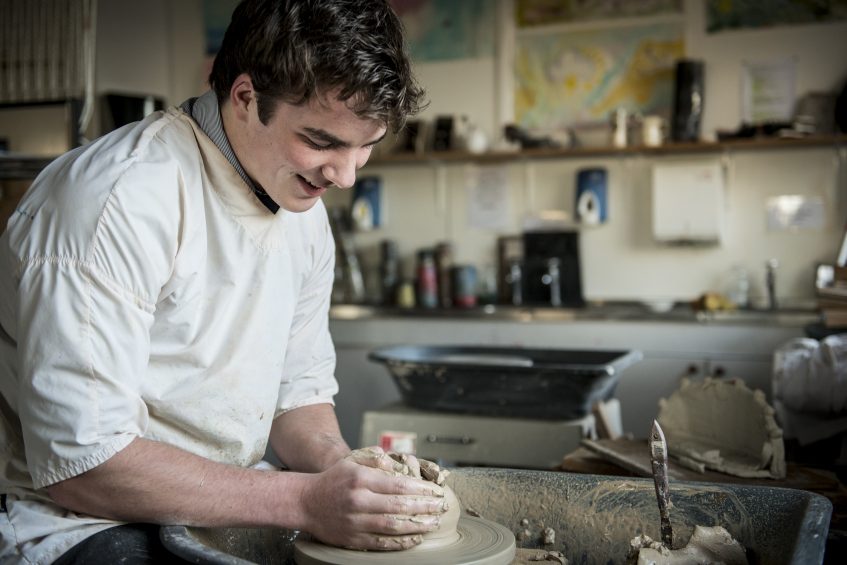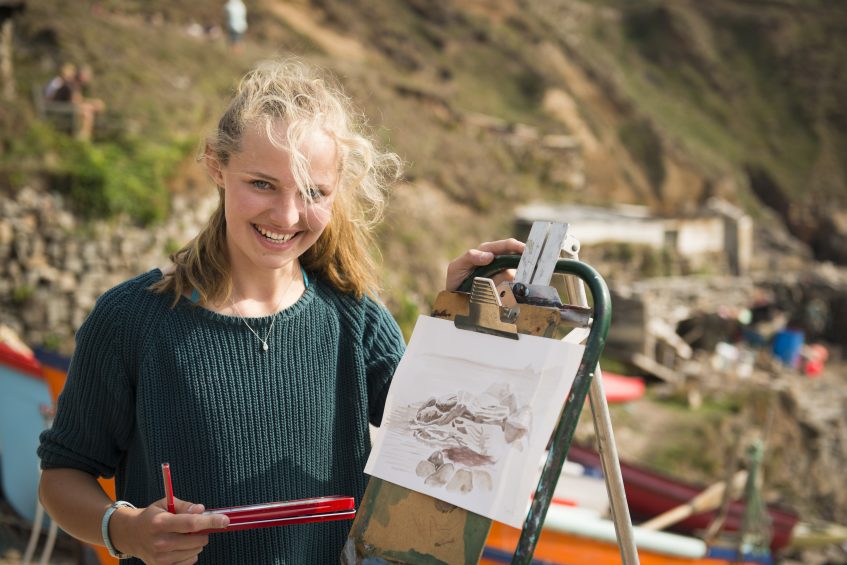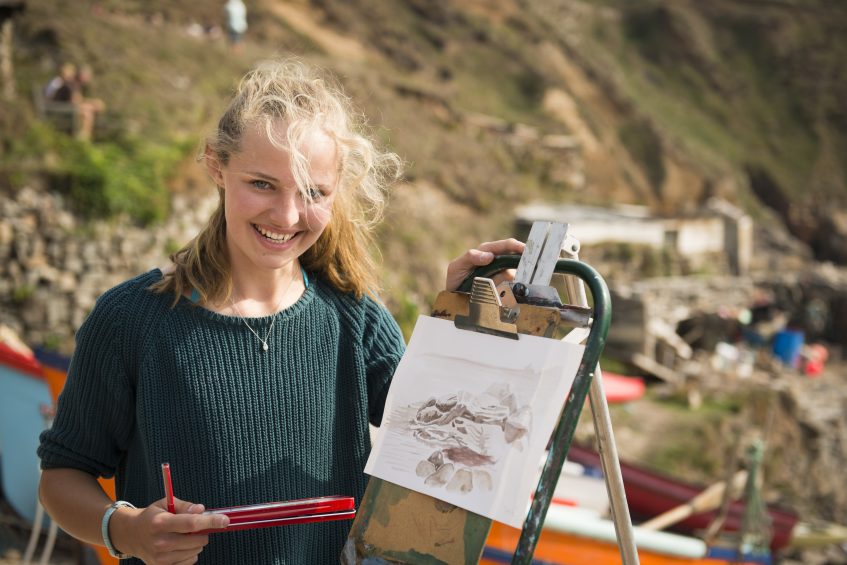 Lower Sixth Art at Truro School
The first year of the A level art course is all about exploring, experimenting and developing a wide range of Fine Art skills. The AQA Specification allows students to develop a broad and varied portfolio that capitalises on an individual's personal interests and skills. The year begins with an inspiring 3-day residential trip exploring the title 'A sense of place' in the beautiful, historical district of Penwith (Cape Cornwall).  Due to this trip being compulsory there is no charge to the students. During the trip, students take part in a range of workshops devised to extend their creative skills and understanding of this area. Once back at school, students participate in a series of skills based workshops (drawing, oil painting, printmaking, textiles, ceramics, creative thinking, colour mixing and many others) taught by two highly skilled art teachers, David Meads (Head of Art) and Vicky Cucknell.  Students have the opportunity to attend two hour weekly life drawing classes where they are taught many skills and ways of looking in 2D and 3D. We organise an annual two-day trip to London to attend a creative conference and visit appropriate galleries and contemporary exhibitions as well as enjoy a West End show. During the summer term students will start to focus on their personal direction with the guidance of their teachers in one to one tutorials.  They are tasked with completing a piece of work for their end of year internal Lower Sixth exam.
Upper Sixth Art at Truro School
The Upper Sixth art students enjoy the luxury of their own studio and space.  Each student is encouraged to create and develop their own artist space ensuring that it's a working area at all times. They enjoy the freedom of developing their personal project with the advantage of regular one to one daily discussions with their teachers. The students work independently in a degree style environment where they can choose a specific teacher to become their personal mentor.
Assessment is ongoing and every month there is an assessed critical analysis where each student has to present their work to the whole group for feedback and advice. Targeted workshops are delivered to meet students' extra requirements. We offer after school portfolio clinics, art university advice and mock interviews especially in the Autumn and Spring terms of the Upper Sixth when applications are imminent.  We enjoy a mutually beneficial partnership with both Falmouth University and Truro College art departments. The course work (Personal study) is worth 60% of the final mark and consists of two parts; the practical component, which is the main portfolio of personal extended practical work and the personal written study of between 1500 – 3000 which strengthens and supports their practical work through demonstration of knowledge and understanding of appropriate artists and eras.
In February students are given the examination board's 'externally set project' (exam). With the help of their teachers they develop a project and conclude with a fifteen-hour exam that is spread over 3 – 4 days in early May. The work is internally marked and externally moderated. The year ends with a fantastic final show at Truro School's Heseltine Gallery where students are invited to exhibit their own work. Students are also encouraged to enter their work into national and international art competitions and exhibit their work in galleries outside of the school.
3 Reasons to study A Level Art at Truro School
With small classes we can develop each student as an individual, nurturing and developing the talents they already have.
Praised by AQA for being an exemplar centre for the standard and bespoke style of the course.
Take advantage of many different opportunities outside of class time with a wide range of skills, media and experiences that help strengthen your personal statement as well as your portfolio.
What is an A Level in Art useful for?
Many students go on to foundation courses across the country or move straight on to read for a degree at university. We have seen a number of students prepare excellent portfolios that have launched them on to successful courses.
There are many career paths that an Art A Level will equip you for, such as: fashion, graphic design, ceramics, advertising, events design, sculptor, computer animation and graphics, web design, film industry, theatre design, gallery organiser, photographer, set designers, illustrator, medical artist or product design. Art can also be an excellent A Level for students who wish to contrast it with their other subjects, allowing students to showcase a wide range of skills.