Surfing
Surfing is another element of sea-conquering sport that our students embrace all year round. As 80% of our county is surrounded by water and the glorious coast boasts waves, coves and reefs that attract surfers from all over the country and the world, Cornwall is the perfect place for it.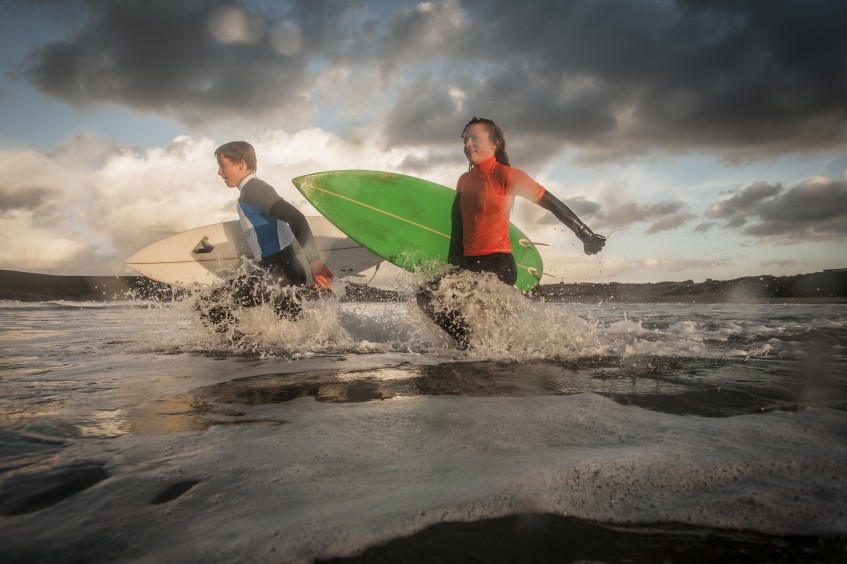 It has been another incredible year for the Truro School Surf Academy, seeing it grow and develop. We have partnered up with Ticket to Ride Surf School and the Lamiroy Surf Academy to create a truly exciting package.
Now we take around 30 pupils surfing every Wednesday afternoon. All Pupils are not only coached but also assessed using the iAM Bands grading system pioneered and developed by Sam Lamiroy.
Pupils surf in colour coded, Truro School Academy rash vests and their coaching is tailored and optimized for their ability level.
Professional Surfer and Leading Coach Sam Lamiroy has been enlisted to help create an elite surf squad and spearhead the future of surfing in Cornwall. Sam, who is widely renowned as one of the greatest male surfers in the UK, says:
"This project will help to put Truro School firmly on the map as the School to go to for anyone wanting to engage in an array of water sports at the highest level – while also receiving a top class education."
Portugal 2016 Surf Trip
There is an annual surf trip to Portugal organised through Ticket to Ride and working with Surf Experience who are one of the first surf schools to set up in the Algarve and are based in Lagos Portugal. We are lucky enough to be able to take out Sam Lamiroy who has helped all our students progress. Back at the surf house we spend an hour each night going through video analysis that is both fun and hugely helpful to the progress of the students. Pupils surf all day with lunch being served on the beach. The surf house has its resident chef who knows how to fill growing children.
Going from Strength to Strength
It is still early days, but already the results have been astounding. Two first places from Max and Lloyd at the Cornwall school Games Qualifier, an individual win with Beth Leighfield's first place finish in the British Girls' Under 18 Longboard Surfing competition and two further first places, from Ben and Ella, at the inaugural national Independent Schools Surfing Championships clearly show that the Truro School Surf Academy is certainly on the right track!
Sam says:

"What is really exciting at the moment is not only the performances from our established surfers, but also the rate of improvement we are seeing, coupled with the depth of talent and enthusiasm this group is showing. It is truly incredible that we started with only a handful of dedicated surfers a little while ago and now we are regularly taking more than 30 boys and girls into the waves – we really could not wish for a cooler bunch of kids – and I've got to say the avid surfing staff at Truro school, lead by Mr. Meads are a real joy to work with – bring on Wednesdays!"
Mr Gordon-Brown says:
"Having worked with Sam for the past few years we have really seen the benefit of having him on board with Truro school. Our Surf Academy has gone from strength to strength, his expert coaching not only producing national champions but also engaging a large section of our student population, from novices to the advanced surfers. Sam's passion, enthusiasm and professionalism have been highly appreciated by staff and pupils alike and he has been a real asset to our school."
Truro School Surf Academy usually use the Ticket to Ride surf school facilities and beaches of Perranporth and Newquay (especially when the surf is large). For some of the winter sessions the advanced group travel further afield to locations like Praa Sands in search for the best possible conditions.
Our surfers also know the importance of training outside the sea too, and are well disciplined in swimming and body strength. First aid and life saving skills are taught by our fully trained SLSGB Surf Lifesaving Trainer and assessor.