Cookery at Truro School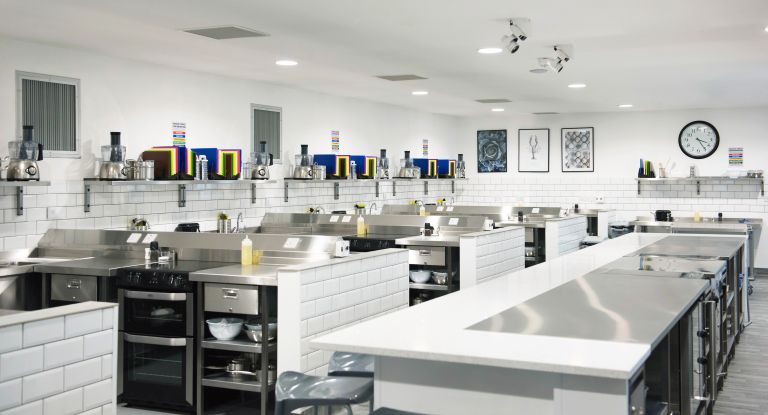 Brand new, purpose-built cookery school offering state-of-the art workstations and equipment, a large demonstration area with overhead camera and a brand new Café.
In partnership with Leiths School of Food and Wine, Cookery is available to the Upper Sixth as part of the PSHE curriculum with 'Cooking on a budget for university' and as a wider part of the Co-Curricular programme. Cookery will become part of Wednesday Afternoon Activity programme  for 4th Year to Lower Sixth with a variety of courses including 'Round the world' – cookery skills within an international context, 'Cooking for life' – building confidence in the kitchen with classic recipes and 'How to cook' – basic cooking skills with everyday recipes.
Wednesday afternoon activities  2:15pm – 4:00pm
Wednesday Afternoon Activities cost – £75-90 per term depending on term length. Cost of course will be added to the school bill.  Cost of activity will include all ingredients and containers: In order to ensure that each students has all the correct ingredients and to avoid risk of any ingredients not being stored properly between home and the start of the activity, the Cookery School will source and supply everything. This will include suitable, recyclable/reusable, containers in which to bring home their creation in one piece!
Autumn Term 'Round the world' for Lower Sixth including;
Pasta with chorizo and rosemary & homemade focaccia
Thai chicken and sweet potato curry with flatbreads
Chocolate roulade
Spring Term 'Cooking for life' for 5th Year including;
Sticky salmon and stir fried vegetables & noodles
Spaghetti bolognaise with garlic bread
Victoria sponge with jam and buttercream
Summer Term 'Summer cooking' 4th Year including;
Pesto topped salmon with roasted new potatoes and tomatoes
BBQ chicken, coleslaw & paprika wedges
Summer fruit cheesecake
After-school cookery clubs  4:00pm – 5.30 pm
£25 per course of five lessons to include all ingredients and containers. Cost of course will be added to the school bill. Younger students in the 1st to 3rd Years will be able to join a variety of after school cookery clubs such as 'cake and bake', 'healthy fast food' and 'eat the rainbow!'  Students can embrace the opportunity to become confident in the kitchen whilst learning important life skills and an appreciation of healthy eating.
1st Year 'Beautiful baking' – Friday afternoons to include;
Chocolate biscuit slice
Blueberry muffins
Scones, jam and cream
2nd Year 'How to Cook' – Thursday afternoons to include;
Chicken tray bake with honey and lemon and broccoli
Macaroni cheese
Lemon 'not a cheesecake'
3rd Year 'Healthy fast food' Wednesday afternoons (after Wednesday Afternoon Activities) to include;
Chicken dippers and wedges
Pizza
Fruit kebabs with toffee dipping sauce
CookSat
For the wider Truro School community, Saturday mornings during term time will host a new CookSat programme. Students, parents, friends and family will be able to book onto a wide range of courses from 'Saturday night takeaway', to 'Dinner party diva' and 'Cupcake crazy'. Full details can be found at www.truroschoolcookery.com
Be taught by the best
Maria Taylor has been appointed Head of Cookery for the new course. Maria arrives with a wealth of experience having previously held the roles of Head of Cookery at St Peter's in Gloucester and Dean Close in Cheltenham. Maria is not just your standard Food and Nutrition teacher; she also boasts accreditation by Leiths, producing a clear pathway if you aspire to be the next Michelin Star success story. In addition to the bespoke new facilities, Sixth Form Leiths class sizes will be no more than 10, meaning that there will be significant support to help you progress. There will also be regular visits from Leiths training chefs from the school of food and wine in London and weekly assessments allowing you to aspire to be the very best.
Leiths at Truro School
Leiths School of Food and Wine in London have collaborated with Truro School to form Leiths at Truro School, the only Leiths Academy School in Devon and Cornwall. Sixth Form students can enrol on the 'Leiths Certificate in Food and Wine', a new, nationally accredited academy programme.
Day Courses
Truro School Cookery also runs a range of day courses for the wider community. More details can be found on their website > www.truroschoolcookery.com