Five of Truro School's GCSE Art pupils took part in a Truro Combined Schools Art workshop this week on Tuesday 20 January. It was held at the Truro High School and along with our five pupils, there were pupils from Truro High School, Penair School, Richard Lander School and the Roseland School. The artist leading the screen printing workshop was Tony Minnion.
Our team created some inspiring screen prints based on their GSCE coursework inspired by Natural Forms. After four layers of printing ink being squidged with a squeegee through the screen, their final pieces were revealed and further developed on Photoshop in the computer suite.
Congratulations to Alex Cole, Lilly Wood, Elin Barrow, Rebecca Orchard and Natasha Sulkin for being fantastic artists and doing Truro School proud.
These master pieces, along with other workshop artworks and 4th Year coursework are showcased at the exhibition held at the Lander Gallery from 4 March to 16 March, please come along to the private view on 3 March from 5.45pm to 7.00pm.
Elin and Rebecca creating art work for their screen print at the Truro Combined Art workshop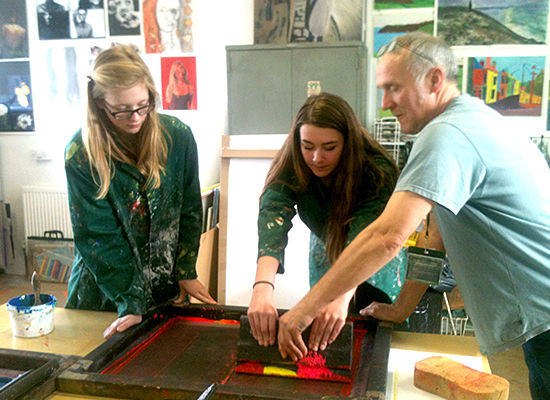 Rebecca with the visiting artist Tony Minnion and a student from a visiting school