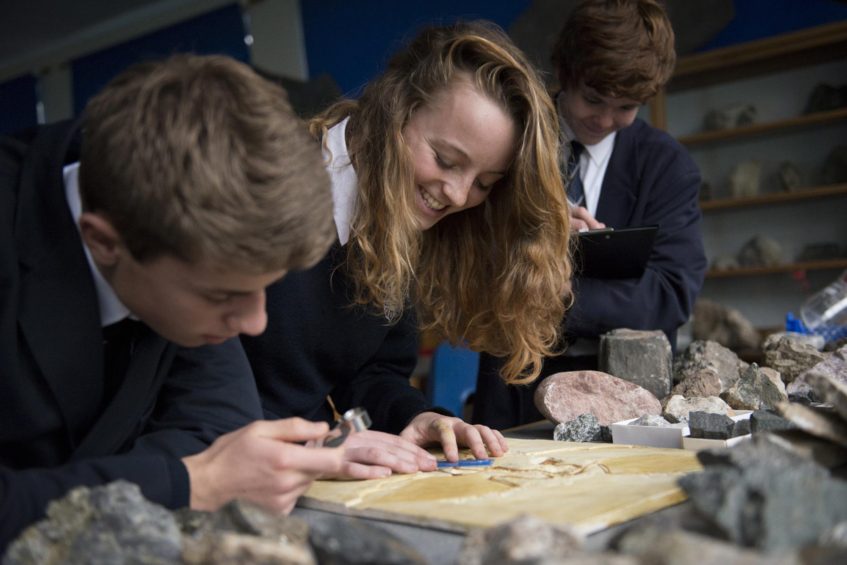 New results data has this week revealed that Truro School students Zoe Mitchell and Alex Jones achieved the top mark in the country for GCSE Geology.
Five Out of the Top Six in the Country
In the top six there were five Truro School students; Zoe Mitchell, Alex Jones, Lloyd Stein, Finn Walker and Alice Bebb. At A Level Amy Ellis was fourth in the country for A Level Geology having achieved full marks in two of the three modules. Eight students have also gone on to study Geology at notable universities, including one at Oxford.
Learning from the best
With over fifty year's shared teaching experience in the department, the students at Truro School are receiving a wealth of knowledge. The new head of Geology, Justine Hope, has taught both GCSE and A-Level Geology for over fifteen years whilst distinguished fellow teacher, Ian Kenyon, has taught for over thirty-seven years. Ian Kenyon has been contributing to the School's specimen collection for a number of years, these 'museum standard' samples aid the teaching of the geology specification.
The school's enthusiasm and expertise continues to deliver excellent outcomes. The new A-level and GCSE specifications place more emphasis on the completion of field activities as part of the students' practical endorsement. Truro School has the benefit of being located in an area with such diverse geology. As Justine Hope explains,
"We are so fortunate that within such a short distance the students can see many of the structures that they need for their GCSE and A-Level courses. Being able to see what they are studying in class out in the field is such an amazing opportunity."
A bright future for Geology at Truro School
The Geology department places emphasis on the employability of its students due to the large skillset that they are encouraged to develop. Justine Hope comments on how,
"It is a science but it is a descriptive science where they are having to problem solve and write reports…there are many different opportunities for those who study Geology."
Justine is hoping to strengthen the department's credibility by making contacts with well-regarded universities. The department is also changing their approach to fieldwork, developing a rolling trip programme of Tenerife, Portugal and Iceland. It is clear that the Geology department of Truro School has a promising future ahead.