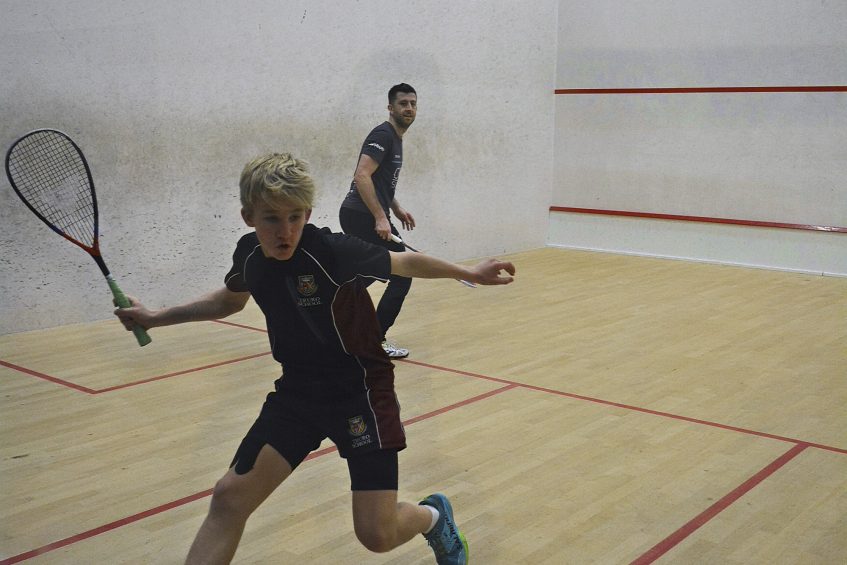 JAMES WILLSTROP ex World No 1 – DARYL SELBY  ex World No 9
Truro school Squash department finished the year in fine style with an amazing visit and masterclass conducted by the current Commonwealth champion James Willstrop and Dohar Classic champion Daryl Selby. The two professionals are the British No1 and No 2 players and they put our rising Truro school squash stars through their paces in a wonderful session full of excellent rallies, super shots and helpful tips. The event started with the pro's teaching a thing or two to our top Nationally ranked juniors Louis Murray and Jack Mahon. Then around 25 of our keenest pupils battled hard to win points and learn as much as possible from these legends of the sport.
There was some wonderful match-play and also a chance to see the Commonwealth medals won by the professionals. An inspiring and uplifting experience which I'm sure they will never forget! In the New Year we increase our training schedule and aim for the finals of the National Schools championships. We also have slightly more relaxed and laid-back friendly matches with other schools and welcome anyone seeking to try this super-fun sport at our after school clubs on Tuesdays, Thursdays and Fridays. 2019 is going to be a great Squash year at Truro school!
Tim Smith  Head of Squash