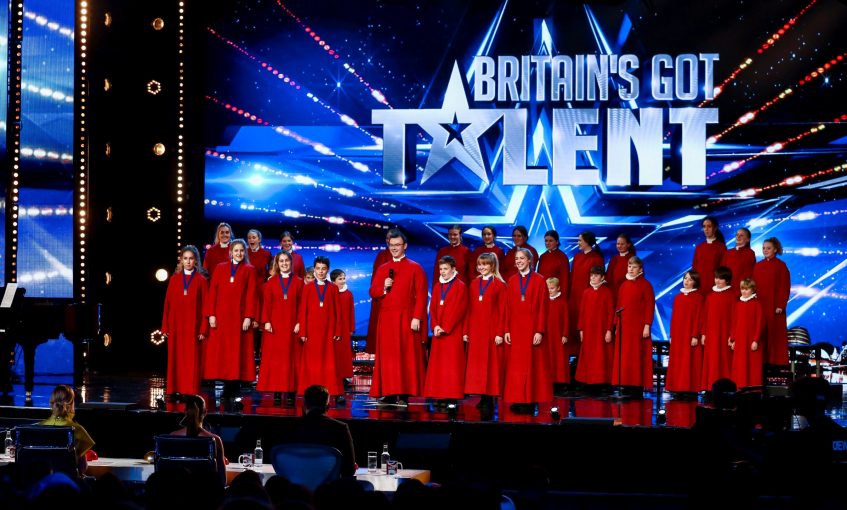 There has been great excitement at Truro School following the performance by Truro Cathedral's Choristers, most of whom are educated at Truro School, on Britain's Got Talent at the weekend.
The boys and girls from Truro School are very used to singing in front of crowds, with over seven performances a week with both the Truro Cathedral Choir and within the School's own choirs, but as the Cathedral's Director of Music, Mr Gray, said in an interview with the West Briton:
"The Britain's Got Talent experience was entirely different. When we got to the first chorus the audience were cheering and on their feet. We don't get that in Truro Cathedral."
In the interview, Mr Gray also commented: "When I turned around, having finished conducting, we heard that the audience was very enthusiastic and they were all cheering and, to see the four judges on their feet, that I was not expecting.
"That was very special. None of them come from a background of choral music like ours. The idea that we could connect with people who don't have a choral background like ours was fantastic."
When the West Briton asked him if he was proud of what they had achieved, Mr Gray commented; "I'm always proud of the boys and girls. I have been here for 19 years and director of music for 11 years and they still surprise me."
Truro Cathedral has had a choir in the traditional form of boys and men since it first opened its doors in 1887. September 2015 witnessed the addition of girl choristers, like the boy choristers, they rehearse each weekday morning before school with the Cathedral's specialist musicians. They sing services and concerts at the Cathedral with the twelve professional gentlemen who sing the lower parts. In addition to these regular services and concerts, girl choristers share BBC broadcasts, CD recordings and foreign tours that the Cathedral Choir undertakes each year.
Pictured right: Truro Cathedral Choir during their performance at Truro School's Easter Concert.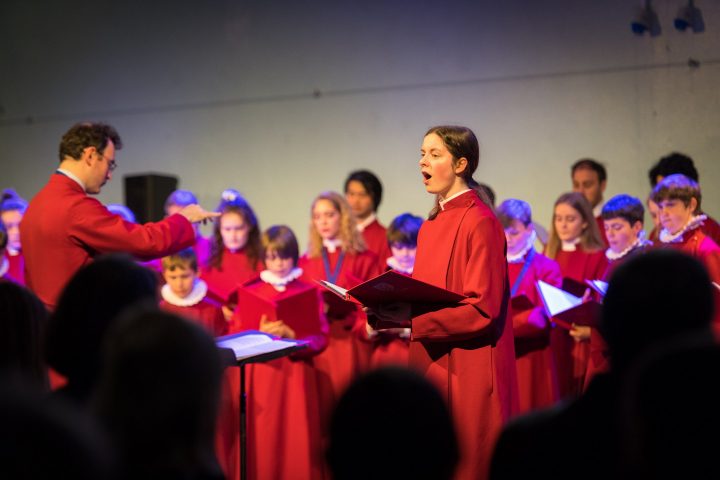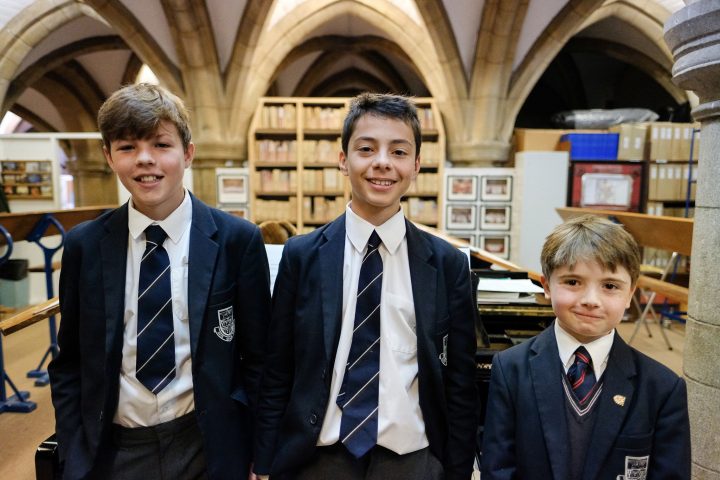 Following Saturday's TV show, the West Briton interviewed three Truro School pupils, writing:
Young members of Truro Cathedral Choir have spoken of their nerves ahead of wowing the judges on Britain's Got Talent. They were showered with praise as the audience stood to applaud the 36-strong choir.
Head choristers Benji and Oliver, aged 13, and Lawrence, aged nine, were in rehearsals in a room beneath the cathedral before school on Tuesday.
Picture left: Credit Greg Martin / Cornwall Live
Benji said: "It was incredible just to see all the judges. It was really, really good. I think the adrenaline of doing it and going on stage on the TV show stopped the nerves."
Lawrence said: "I was really nervous before I went on, but then when I went on I wasn't really nervous but excited seeing all the judges in front of me."
He said his family were delighted he'd been on TV, adding: "They're really proud of me, which is really great."
Oliver said: "We were nervous that some of them weren't going to like it, maybe that it was too mainstream just standing up and singing, but they all liked it, which is really good.
"It was pretty weird considering that lots of people think about how great it would be to go on the telly – but actually going on the telly, that was amazing."
Truro School Headmaster, Andrew Gordon-Brown, commented:
"How amazing to see Truro Cathedral Choristers on Britain's Got Talent and what a fantastic performance they gave.  Quite surreal to see all of those familiar Truro School and Prep faces on the big screen quite clearly enjoying their experience.  With a standing ovation and all of us watching them, I'm quite sure they had more than the four 'Yeses'"
On the show, the four judges led the audience in a standing ovation and gave four 'yeses'
"Absolutely stunning" was the verdict from judge Simon Cowell.
David Walliams said: "Well that was absolutely stunning. That was perfection, beautiful from the first note to the last and created a very, very special moment of Britain's Got Talent. Thank you."
Alesha Dixon agreed: "Every single one of you should be really proud of yourselves, you created the most beautiful sound, it had a purity it was delicate, and you have the ability to make everyone in the room feel calm and good, and that's what we expect from a choir."
Amanda Holden said: "What I loved most of all was how classic it was, it was beautifully arranged, the harmonising was gorgeous.
"We have lots of choirs audition and they all kind of jazz it up and do a bit of dancing and they'll try everything to make themselves different but sometimes they just need to stand still and sing and that's what you did today and you delivered and it was beautiful."
Simon Cowell told the choir: "You'd be amazed actually how many choirs we have, where actually no one in the choir can sing in tune. And to actually hear all those leads and harmonies was fantastic.
"Most importantly I think because it's a kids' choir you're singing song which you all like, we like, because it can be torture, when you're having to sing some of these songs in Latin and stuff, but for you guys to be able to do something different I think is really, really key here."
The girl choristers (and boys entering the choir since 2017) are all educated at Truro School where they receive a scholarship from the school, supplemented by a means-tested additional bursary if required, to ensure the selection is based on pure ability.
To find out more about joining Truro School as a Cathedral Chorister, please contact Truro Cathedral's Director of Music, Christopher Gray, Tel: 01872 276782 or email christophergray@trurocathedral.org.uk
Main Image Credit: Dymond, Thames, Syco, ITV