Truro School Prep – Open Morning
Join us on Saturday 9 March 2019, 10am to 12pm  for an activity-filled family Open Morning with workshops and activities to suit all ages from 3-11.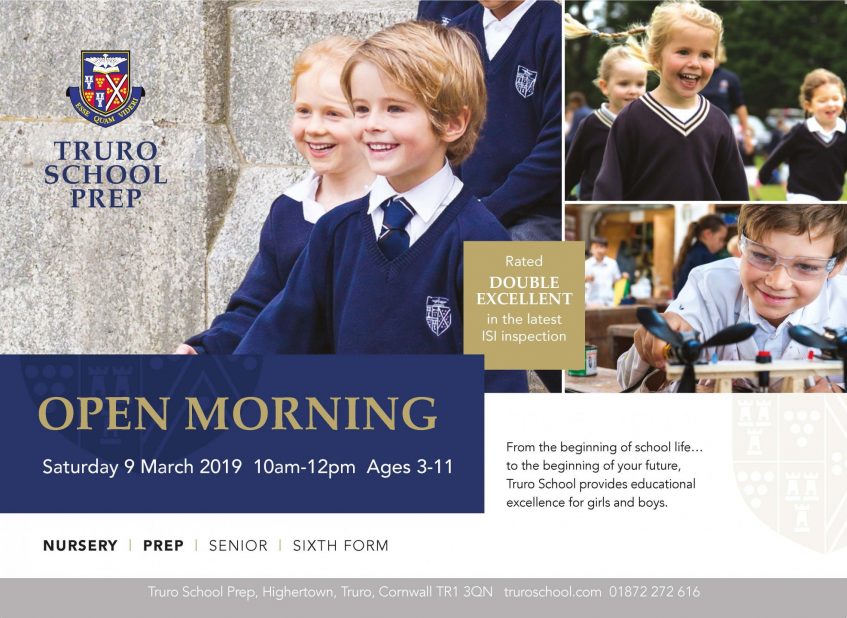 Meet the Head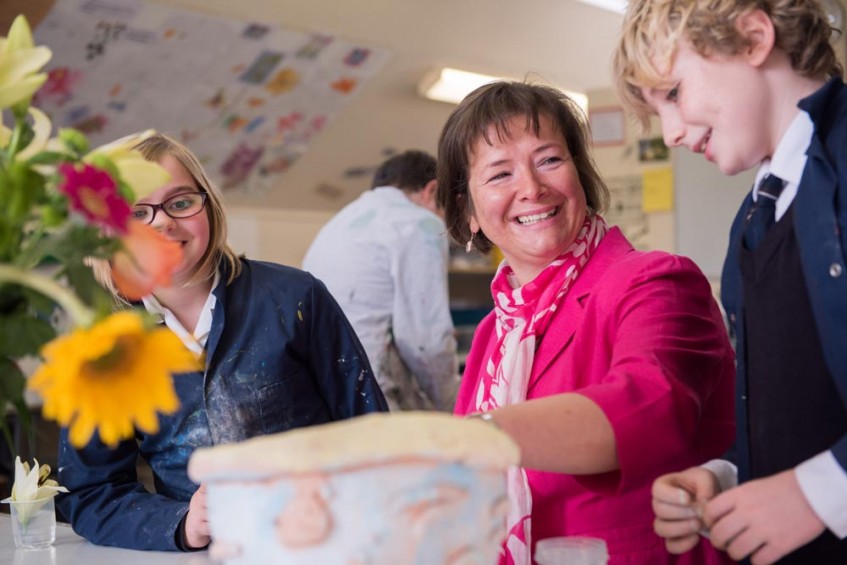 "It will be a great pleasure to welcome you to our open morning here at Truro Prep School. I take great pride in leading a school that has a fabulous location, excellent teachers and outstanding facilities.

Our philosophy is that stimulated children will thrive and develop a lifelong love for learning. It is for this reason that we base our education around providing a proper childhood, an education where learning takes place both in and outside the classroom. Our aim is not just to prepare your child for the next stage of their education, but to also lay the foundations for them to grow up and lead happy, purposeful and fulfilling lives.

We will have a number of activities on offer for your child and I hope that the event provides a useful insight into Truro Prep School. I look forward to meeting you."

Sarah Patterson
Head of Truro Prep
On Saturday 9 March we will be holding an Open Morning (for ages 3 – 11) here at Truro School Prep.
The event runs from 10am – 12noon and is a great opportunity to meet our Head of Prep, Sarah Patterson. There will also be the option to take a look around our school and enjoy some fun activities in the classrooms. Our Admissions Team will also be there to answer any queries relating to our registration process.
For more information, please contact: The Head's PA/Admissions, Mrs Simone Weston on 01872 243 120or email prepadmissions@truroschool.com
Open Morning Activities
Here's an example of what's on offer at the open morning. All activities are drop-in sessions with no advanced reservations required. We're not afraid of the wet weather here at Truro School Prep, so the open event will go ahead come rain or shine. However, some of the outdoor activities may be disrupted in the event of heavy rain or gales.
Refreshments Available from 10:30am.
| Activity | Description |
| --- | --- |
| Rugby Match | See Truro School Prep's rugby team in action. |
| Science experiments and displays | Come and see which potions are bubbling away in science. View displays and enjoy some live experiments. |
| German games and Easter cards | German Ludo. Animals memory game. Making Easter cards in German. |
| Cookery | Feeling peckish? Make your own pizzas to take away in cookery. |
| Drama | Exploring characters, improvisation and story. |
| Art and printing |  Making colourful relief prints. |
| French | Find out how we bring modern languages to life with e-learning. |
| Maths | Shape and space games and model making. |
| Computing and Maths | Check out our IT facilities and the programmes we use in computing and maths. |
| Bushcraft | Building dens should be a memorable part of everyone's childhood. Enjoy this childhood classic in Truro Prep's forest school, relax by the campfire and have a go at some outdoor cookery |
| DT | See design technology in action in the DT workshop and out in the playground with our racing buggy! *age restrictions apply, weather permitting. |
| Pool Kayaking | Come and watch a demonstration of pool kayaking skills and games. |
| Music | Enjoy a Year 3 singing rehearsal for the Prep School's upcoming production of Aladdin. |
| Bananagrams | Do you have what it takes to become a Bananagrams champion? |
| Egyptian arts and crafts | Creating pharaoh jewellery and sugar cube pyramids. |
| Guitar Group | Instrumental/ singing contemporary music. |
| Short Tennis | Do you think you can ace a game of short tennis in our indoor sports hall? |
| Earthquake proof structures | Have you got what it takes to be a future engineer? Build structures with spaghetti and marshmallows to withstand an 'earthquake'. |
| Rakhi Bracelets – Passover Meal | Decorate and wear your own Rakhi bracelet as we explore the Hindu religion. We'll also have a sample of some Passover food. |
| Boy Choristers | An open rehearsal from Truro School Prep's Boy Choristers. Speak to Christopher Gray, Director of Music at Truro Cathedral, about our new Boy Chorister Scholarships. |
| Winter Wonderland | Design and build forest friends using clay and other materials collected from our forest school woods. There will be plenty of souvenirs to take home from our creative woodland based activities, including hand-crafted forest photo frames. |
| The Butterfly Ball | Join us outside in the Early Years Enchanted Garden to make a natural wooden 'cookie'bracelet or in the Early Years classrooms where there will be exciting butterfly crafts for you to make and take home. |
Top Inspection Results
In June 2017, the Independent Schools Inspectorate (ISI) inspected Truro School Prep. It was lights, camera, action as boys and girls in Year 5 took centre stage to report on the 'Double Excellent' inspection results, the highest mark achievable.
3 Reasons to Choose Truro Prep School


Here at Truro School Prep we believe that education is so much more than simply what happens in the classroom.
We love the fact that 80% of our county is surrounded by sea and we encourage pupils to take full advantage of Cornwall's 300 mile section of coastline.
Our broad range of co-curricular opportunities both enrich and develop student life at Truro School, and this begins right from the Pre-Prep, where everything is about developing the whole child.
Our Forest School provision is run for every child from Nursery to Year 2, and in itself is designed to build self-confidence and emotional resilience. We are proud to have outstanding facilities, with three distinctive woodland areas; coniferous, broadleaf and wildlife.
When children move up to our school setting in Years 3-6, the co-curricular aspect of their life at Truro School Prep is vastly increased, with over 60 co-curricular clubs on offer. From Fencing to joining a Samba Band, from Chess to Bushcraft, the range of choices caters to every child's imagination.
The range of activities helps pupils to develop a life-long love of learning and to grow up as responsible, happy and healthy individuals.

Truro Prep School run a 'Prep Diploma', which is embedded into the curriculum and engages all pupils in Year 6 in an all-encompassing programme which links academic and co-curricular together in the school environment.
The Prep Diploma spans across six areas of the curriculum; Core Academics, Humanities, Creative Arts, Performing Arts, Sport and Outdoor Education, and Life Skills. As a compulsory element of the curriculum at Truro School, it encourages every student to learn a wide range of skills. From learning to speak French, going on a First Aid course, carrying out duties around the school, and learning presentation skills; each element is an important life skill that will equip the student with the best opportunities for their future.
Through the Truro School Prep Diploma, it is our aim to instil pupils with abilities across a broad curriculum, giving each pupil the chance to understand their own abilities and strengths and in doing so, creating confident, well-balanced young adults.


We understand the needs of busy parents who often need to work early or finish late. It is for this reason that we provide full wraparound care from 7.45am until 6.15pm. Wraparound care at Truro Prep includes clubs and activities as well as the optional provision of healthy breakfasts and evening meals.
We offer an Early Birds facility from 7.45am for Prep School pupils. Here your child can enjoy a delicious healthy breakfast and receive excellent care until school starts.
There are also a wide range of clubs that run from as early as 7.30am including Cricket, Swimming and Orchestra.
Parents and pupils are presented with a huge number of after school opportunities including:
Clubs and Activities – We offer a huge range of after school activities. From the national award-winning Chamber Choir to Bushcraft and a whole host of sports, there is something to capture the interest of every pupil.
Homework Club – A homework club is available from 3.45pm to 5.30pm. Pupils can also join in with homework sessions after their clubs finish.
Supper Club – The children who need to stay later can then join the Supper Club where they can enjoy a hot meal. Supper club finishes at 6.15pm, giving parents full flexibility during the working week.