Boys' Chorister Day – 26 January 2019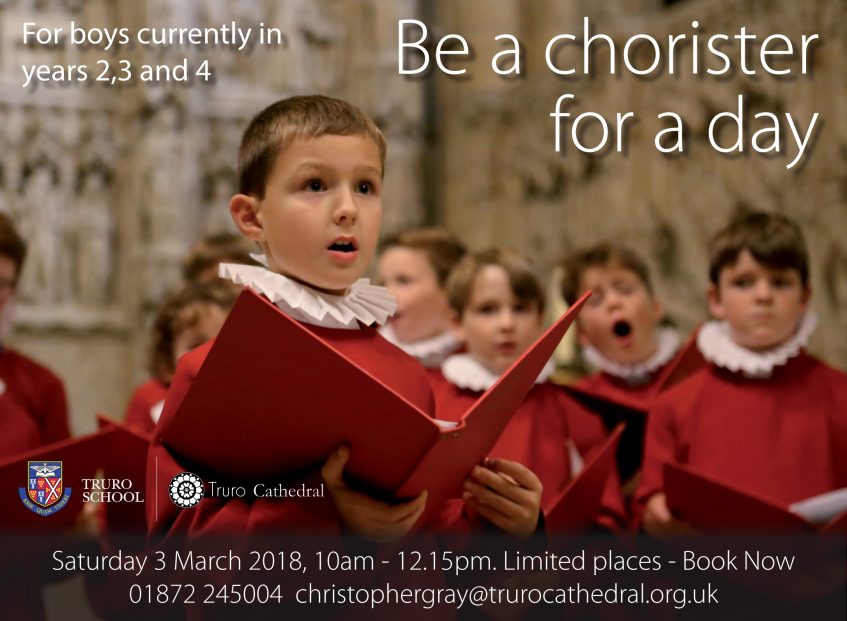 Boys' Cushion Concert and 'Be a Chorister for a Day' will take place on January 26, 2019 and is a great opportunity to learn about life as a Truro Cathedral Chorister.
The event will take place at Truro Cathedral and is open to boys currently in Years 2, 3 and 4.
Boys will be able to take part in a range of activities including singing with the choristers and enjoy a special cushion concert.
To book a place, contact Christopher Gray, the Cathedral's Director of Music on christophergray@trurocathedral.org.uk or 01872 245004.
Life as a Boy Chorister
Every wondered what it's like to be a Boy Chorister? We had a chat with Year 6 Choristers Ted and Pax to find out more about life in Truro Cathedral Choir.
Boy Chorister Scholarships
Singers in the boys' choir are educated at Truro Prep School where they receive a 25% scholarship which can be supplemented with a means-tested bursary with the aim that the selection is based purely on ability.
Bursaries will aim to make the school fees affordable for applicants of any financial background, but parents will be expected to make some sacrifices. Bursaries are reviewed annually and will be adjusted if parental circumstances change. Truro Cathedral's Director of Operations will be pleased to discuss this aspect of a chorister application at any stage.
Ten Reasons to be a Boy Chorister
One
The boys get to record CDs like this one:
The Cathedral Choir usually records a CD each year with the renowned record label Regent. Their most recent CD was recorded with the BBC National Orchestra of Wales and, in a few months, the choir will record with the BBC Concert Orchestra.
Two
In June, the boys sang at concerts and services during a week-long tour to Germany. They also found time for a boat trip on Lake Constance, visited some beautiful German towns, and went to a water park! Later this year, the boys will sing on the Isles of Scilly.
Three
As well as singing in services, the boys sing concerts to thousands of people each year here in Truro.
As well as their three major concerts at the Cathedral each year (including the packed Christmas one), they sing in other parts of Cornwall, with recent venues including St Endellion and Helston.
Four
The boy Choristers are part of a close-knit team who rehearse and perform almost every day during term time.
Five
Truro Cathedral Choir is winner of the What's On Cornwall Awards (WOCAs) Best Music Act 2017.
Six
Scholarships are given to all Choristers to attend Truro Prep and Truro School, and means-tested bursaries are also available with the aim that selection is based purely on ability. After they leave the choir at age 13, boys continue to receive scholarship and bursary assistance to remain at Truro School through to GCSE.
Seven
Christmas! Truro is the home of the famous "Festival of Nine Lessons and Carols" – you can watch a clip from our DVD of that magical service here:
Every year, on 23 and 24 December at 7pm, the lights go off and a thousand people stand in silence waiting for a solo Chorister to sing the opening of "Once in Royal David's city".
Eight
Hard work is balanced by fun and an immense sense of achievement as the boys maintain a tradition that stretches back to 1880. They develop lots of transferrable skills in terms of their time management, their focus, and their ability to perform under pressure.
Nine
The boys take part in live broadcasts on BBC radio and occasionally television.
Ten
They get to perform some of the greatest music ever composed, like the iconic 'Miserere' by Allegri, which has a famous treble solo soaring five times to a top C.
You do not have to have any experience of the Cathedral or the type of music the Choristers sing; and plenty of our Choristers come from families that describe themselves as not really musical. If your son loves singing, why not find out more by contacting the Cathedral's Director of Music, Christopher Gray: christophergray@trurocathedral.org.uk or 01872 245004.