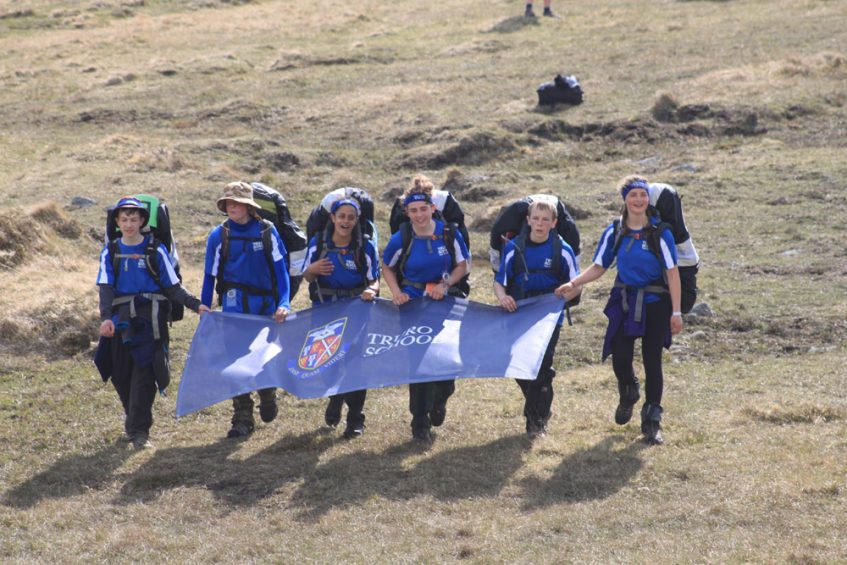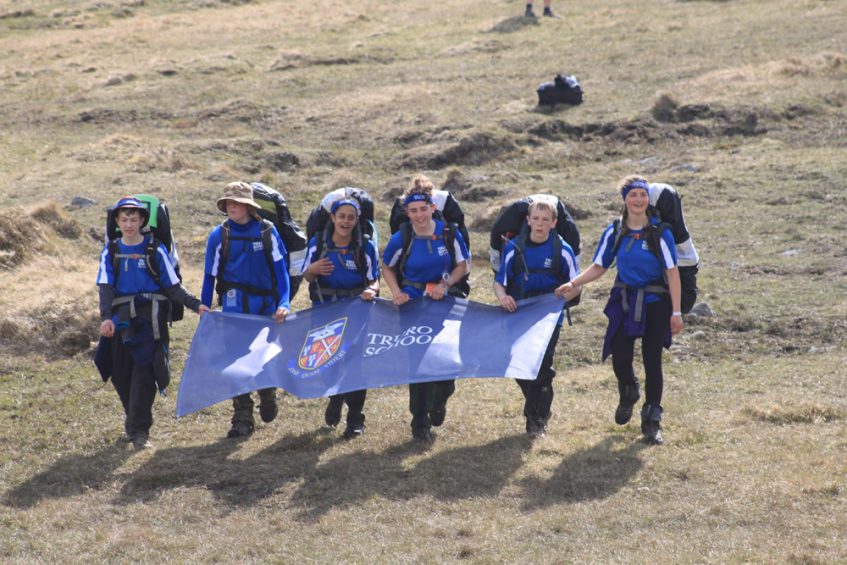 Ten Tors 2016 was a huge success with five teams completing the challenge at three different distances. Mike Cucknell, Outdoor Pursuits Co-ordinator, tells the story of this year's Ten Tors Challenge.
Training and Preparation
This year's training started during a very wet and windy November along the South West coastal path. The training is open to all students from Years 3 to Upper Sixth and this year there was a massive uptake of places with over 40 students participating on many weekends. As always the training went through several stages of development, beginning with team fitness and group walking on the coastal paths. We then introduce heavier and larger rucksacks and graduated to two day expeditions including overnight camps with more of a focus on safe camp craft and cooking skills. Eventually we progressed onto the moors and developed the participants' navigation and route planning through rougher terrain. All in all, participants had the opportunity to take part in ten training walks and several evening training sessions to ensure that they had the required skills to complete their given distance. Unfortunately, due to poor weather, on several of these training days the expeditions often had to be moved to our plan B route to avoid the wind and rain. However, in the end it all comes down to the first weekend in May when the Ten Tors event is traditionally held when over 400 teams and 2500 participants all gather at Okehampton Army Base.
Setting Up HQ
I am always amazed when I drive over the hill on the Thursday evening with a bus full of eager and excited teenagers to see the city of tents all set up and buzzing with occupants. This year, because we has so many teams signed up for the challenges, we organised a good sized base camp set up with 4 participant tents and an ex-army 12×12 catering tent to serve as our HQ.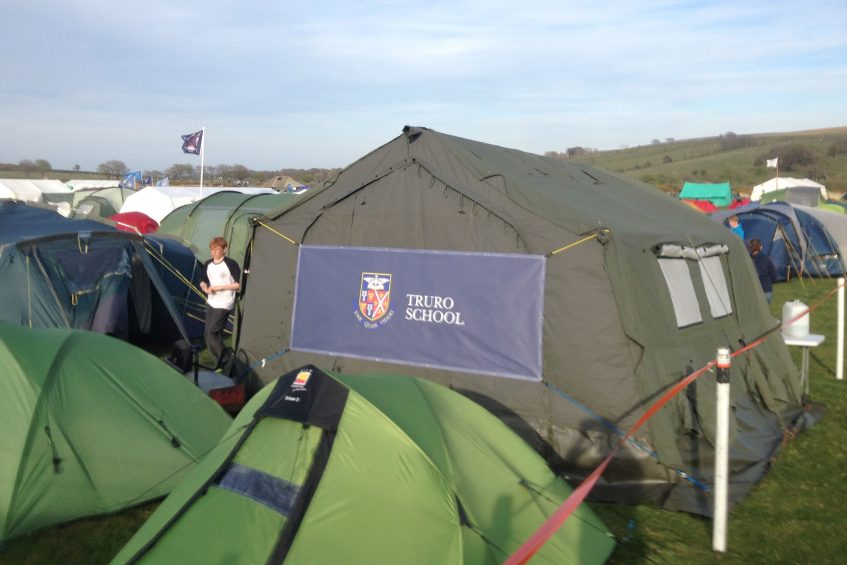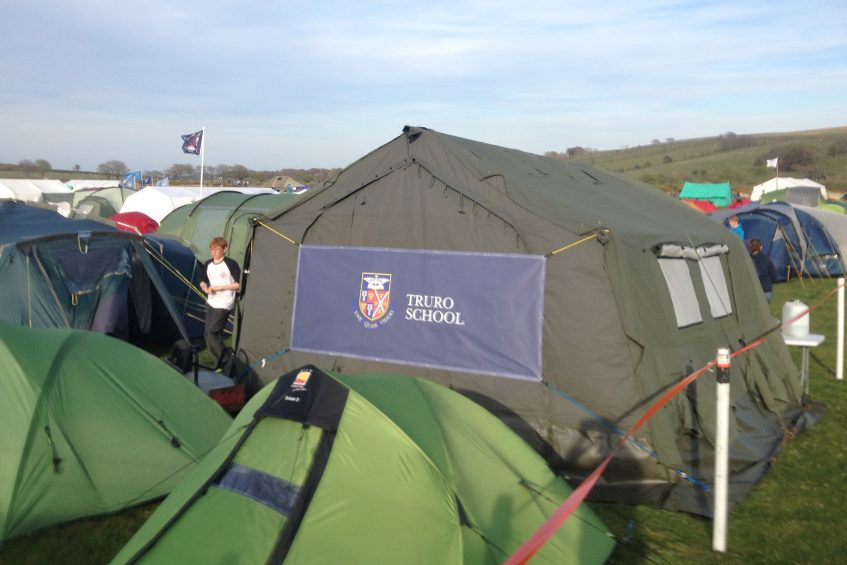 Friday
On Friday morning all the teams get issued with their instructions and routes, and are given the day to plan, get briefed and go through final checks. This can be an arduous task if not fully prepared as the Dartmoor Search and Rescue teams are keen to suss out which teams have been well trained and prepared and which teams need a further check to ensure their safety and compliance. I am glad to report that both our 35 mile teams eventually flew through the final checks; once a bag, which had been forgotten and left at school, had been delivered (mentioning no names Lloyd)! The team leaders took on the responsibility of planning the routes and determining the daily speed and distance goals for each team during the event. This included working out where they were going to camp before they were allowed to do their final kit pack and rest in the sun.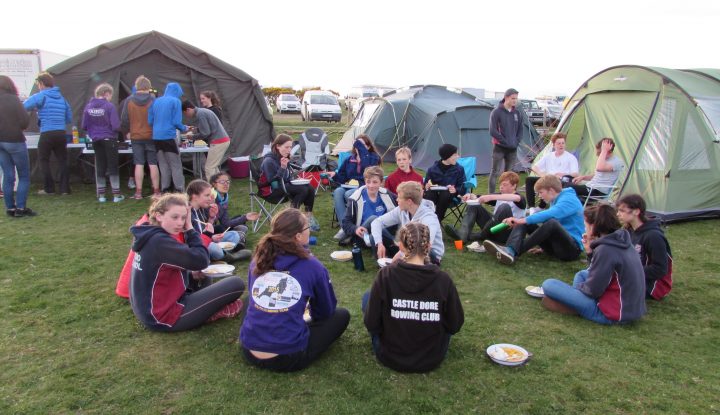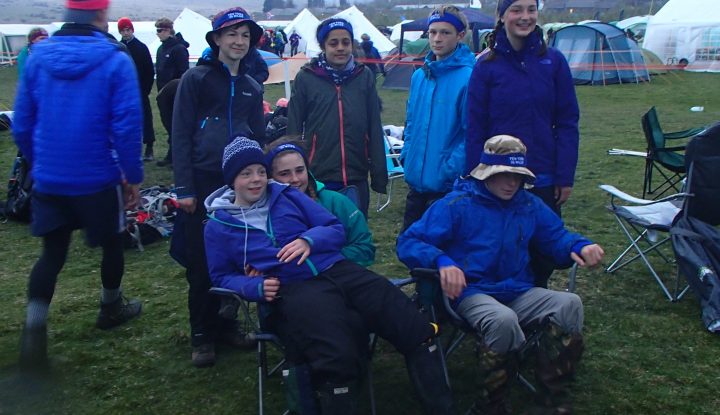 Saturday
On Saturday morning we were awoken by reveille on the loud speaker, a quick bacon buttie for the participants before the teams, accompanied by their team leader, marched up to the amphitheatre-like start line ready for the Generals starting orders. After the Chaplain read the Ten Tors prayer and the cannons fired, all 400 teams raced down the hill (even though they were told not to) to begin their challenge.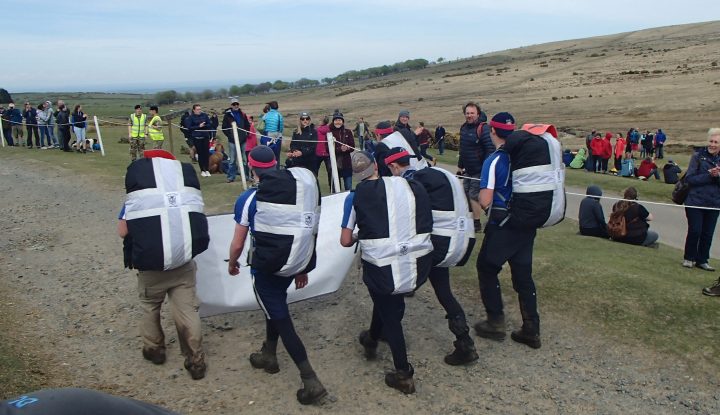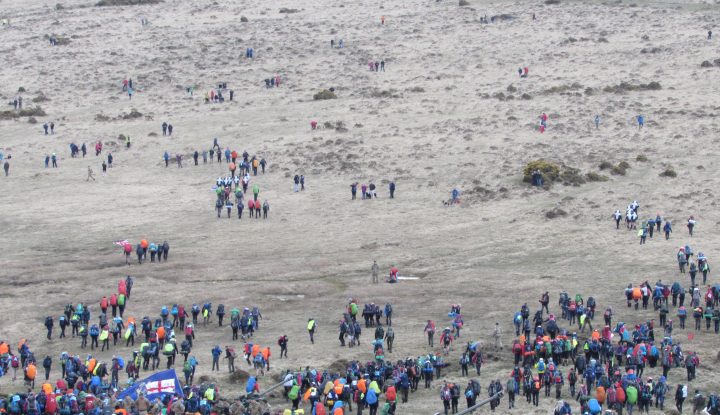 Now begins a time of waiting……waiting….waiting. Visiting what has become known as the Wailing Wall, where all the tracking information is displayed, is a pilgrimage to the centre of Ten Tors for each team manager. I must have visited this wall almost every hour over the next 36 hours, checking how far each group had progressed; willing them on to the next checkpoint and keeping fingers crossed that they all stay safe and continue their challenge. Ten Tors is a different challenge for each participant; for some just walking the distance carrying heavy packs over arduous terrain is an unknown, whilst for others the navigation or working as a team is a challenge in itself. Above all however is the knowledge that each team is more than the sum of its parts and only by working together and helping each other will they conquer the goal of getting all six participants to the finishing line.

On the Saturday night I breathed a sigh of relief as each of the five teams had achieved their campsite goal and broken the back of their route. For the 45 and 55 teams who cross over to the south moor, getting back across onto the north moor is essential if they are to give themselves the best chance of finishing on Sunday. All three Truro School 45 and 55 groups managed to get back over the road after walking for over 15 hours.
Sunday
Sunday is always an unknown with regards to what times the teams will finish. I always take my 0600 ritual walk up to the Wailing Wall praying that each group has checked in and have started the homeward journey. Then it is time to gather the supporters up at the finishing line to cheer the groups in. Some teams start coming in at around 0900 depending on their route and from then on it is a steady stream of teams carrying flags and banners among the chorus of clapping them through the tunnel to the finish line. With emotions running high, all of our five teams crossed the finish line in good time and high spirits along with understandably sore feet and exhausted grins. I am extremely proud to be associated with those 30 young people from Truro School who have shown the commitment and dedication to train, participate and complete their Ten Tors challenge this year. They have been an absolute pleasure to spend my weekends with up on the moor and I am delighted that each group was able to dig deep, work as a team and finish in such admirable style.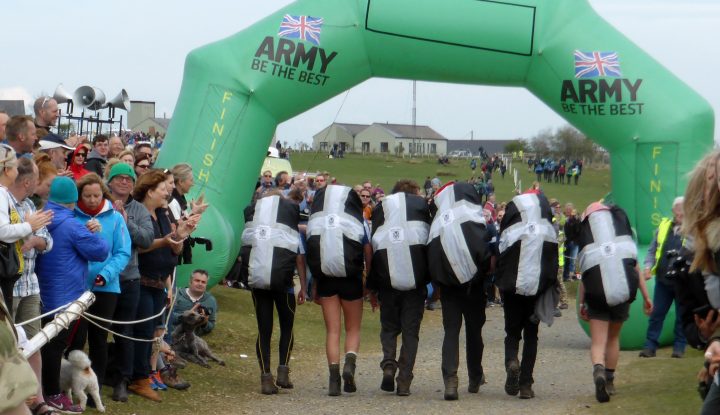 Thank You
As always, I have been helped by a tireless team of volunteers who make the running of the training weekends and the actual event an enjoyable and safe exercise. I must give a huge thank you to the Hatchers, Mannalls, Morgan-Lundies and Hudsons without whom Ten Tors at Truro school would not be a possibility. Liam, James, Ben and Jo regularly make up the supervisory team, trekking across the moor to check in the teams whilst Vicki Hatcher and Jo Hudson ran the base camp at the actual event and ensured that each participant was well fed and watered ready for their challenge ahead.

For me, it is now time to start planning next year's Ten Tors training walks. If you are in Year 3 to Upper Sixth and you are interested in participating in Ten Tors 2017, please have a look at the Truro School Moodle site and look under Outdoor Pursuits and Ten Tors Information.