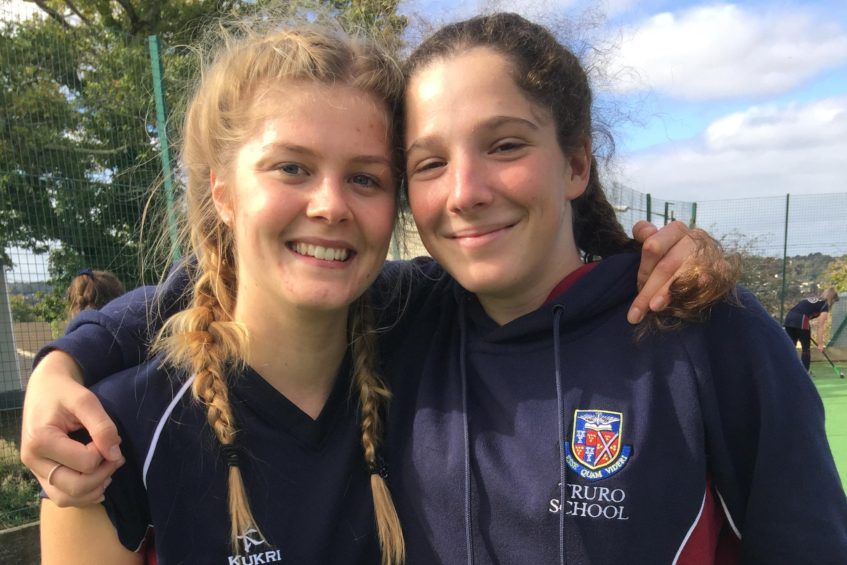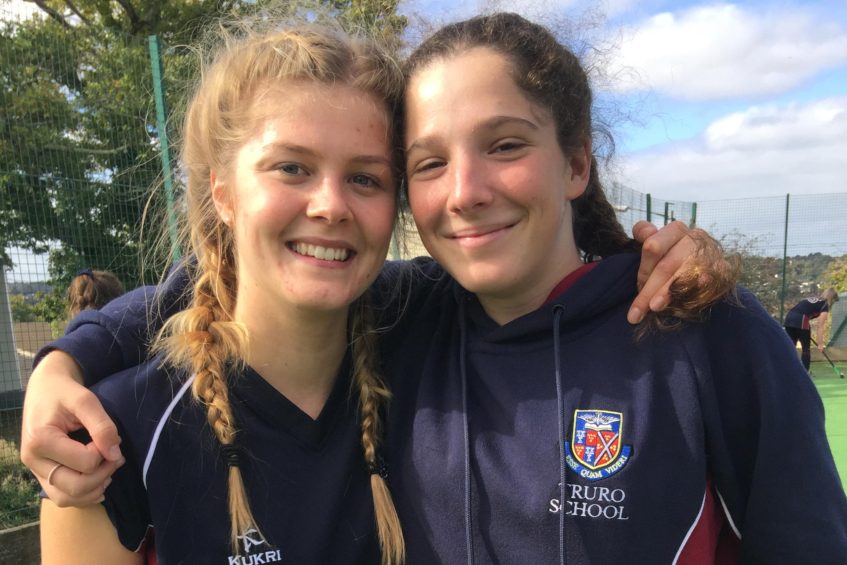 It has been a busy week with lots of exciting things happening during the week. Jemma was selected for the Cornwall hockey squad, which is an excellent achievement, and we look forward to hearing how it goes and watching as many matches at school and away as possible.
Henni, a previous boarder from Malvern boarding house, came back to visit Chloe and Nicolette who introduced her to all the new Malvern boarders. Hannah played in a hockey fixture against Truro High School but they lost this time…. Next time Hannah is determined for a win! Daisy a 5th year pupil came in to boarding for a few nights and enjoyed spending time with all the girls and finding out what boarding life was like which she thoroughly enjoyed.
With more sporting news, Jess and Jemma had a County Hockey tournament on Wednesday.
Jess said On Wednesday lunchtime myself and Jemma headed to the Astro after only a few weeks of team training to participate in the County hockey tournament. It was a challenging afternoon to say the least, every team had a strong side, full of high levelled players. Myself and Jemma played with good spirit, we kept our team motivated whilst emphasising our skills throughout. Although we didn't win, our Truro First XI squad claimed 3rd place. I am happy to say, despite being  slightly disheartened, we have all walked away feeling proud, fit and full of confidence that we will smash all the upcoming matches!
On Wednesday evening our visiting house tutor Mrs Wright did a session with both the senior and junior girls on mindfulness as part of the boarding PHSEE programme. The girls found it useful to hear about how mindfulness can help with managing their work and other commitments. Mrs Wright explained that mindfulness is paying more attention to the present moment – to your own thoughts and feelings, and to the world around you – which can improve your mental wellbeing. That was not the only session taking place, Jess, Chloe and Emma delivered PSHEE session to junior girls on topic organisation giving their top hints and tips and supporting the junior girls with any questions.
Hannah enjoyed an English trip on Thursday to the cinema in Truro for the live broadcast of Hamlet at the Plaza cinema. Benedict Cumberbatch was the lead role and the production had already been very well reviewed when it was released in 2015. This trip also coincided with the Drama rehearsals of the  6th form production of Hamlet that we are looking forward to watching in December.
Hannah said I enjoyed seeing the play Hamlet because even though I did not know the story very well, it was easy to follow and understand. The fact that Benedict Cumberbatch was the lead role was definitely a bonus as he played the role in a very believable way and made you sympathise with him and his situation. The supporting cast were also very good as they added the necessary layers to the story and made the whole tale come together in a very enjoyable and thrilling way.
On Sunday we went to brunch early in the dining hall so we could travel to Plymouth to enjoy some shopping and enjoy a cheeky Nandos.
Cherry said Plymouth is a large town that  has a 3 story shopping centre called Drakes Circus. Shops vary from clothes, CDs to Hotel Chocolate. I bought  chocolates, a poster for my room, some soap and some decorative postcards from Paperchase. 
The girls enjoyed looking at the shops and Anson and Tulip went to the MAC shop and bought some beautiful make up. Anson and Stephanie went to the Asian food shop and found some of their favourites to cook back at the boarding house. Meanwhile Lisha bought a huge cuddly penguin that has a wintry scarf on which will keep her company especially now the nights are drawing in earlier.  The photos above show the post shop but pre Nandos visit. Carolin was adamant she took the photo so she is the creative director of this lovely photo and may become my new assistant as she is much better at working the iPhone.
So we sat down in the late afternoon to a Nandos feast. I was impressed that Nana went for Extra Hot chicken which would have been very spicy indeed – most of us stuck to medium or lemon and herb. All agreed it was delicious and afterwards when we got back on the minibus many were so full and sleepy the boarders enjoyed a nap all the way home (an hour and a half nap is a good nap!) Cherry enjoyed a chicken burger that she said was soooo good and the spicy piripiri sauce was very tasty, I  finished the whole plate off!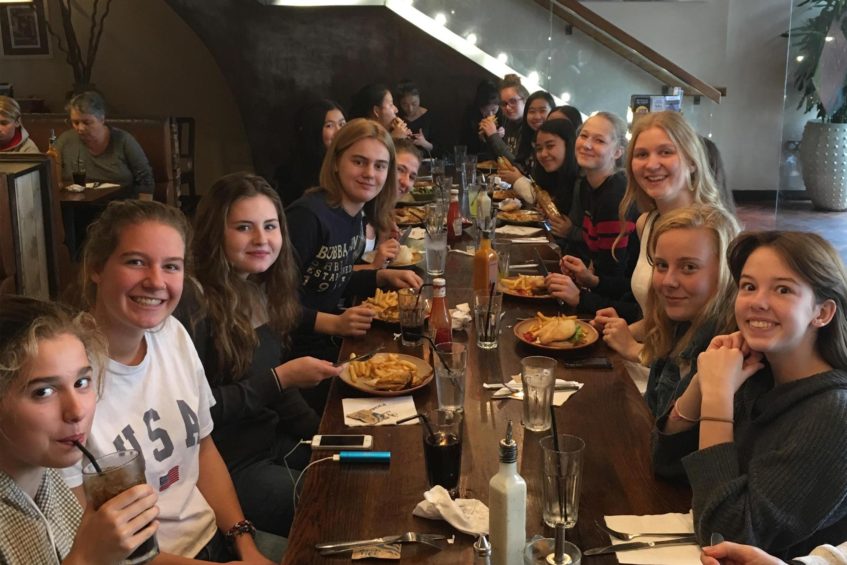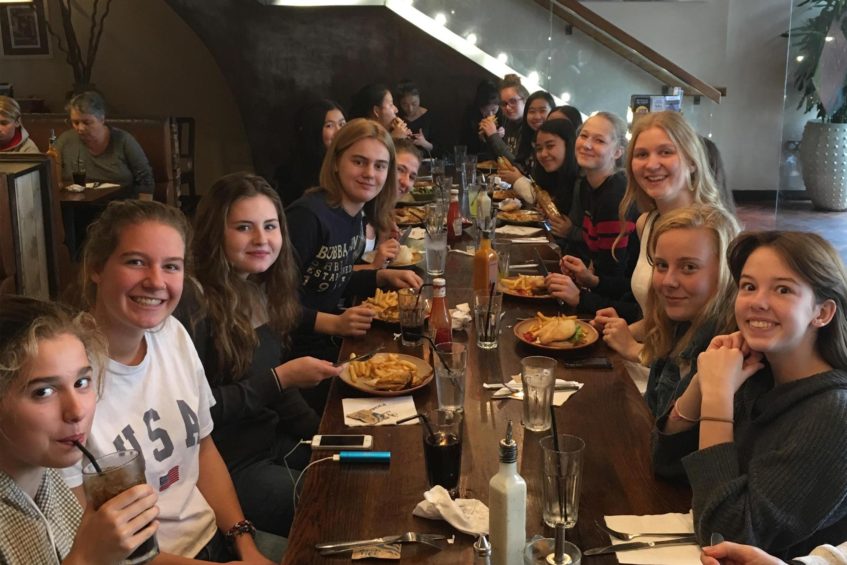 Sophie has been away for weekend with friends and has joined us back this evening. She has enjoyed meeting up and spending time with them and I have enjoyed hearing about what she has been up to including spending time with her friends horse of their farm.
Nearly all the girls have signed out early for bed and I don't blame them.
Goodnight from Malvern!
Miss Emily Hargreaves (House Tutor, Malvern House)