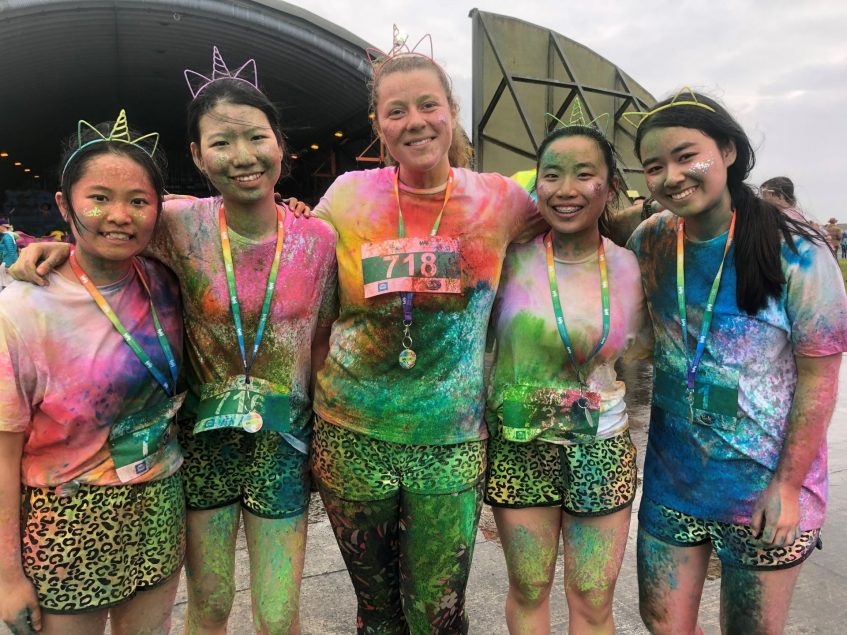 Malvern House Blog (Friday 21st June – Sunday 23rd June 2019)
Wow…here we are, the penultimate Malvern House weekend blog! It is hard to believe but the reality that another year has almost passed us by is starting to hit home. This week we aid goodbye (but not forever) to Stephanie who headed home on Thursday morning.
With the numbers slowly dwindling as girls finish exams and return home, Jemma and Hannah not in for the week and Codi away in Slovenia completing her Gold Duke of Edinburgh expedition, Malvern has been uncharacteristically quiet. That said it has still been a busy and full on week for those that are still here.
Following last week's internal, domestic exams the L6th girls have been receiving exam results and UCAS predictions this week; it has been an anxious time for all of the girls but I know that they could not have done more and I am very proud of them.
Exam results aside, the L6th have had a fairly relaxed week in terms of prep. Mario kart has become a firm favourite in the common room and the evenings have, of course, been consumed with Love Island watching.
On Tuesday Stephanie, with all of her GCSE exams over (YAY!!!), enjoyed the 5th Year Thanks Giving Service and BBQ. In the evening, and dressed in her finest, she joined the other's in her year group at the 5th Year Ball at the Falmouth Hotel. I am sure you will agree that Stephanie looked divine and she certainly deserved an evening celebrating all that she has achieved over the last three years with us.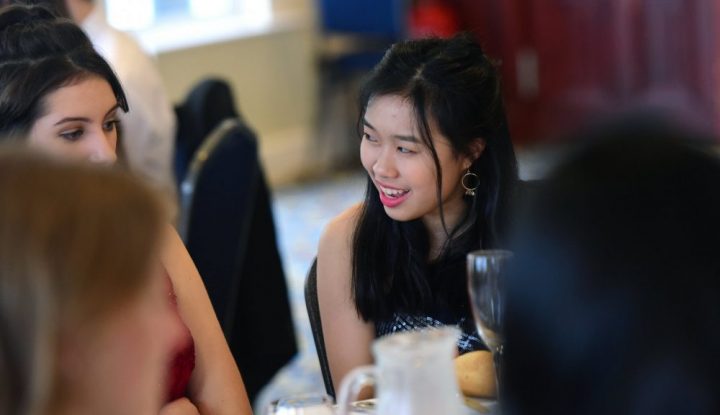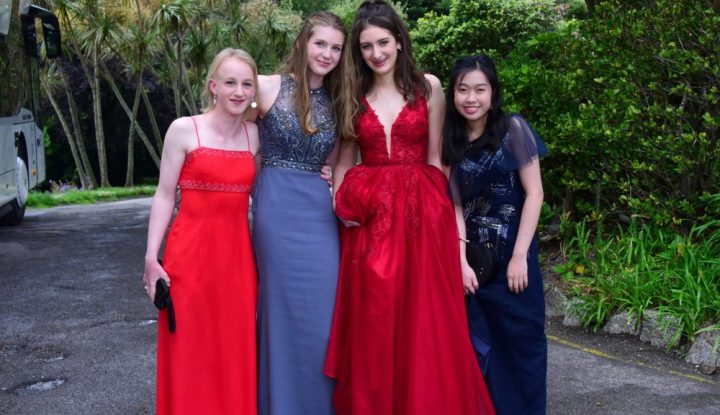 Also on Tuesday I met with Cherry and Tulip for our final House Council Meeting of the year. I was pleased to be able to report progress with a number of items that they had raised at the last meeting and it was good to hear such positive feedback regarding the recycling bins, the new patio courtyard and the plans that have been drawn up to make improvements to the fabric of the house from September. The girls did not disappoint me however and just when I thought I might be able to wind down a bit, a few more items were added to the wishlist!
Wednesday and Thursday passed by in a flurry of activity for the girls, fencing training, dance practise, rehearsals and evensongs kept some of the girls busy and we soon found ourselves at Friday all over again!
The weekend was met with open arms when it came, and the weary girls disembarked back in the house somewhat shell shocked from a week of exam feedback and discussion regarding UCAS predications. A celebratory meal at Truro Tandoori for Tulip, Tung and Cherry had been arranged and Leanne, Anna and Winkie headed off to a local beach for a BBQ with some day pupils. The usual programme of after school activities, supper and then the SBA unfolded for everyone else and it was soon time for lights out and a well-deserved sleep.
On Saturday morning the girls enjoyed a bit of a lie in before brunch. Codi, who had arrived back from Slovenia in the night, was duly welcomed home and it wasn't long before she was recounting what she had done, where she had been and what she had seen! It sounds like she had an absolutely amazing time and an experience that she will never forget! Here is my favourite photo…whilst the official photos have not yet been shared, here are a couple that Codi let me have….I can't help but be envious of the paddle boarding one! What a beautiful location!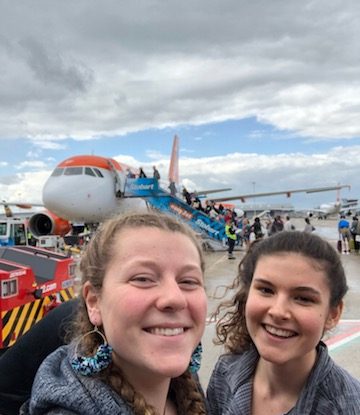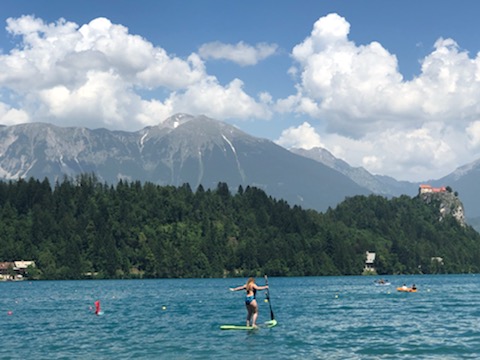 With no plans for the day the girls came and went, spent time in the house courtyard soaking up some much needed vitamin D or made the most of the in house/on site facilities such as the gym and swimming pool. Cherry and Tulip headed into town on a fancy dress mission, taking photos of various items and compiling a shopping list of things for me, and Codi put herself in the Malvern House honours book for being the first to use the washing line!!! With the sun blazing her DofE kit was dry in no time!
At about 4pm the clouds started to form and so the girls regrouped inside perusing the fancy dress items and finalising the plan of action in terms of face glitter application. A sticky ribs supper was enjoyed and then a quiet evening in house was in store.
Mario Kart on the Wii, which has become a firm favourite recently, was enjoyed and I was even enticed to join in the fun…it's been a while since I played but I was pleased to hold my own….the classic comment of the evening came from Codi who exclaimed 'Wow, I can't believe I am winning'…the feeling of success did not last long though as Leanne quietly pointed out that she thought Codi was actually player two and was certainly not winning!
On Sunday morning the girls got up early and after an earlier brunch we boarded the coach for the annual Rainbow Run at RAF St Mawgan. On arrival at the now disused air base and having changed into their bright white t-shirts on route, the excited boarders and boarding staff headed to the registration tent. Unfortunately, the beautiful weather of the previous day did not grace us with its presence with rain setting in and not lifting for the duration. That said, this did not deter the boarder's spirits and I was really impressed with their willingness and camaraderie throughout! They joined in with the mass warm up, under cover of the aeroplane hangar, and before we knew it the claxton had sounded and we were off. A mixture of running, jogging, walking, skipping and cartwheeling followed and it will suffice to say that much fun was had at the paint stations; a number of boarders took competing for the 'most paint coverage' award very seriously indeed and with other prizes, including first boy, first girl and first house to complete there was much at stake! The following pictures should give you a flavour of the event.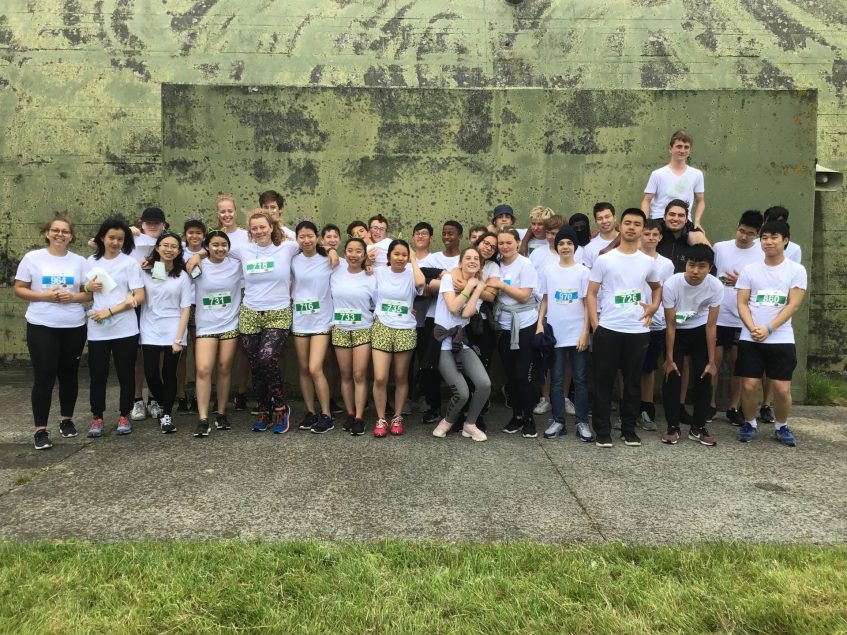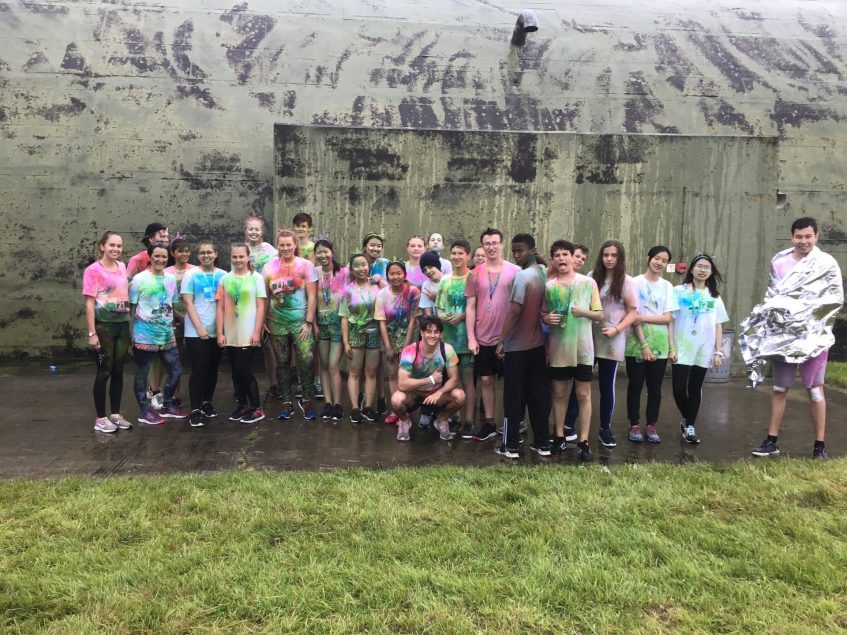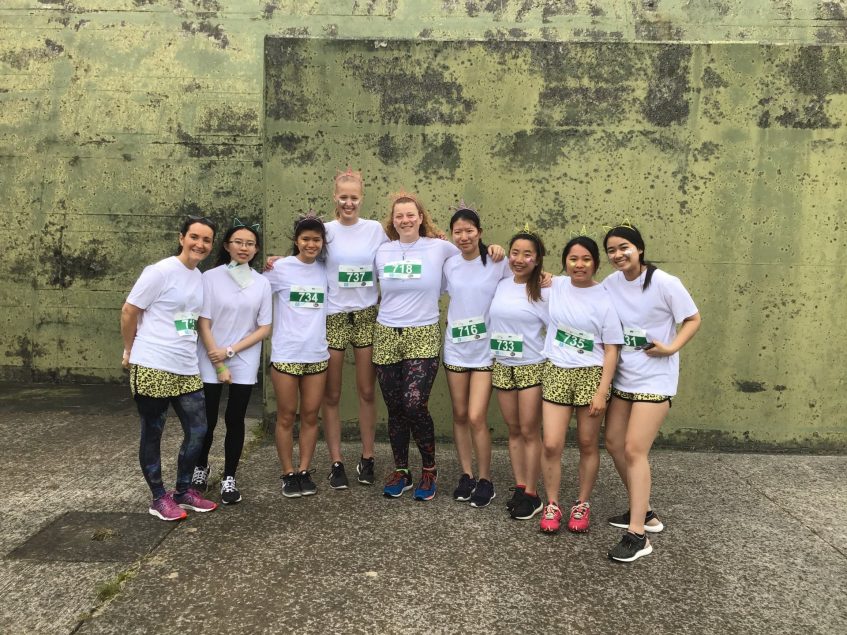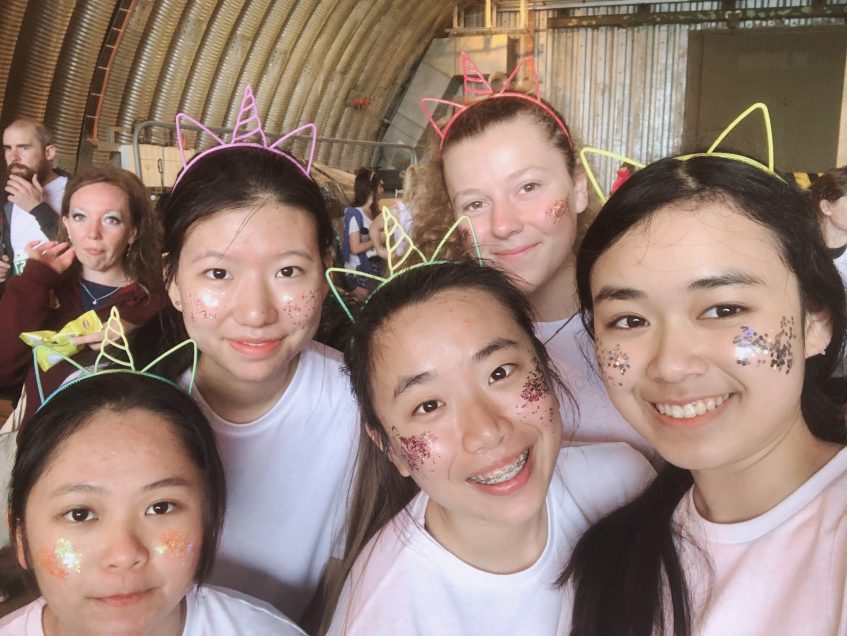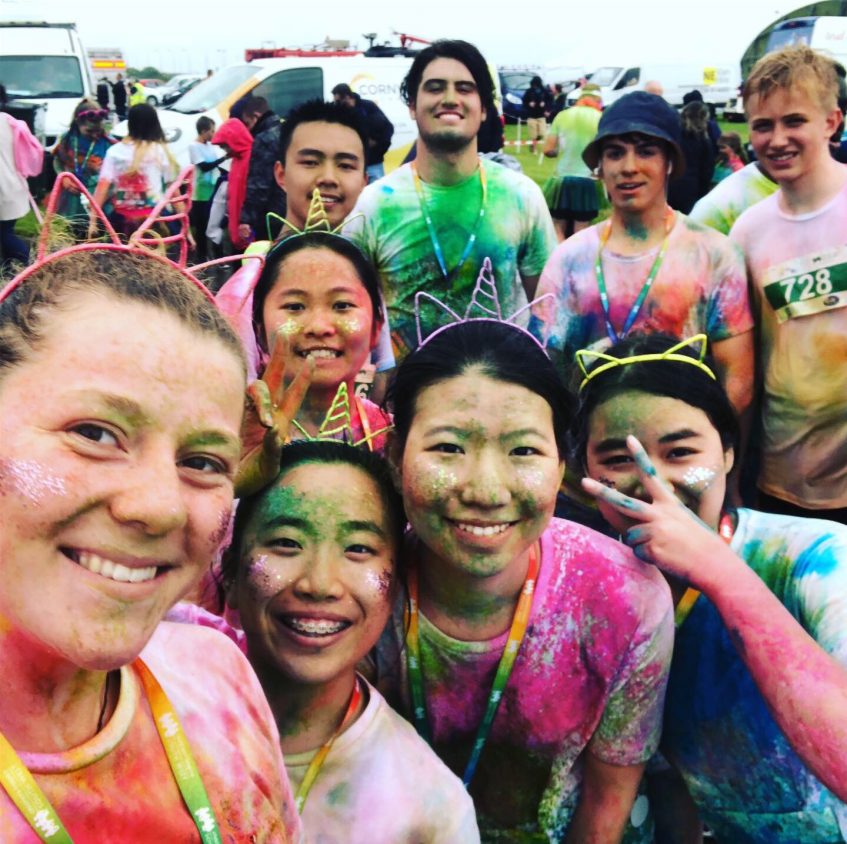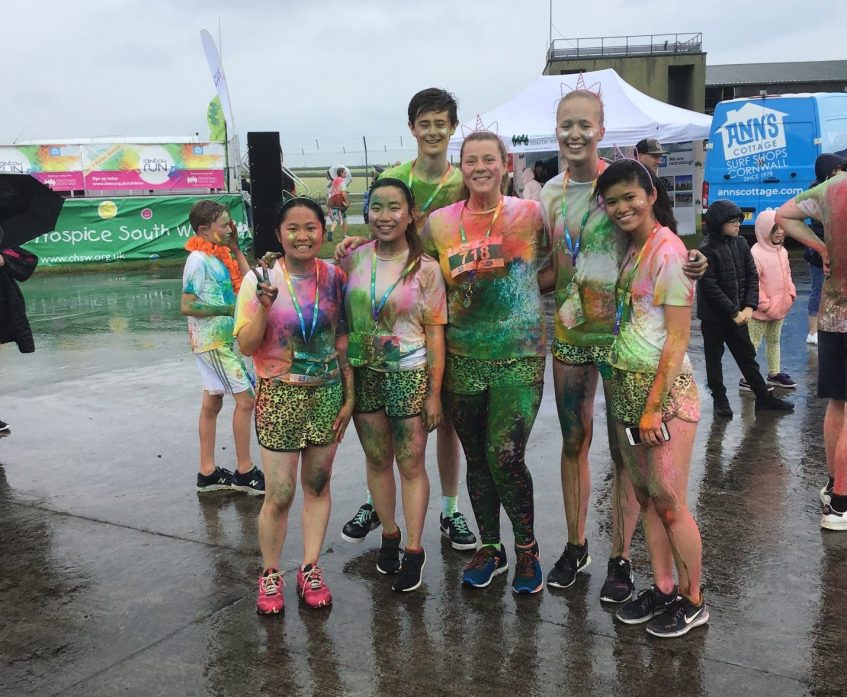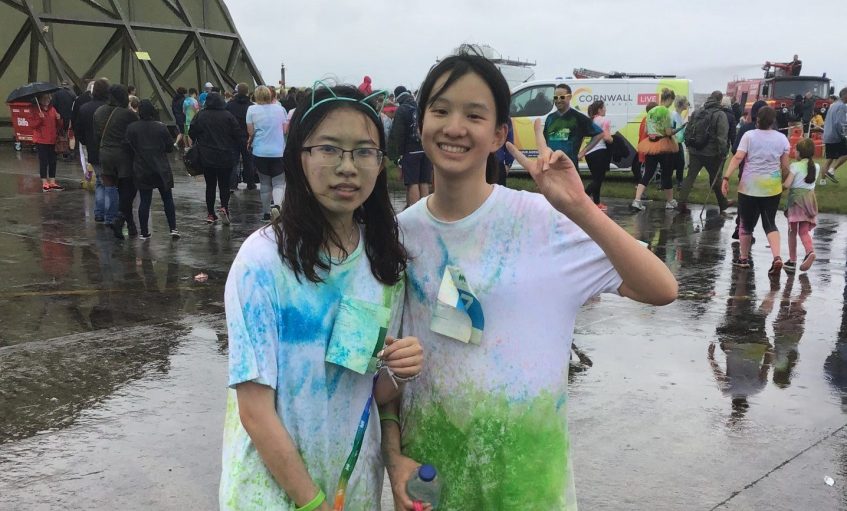 With Mr Hatfield counting them in across the line talk quickly turned to who won, of course. Mathias, from Poltisco, put in a sterling performance to come home not only first Truro School boy but also third overall!!! Leanne took the girl boarder crown and the most paint coverage award went to Max in Trennick; he was top to tail!
As you know the Rainbow Run event is organised by a local charity that we, as a boarding community, have been supporting for the last five years. So far, and thank you to those of you that have already donated, we have raised £140 of the £300 target. If you would like to sponsor us, you can still do so by clicking on the following link:
https://www.justgiving.com/fundraising/truroschoolboardersrainbowrun2019
This evening has passed in a blur of showering and general relaxing from the tiring day. The girls have gotten on with homework and have been planning for the week ahead; the packing process in some rooms has also begun in earnest!
Looking ahead to the last two weeks of term, the L6th will be off timetable tomorrow and Tuesday taking part in Post 18 Options Days. I am looking forward to receiving the L6th end of year reports and will of course be looking at their grades and numbers very carefully with a view to deciding on learner status' for next year.
Thursday is Sports Day and the entire school will be off timetable and up on the school fields for the day. With events such as the 100m sprint, the 800m, long jump, high jump, shot put and discuss the girls will surely find their niche.
On Friday the Headmaster will deliver his last full assembly of the year and award colours to those that regularly represent the school and the eagerly await senior prefects and for us here in Malvern, the Head of House for 2019-20 will be announced.
Next weekend we have the Aqua Park at Retallack Resort and the leaving BBQ on the final Sunday of term to look forward to. World Aims will take precedent in the final week of the term when the girls will be off timetable and enjoying different activities in their Sports House groupings; this year's theme 'Looking Beyond Ourselves' will have a charity minded feel and I am sure the girls will throw themselves in to and enjoy the different activities.
Make sure you read next weekend's blog to find out all about sports day and the last weekend of term!
I hope you have a great week!
Sarah Mulready (Housemistress, Girls Boarding)