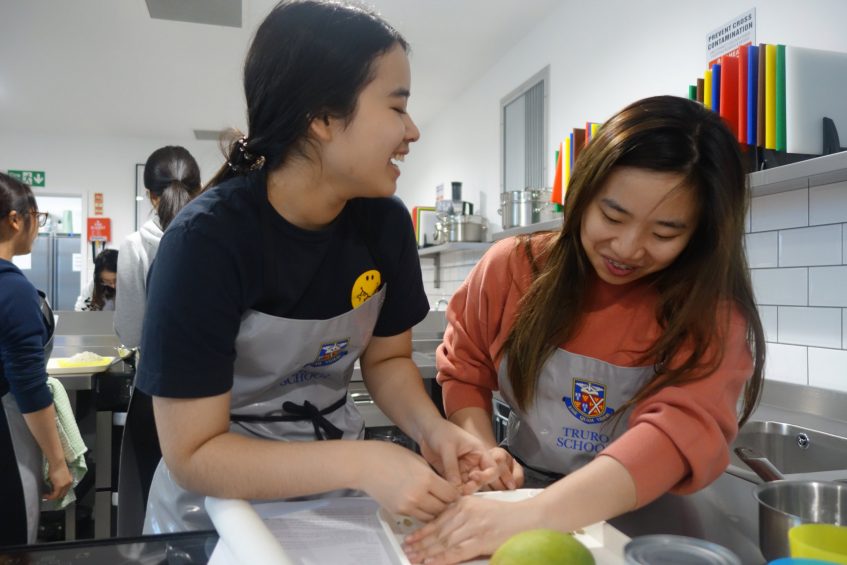 Storm Gareth has made for an interesting week and we have certainly been reminded that we have had a very lucky winter weatherwise.
The girls have had a true taste of both rain and wind and are now really hoping that Spring properly arrives in the very near future!
The week begun in it's usual busy fashion and there has been little let up since. For Erin and Amy, who have been working incredibly hard on their GCSE drama practical performances over the last couple of months, judgement day finally arrived. On Monday it was Erin's turn and on Tuesday Amy, and flexi boarder Jess, who spent a couple of nights with us at the beginning of the week, took to the stage in the Burrell Theatre. I was delighted to hear that all three girls were pleased with their performances and I have definitely noticed a shift in spirits with a weight seemingly being lifted off their shoulders! Well done girls, you worked really hard and I am very proud of you!
On Tuesday, the school hosted a group of twenty international agents who visited to learn, and photograph, all about boarding at Truro School. With a jam packed agenda of tours, meetings and visits a number of the Malvern girls were invited to tea, coffee and juice with bisucits in the Heseltine Gallery over break time. As usual the girls did Malvern and the school proud, talking articulately and confidently about their experiences and answering any questions the agents had.
It has been a busy week for the Malvern House fencers with both Leanne and Hannah in action. On Wednesday they travelled to London for the Inter Schools Fencing Competition in Crystal Palace. Mrs Jupp reports that the girls did brilliantly, with Hannah placing second, behind another Truro School competitor in her category, and Leanne winning hers!
On Thursday evening, having been selected by her singing teacher, Helena enjoyed a vocal masterclass with bass baritone Darren Jeffery in the school Chapel. Prior to the masterclasss Helena, Lowenna and the schools choirs were able to listen to him perform also; both girls thouroughlly enjoyed the session and will have learnt so much from the experience.
Sadly on Thursday evening we said goodbye to Miss Naylor who has been the Malvern House Resident Tutor since September. The girls and I gathered in the common room after prep to present Miss Naylor with some gifts to say thank you and some cake to enjoy together. Whilst incredibly sad to see Miss Naylor go, she has been a brilliant support to the girls and to me, the girls and I wish her the very very best in her new adventures in London; we hope she comes back to visit us and we are eagerly awaiting her new Luther-esque detective drama series, Naylor, to hit the screens. I'm hoiping she will forgive me for the photos….
Firday amd the 3.45pm bell quickly came about and the start of yet another weekend was greatly received by all. For Helena, Lowenna and Hannah the end of school was to be a little delayed though as Dr Srping had organised a history talk in the burrell theatre from 4-5.30pm.
Friday evening followed the usual routine of supper, prep and then the SBA for some.
On Saturday morning, with Miss Malla in charge for a couple of hours, the girls pottered around making the most of some free time. Anna, having been selected to represent the school in a netball fixture in Plymouth, headed off early whilst the rest of the girls had a more lesuirely start to the day. After a hearty brunch Sophie had her usual weekly driving lesson, Helena had rehearsals in the music school and then again later in the Cathedral and the gym and town were were taken advantge of. Hannah and Leanne headed back to London on the afternoon train for more fencing and then at 2pm, Sophie, Cherry, Tung, Tulip, Codi, Lisha, Winkie and I headed up to the Cookery School for this terms second Cook and Eat session. Following the success of the previous Italian themed session some weeks I was not sure the experience could be matched but I was very worng. The thai menu that the house prefects, Cherry, Sophie, Mars and Ollie had put togtehr with Miss Talor, Head of the Cookery School, was divine and once again the boarders ahd a great couple of hours learning all about cooking the different thai dishes.
As previously, the café was transformed into a resturant and the boarders all sat down together to enjoy the fruits of their labour. It is safe to say there was little left at the end of the dinner party!
For those not involved in the cookery, cinema tickets were purchased and Anna, Amy, Stephanie, Sophie and Kristina headed to town to watch their film of choice What Men Want.
On Sunday with the weather significantly less awful, the girls enjoyed some free time. For many this meant lie ins before brunch and then a gym session or a wander into town. Codi spent the day off site with her godparents and Malvern had a studious feel about it with many of the girls knuckling down to some work.
This evening we have enjoyed a roast duck supper and the girls congregated in the common room after an hour of formal prep.  Nachos, dough balls, smoothies, crisps and dips and ice cream have all been devoured and I enjoyed teaching the girls another fun game…this time with chocolate!
The week ahead looks set to be busy with the EPQ showcases on Monday and Tuesday and the UCAS Exhibition at the Royal Cornwall Show Ground on Friday for the L6th. The Truro Music Festival takes place this week to and a number of the Malvern girls are involved I wish them all the very best of luck!
Next weekend Miss Malla will in charge and there is a watersports themed day at Stithians Lake planned.
Until then, goodnight from all in Malvern.
Mrs Sarah Mulready (Housemistress, Girls Boarding)