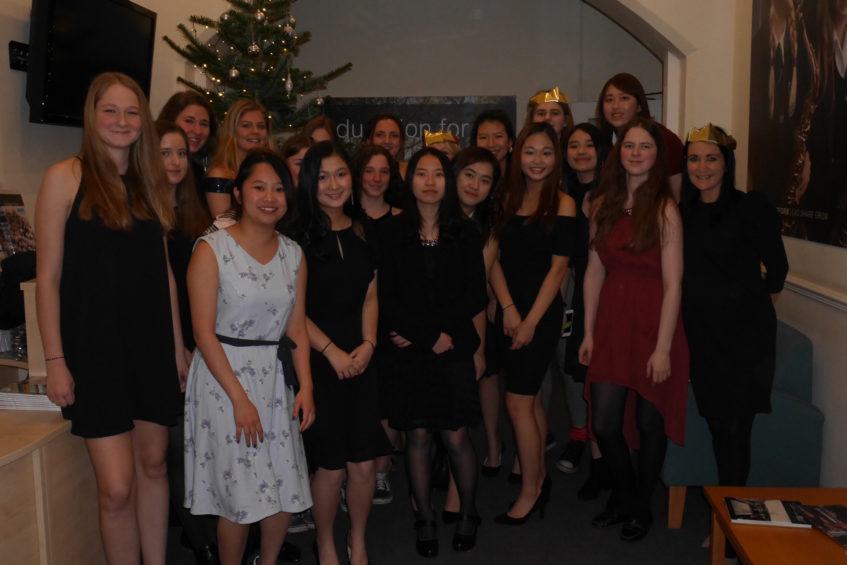 And here it is….the last blog of the Autumn Term 2017-2018!!!
This week has seen the 5th years writing their mock GCSE examinations and despite the pressure that this inevitably puts on the students, I have been both impressed and proud of how the girls have coped and prepared themselves. The house has been very studious over the last few weeks and it has been great to see the girls leaning on and helping each other. The girls, and I must give them credit where credit is due for initiative, have definitely capitalised on the added benefit of live-in staff this week too. Whilst Miss Hope an Miss Hargreaves have provided extra Geology and Geography help respectively, my duty evenings have been spent providing maths tutorials. Mr Barnett, Mr Kitto and Mr Lawrence have even been visited by hopeful and expectant 5th years, eager for Geography or Computer Science help, whilst on duty in the library. I hope that the hard work and extra hours will have paid dividends but despite the results, I could not have asked the girls to work any harder!
In other news this week, the girls have busied themselves with dress buying and trying on, Wednesday late night shopping take two, and Cherry went on the Art trip to London on Tuesday and Wednesday. The advent calendar chocolate treats in the morning continue to be well received and the reverse advent calendar basket, where we are collecting items for Truro Foodbank, is starting to fill up!
The academic week ended with a non-school uniform day on Friday and the girls were up early perfecting their outfits before heading up the hill with their two-pound charity contributions.
On Friday evening the usual rounds of homework and revision took place before those brave enough to step into the icy cold evening air made the their way up to the SBASC for some badminton and basketball.
Jess was the first up on Saturday morning as she had a home hockey fixture on the astro turf at 9am. Having been roped in to be team manager (not by Jess I might add), I was fortunate to be on the side lines on this occasion and it was great to see the first XI get so stuck in and hold their own against two very talented and strong sides from West Buckland and Mount Kelly.
Miss Hargreaves took over the reins duty-wise on Saturday and the girls enjoyed a relaxed day completing prep or popping into town for secret Santa gifts. For Helena the afternoon was spent rehearsing for the evenings Messiah concert in the Cathedral.
Saturday evening would not be Saturday evening without feast type treats and Miss Hargreaves did not disappoint with an array of crisps, dips, pizza, chicken, chocolate and ice cream. The girls enjoyed a relaxed evening in the common room and watched a film.
On Sunday, lie-ins were enjoyed before brunch and then we headed off in minibuses bound for the Eden Project in St Austell. All four boarding houses came together for this annual, ice skating trip and it was great to see them having so much fun on the ice…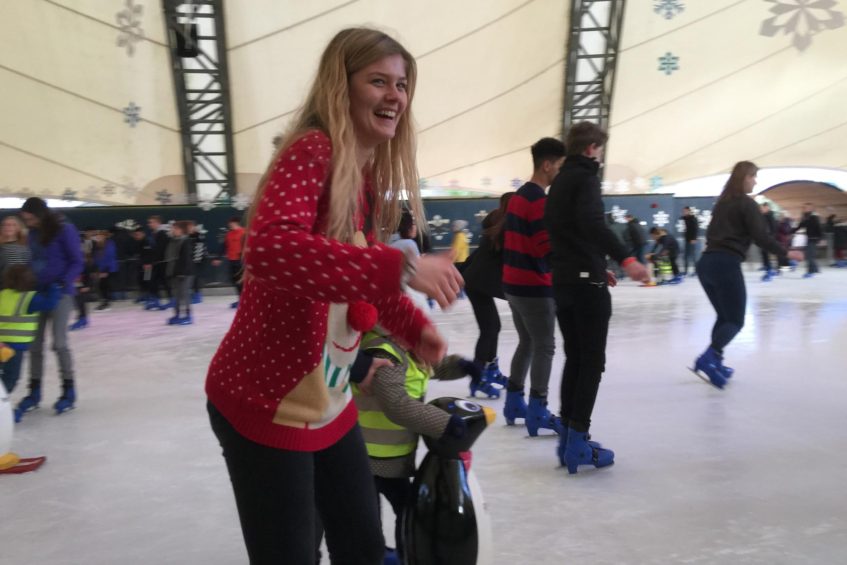 After a 'quick' visit to the gift shop we made our way back to school ready for the showering and pampering to begin. Party dresses were the order of the day and the girls all helped each other with make-up, nail painting and hair styling. Transformed, they headed up the hill, fashionably late I might add, to the Chapel were the entire boarding community came together for the Boarders Christmas Service.
In his usual, perfect way, the Rev led a touching and unique service. Christmas hymns were sung in German, French, Spanish, Russian and Cantonese, a celebration of the diversity and different countries represented in the boarding community and then, after the closing prayer we headed over to the dining hall where the catering staff had been slaving away all day.
The hall had been transformed and we were treated to a festive feast. Roast turkey, pigs in blankets, potatoes, veggies, stuffing, gravy and delicate mint chocolate cake Christmas snowmen all made for the perfect Christmas dinner and it was great to see the boys and girls, both senior and junior, mixing and integrating so well.
After the dinner Mr Copeland, Head of Boarding, started the speech and award giving process. Our Head of Malvern House, Jess, joined forces with Alec, Head of Trennick House, to give a great round up of the term speech.
It was then over to Miss Hargreaves and I to hand out the Malvern awards. Without naming and shaming, I will let you speculate on who was awarded what, prizes were awarded to: the worst decision makers, the best cat-fighters, the shortest skirt wearer, the Malvern House artist, the boarding couple of the year and the Malvern unsung hero, the Right Hand Woman.
After the speeches and awards, the dance floor was cleared and the girls danced and partied into the night. I literally had to drag them away and down the hill to bed. The pictures below will give you a flavour…it is safe to say, some shapes were cut and a lot of fun was had!!!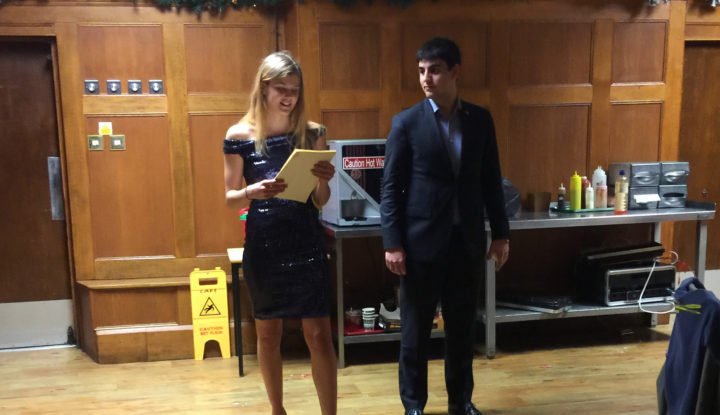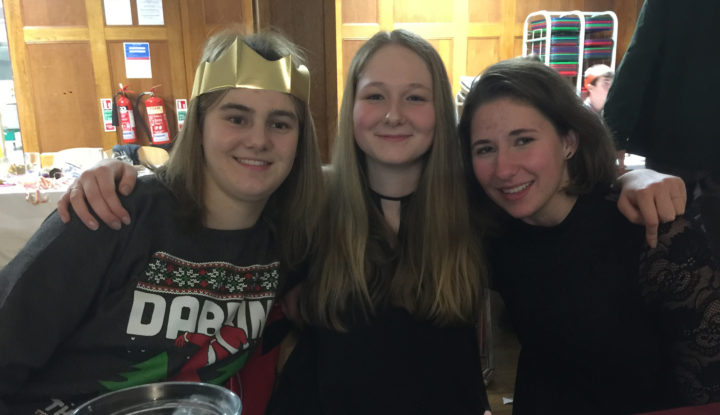 After the party, we congregated back in the Malvern House common room for secret Santa present giving. I was so impressed with the thought and wrapping (in most cases) efforts that the girls had put in and the array of gifts exchanged was remarkable. Whilst It is fair to say that LUSH was well supported this year other lovely presents including a cake in a mug, slippers, slipper socks, perfume, note books and even a cactus were also exchanged.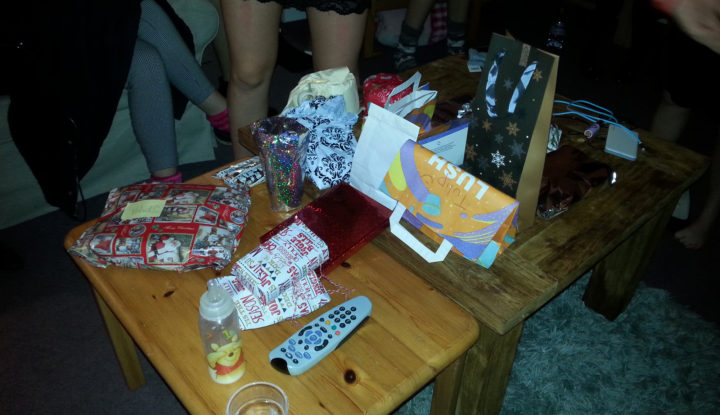 The girls left for bed exhausted and with throbbing feet,….or was that just me?
Monday was a busy day and is the reason that this blog is a little delayed. Miss Hargreaves forbade me to send it out on Sunday evening as usual as she, in her own words, wanted to get her own back on me, as it was my birthday.
Having woken and opened up the house as usual at 7am, the girls surprised me with a lovely rendition of happy birthday, some presents and a cake. I am humbled by their thoughtfulness and have already put the slippers, candle and sweets to good use! The pictures on the other hand I am adding to this blog under duress….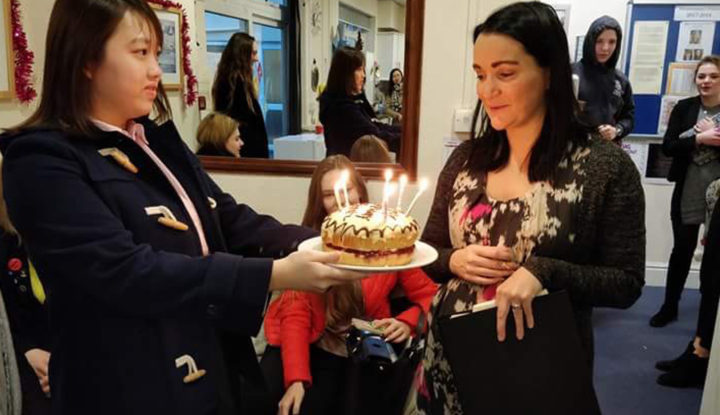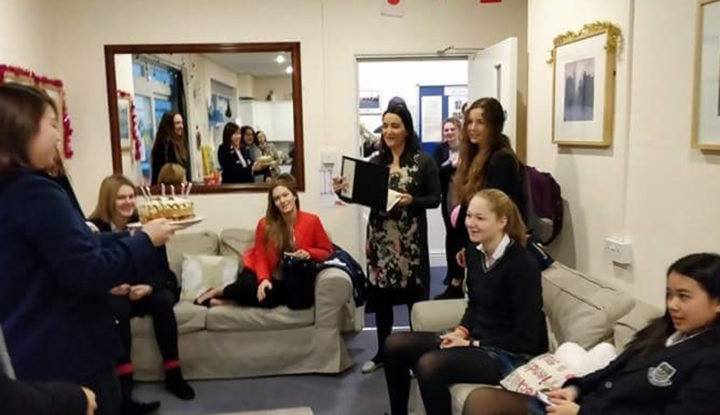 Monday night was party night once again (these girls certainly do have a hectic social life; it exhausts me just thinking about it), with the Sixth Form Christmas Party at the Alverton Hotel. Never one to miss out on a photo opportunity, we invited the boys from Trennick down to the house for some pre party socialising and nibbles. I am sure you will agree that the girls looked stunning and the boys scrubbed up pretty well too!
After the obligatory photos, Mr Copeland chauffeured the excited group down to the Alverton Hotel in one of the school minibuses for which the girls were eternally grateful…it was raining and they were wearing heels after all!
When the girls returned later that night, Miss Malla and I were ready with bacon sandwiches and cups of tea; it was great to sit down with the girls to hear all about their evening and pursue the photos that Jess took.
There were certainly some tired and sleepy girls at roll call this morning!
Now with just three days left, all that remains for me to say is that it has been a real honour to head up Malvern House and girls' boarding this term. We have a very special group of young ladies this year and I am really looking forward to watching them grow and develop further as the year, and years to come, progress.
Lastly, but very importantly, I would like to wish all the girls, both senior and junior, and their families a very happy Christmas. In addition, I would like to add my thanks to the staff, to Miss Hargreaves, Miss Wright and Miss Malla and to Miss Broadhurst, Miss Hope, Mrs Chanter and Mrs Kenward, THANK YOU; your support and help this term has been unfaltering and I very much appreciate everything that you have done! Both Malvern House and Pentreve House are lucky to have such an amazing staff team and I hope that you all have a much deserved and very happy Christmas.