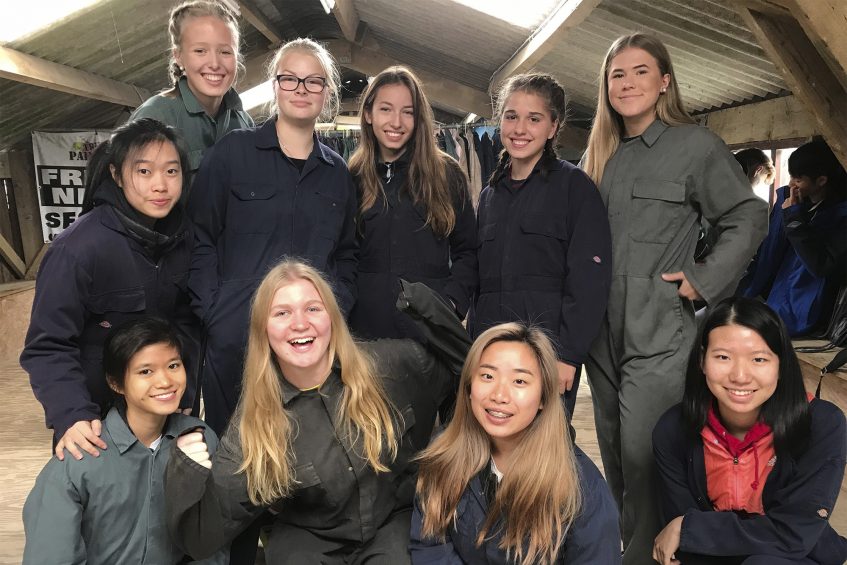 After the horrible and very wintery wind and rain of last weekend, the sun has returned and we have had a lovely week weather wise.
Whilst the Great Boarders' Bake Off, 2018 has taken up most of the girls time this week (more to follow later) there have been other things going on too.
On Tuesday evening the school was to open it's doors to the general public for the Sixth Form Open Evening. Inevitably this meant a house tidy up was in order and Miss Malla duly obliged and orchestrated a very thorough tidy up whilst on duty on Monday evening. The house was gleaming on Tuesday morning…so much so I am pondering throwing surprise (and fake) tours throughout the year whenever the house is looking a bit messy! I wonder how long it will take the girls to clock my plan?
When the evening itself came about our senior students, Jemma, Cherry, Sophie and Charlotte were kept busy prefecting in Chemistry, Art and Biology. With interest in boarding shown at the main school stand, the other girls were on hand down in the house to show Malven off in all it's glory; it seems strange to think that I met some of the current girls, for the very first time, this time last year at their Open Evening!
On Wednesday afternoon, the Lower Sixth attended a drivers awareness and road saftey seminar, Learn to Live, at the Regal Cinema in Redruth. Whilst quite hard hitting, this annual seminar, that is offered by Cornwall County Council, is widely praised and the girls thought the messages that it gave out were important and much needed. They were a bit sad to miss their Wednesday afternoon activities sessions though.
From Wednesday afternoon onwards, preparations for the 'Great Boarding Bake Off, 2018' have been in full swing and both the Mulready and Naylor kitchens and ovens have been in high demand.
With an earl grey tea and strawberry mousse cake, a double chocolate and cheesecake sandwich cake and some red velvet cupcakes on the menu the house has never smelt better; it really was mouth watering! The carnage and mess that was created in each and every Malvern kitchen however…well that is another story…but thankfully it was superficial!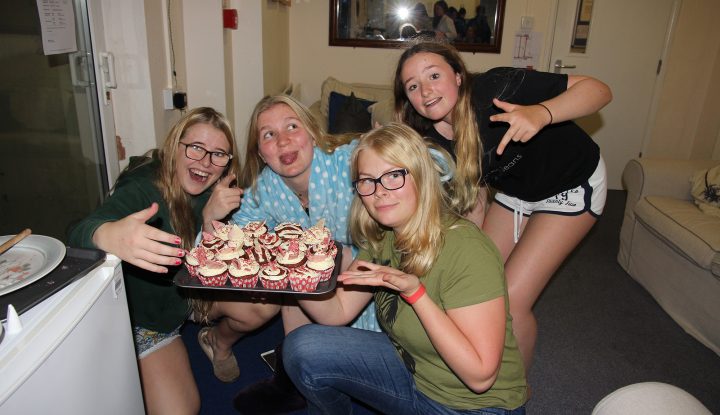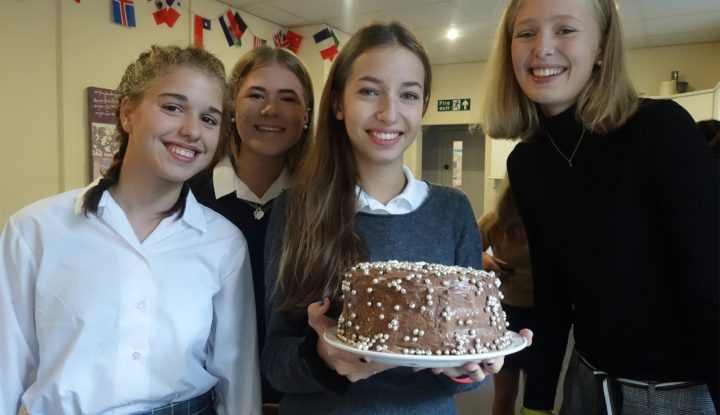 On Friday at breakfast, the girls presented their cakes for judging and it is fair to say the standard was very high. Not being placed in the top three at all last year (not that I am bitter or competitive) still resonates and so I was thrilled to see two of the Malvern entries win prizes. Amy, Kristina and Emma came a commendable third with their beautifully presented red velvet cupcakes and the earl grey and strawberry mousse cake won!
Well done to Cherry, Tung, Stephanie, Winkie and Lisha…the Great Boarders' Bake Off, 2018 champions! Well done and congratulations must go to Trennick House and Jay Osbourne, whose chocolate cake won the second prize crown, too. I think we might give next year's competition a miss…it's always worth ending on a high!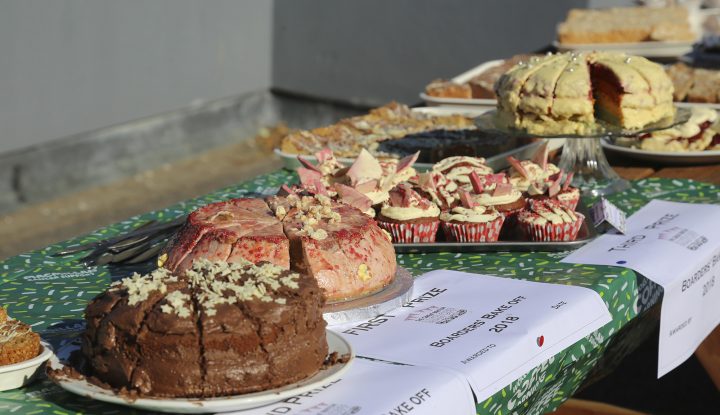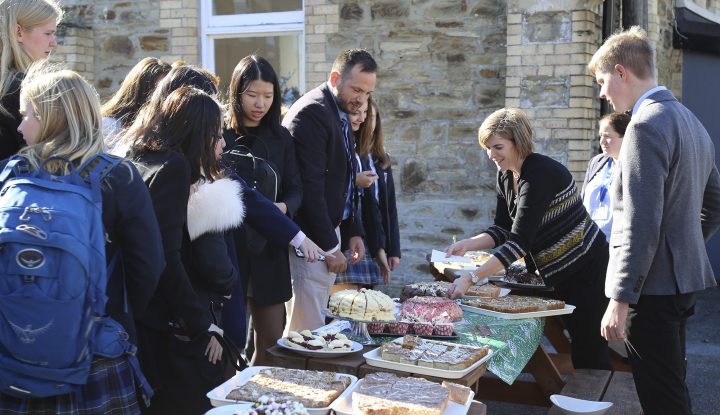 By the end of break time and with very few slices of cake remaining the students headed back to lessons and Mrs Copeland kindly totted up the proceeds. An incredible sum, to be confirmed but somewhere in the region of £122, was raised for Macmillan's Cancer Support and the boarders should be incredibly proud of themselves for all that they achieved this week!
The Friday 3.45pm bell to signal the beginning of the weekend was welcomed by all when it finally came this week, and the
girls (and I) gladly downed tools ready for a rest. The weekly boarders left for home and the rest of the girls enjoyed supper before completing an hour of prep.
The usual rounds of sporting activities in the SBASC ensued and were followed by some Dominoes pizza ordering before the girls, understandably, collapsed into bed looking forward to a lie in.
Saturday morning started with an early wake up call for Hannah who left the house bound for London and another fencing competition at 4.45am….I'll set my alarm miss, she said….hmmm!!!
For everyone else, Saturday was to be free and the girls enjoyed the lazy day. The gym was visited, some shopping was done, and whilst Anna W, Anna B, Sophie W, Hannah and Amy went surfing at Perranporth, Sophie P went to watch Mama Mia at the cinema.
In the evening Lisha, Tung, Stephanie, Tulip and Winkie joined Leanne from Pentreve and some of the Trennick and Poltisco boys in ordering Chinese food. It was lovely to see boarders from all four of the houses coming together to celebrate the Mid-Autumn Festival.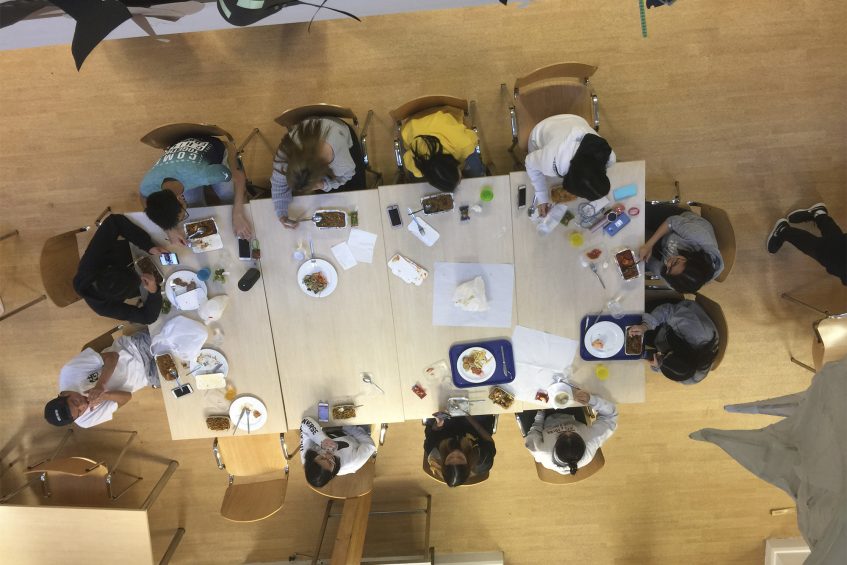 For those not involved in the celebration it was a movie evening in the common room with nachos, pizza, ice cream and popcorn before bed.
On Sunday morning whilst the majority of the house was quiet and lie-ins were being enjoyed, Leanne and Cherry visited the gym. Amy was also up and about earlier than some, readying herself for a few days at home with her parents…we do hope the roast dinner lives up to her expectations; she was very excited about it!
After a hearty brunch, the girls joined the senior boys from Trennick and jumped on mini buses with Mr Kitto and myself. Two and a half hours of paintballing fun followed and it is safe to say a lot of enjoyment was had!
Upon our return the girls showeredand warmed up. Supper has been enjoyed and now with prep taking place, the house is very quiet. The girls will spend the evening preparing from the week ahead, sorting laundry, stripping beds and tidying their rooms before an earlier night.
Looking ahead, I am, and I know I am not alone in this, hoping for a more relaxed week; there is certainly not as much in the diary.
Next weekend Miss Naylor will be on duty and the girls will be involved in tours at the schools Open Morning. A cinema trip on Saturday evening or Sunday afternoon is also on the cards.