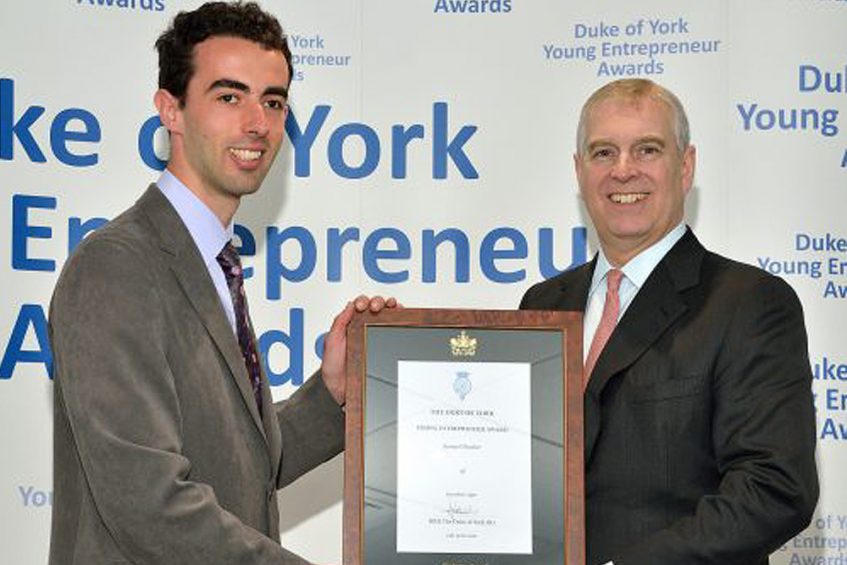 After leaving Truro School Sam Heather went to the University of York to study Computer Science.  Three years later he won an award in the Plan ENVY (Exciting New Ventures at York) competition.  Sam was surprised to receive the call from the University of York as he had already graduated but returned recently for the official presentation by His Royal Highness Prince Andrew.
Sam collected a £2,000 prize for Outstanding Business 2 projects:
pingWHEN (personal safety app for women in the US:(www.pingwhenapp.com) Sam developed the app in his third year at university, in response to the number of female students in the USA facing sexual assault.  The app was officially launched to the public in August 2015.
Submarine – a project to bring freedom and unrestricted unmonitored internet access to people living behind undemocratic internet restrictions (www.submarineapp.co.uk).
Sam was one of 4 finalists selected from over 50 entries to the annual Plan ENVY competition. Sam Heather said:
"In March I received an email from my old university (the University of York) out of the blue asking if I would be willing to accept a nomination for the Duke of York Young Entrepreneur Award. I was really surprised to be chosen, especially as I was now a graduate! Careers at the University of York have been amazing in helping us. Winning Plan ENVY is really going to help drive our business forward."
Hosted by the Careers team at the University, the Plan ENVY competition provides an opportunity for York's many young entrepreneurs to showcase their businesses. Funded by Santander, the competition leads to a final dinner where the top entrants present their ideas and progress to date.
Sam said:
"The award ceremony itself was in Huddersfield and was really exciting: His Royal Highness took an incredible interest in the businesses of all the winners and it was great to hear what others were up to."
Whilst in the Yorkshire area, Sam also took the opportunity to visit his old university and meet with some of the Entrepreneurs currently working with the Enterprise Department.  He has also taken time to return to Truro School to assist our students with the Duke of Edinburgh Awards programme.  He helped on 3 expeditions in the year after he completed his own DoE Gold and is now back helping out again; 6 weeks ago with the Bronze practise and over the last weekend in June (Friday to Sunday) with the Bronze assessment.  With the help of Truro School Sam is now an Accredited DoE Assessor.  He says:
It's really a lot of fun helping out, and super rewarding when they all finish!