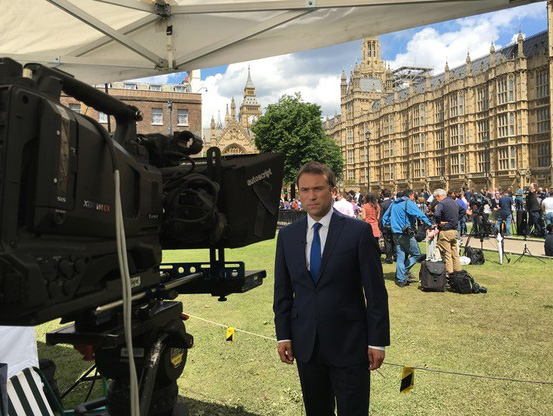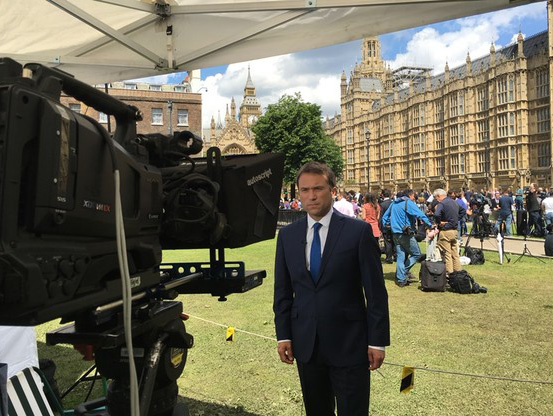 Ros Atkins presents Outside Source on the BBC News Channel and has recently completed a series of roadshows from Paris, Manchester, Edinburgh, Wembley, Tunbridge Wells, Westminster and Brussels.
Ros studied at Parc Eglos School in Helston and Truro School. He studied hard, determined to gain a place at Cambridge University.
Upon reflection, Ros said:
When I look back now, I wonder if it would have been a good idea to take a year off, but I was impatient to get on, which I suppose is no bad thing.
Ros has done quite a bit of travelling in the past, living in South Africa, the Bahamas and Trinidad and Tobago returning eventually to the UK to work at Time Out magazine and then the BBC.
Ros said:
"I was an avid consumer of news in my teens (as Mrs Rainbow can attest – we used to talk politics a lot in history lessons) and so I always wanted to be a journalist. It took me a while to work out that broadcast journalism was my thing, but I always liked talking about the news and finding out about other countries so being an international news presenter feels like a good fit."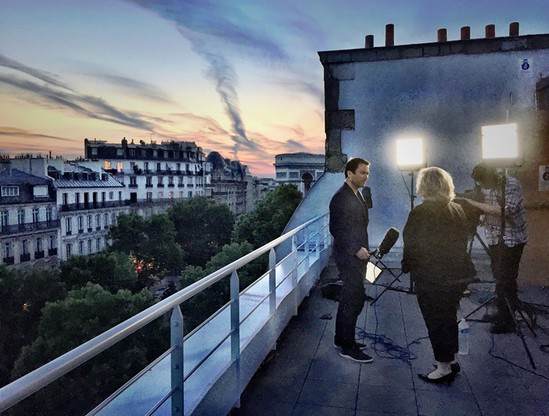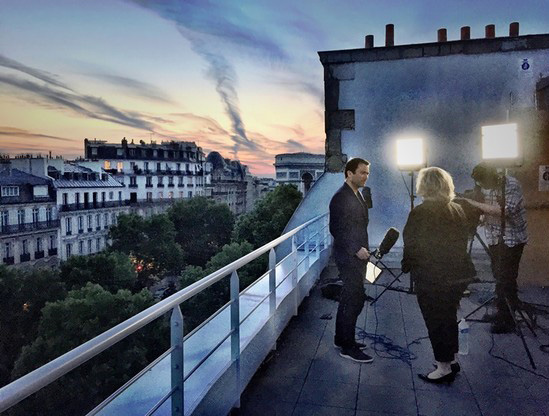 The road into journalism wasn't always easy and Ross experienced a pretty dispiriting time on the dole in Cornwall when he was around 23.
I was struggling with confidence and motivation. In the end my parents encouraged me apply for any job in the media which we thought I might have a shot at. I ended up getting a very lowly paid gig on a now defunct Sky TV channel which was just about computers. I moved to London to do it. Fortunately, quite quickly I got a better option at Carlton TV.
Ross now lives in East Dulwich, South East London with his wife Sara and their two daughters Alice and Esther but continues his links with Cornwall. Recently he had planned to be at Stithians Show to report on the village's showpiece event but had to abandon his plans in favor of a trip around Europe covering Brexit and the European Championships.
My show has also been on BBC world and we've seen record figures as the Brexit story has unfolded.  It's been a real privilege to report a story of this importance even though I did have to cancel my plans to go to Stithians Show – there's always next year.  The show is also broadcast worldwide on BBC World News – so millions around the world have been tuning in to follow the story, as well as viewers in Cornwall and the rest of the UK.
As well as covering Brexit both from a domestic and French point of view, Ros recently documented the EU summit in Brussels and the European Championships in Paris.
When I think about the work I do today – taking a broad range of information, try and understand it and then explain it to others as engagingly as I can within a limited space of time – it is precisely the same skills what I was learning at school in history and English lessons at school. The subject matter may be different but learning how to use your curiosity to good effect is essential to my job and I remain very grateful to Mr Scott, Dr Moiser, Mrs Rainbow and others for the help they gave in getting better at that.