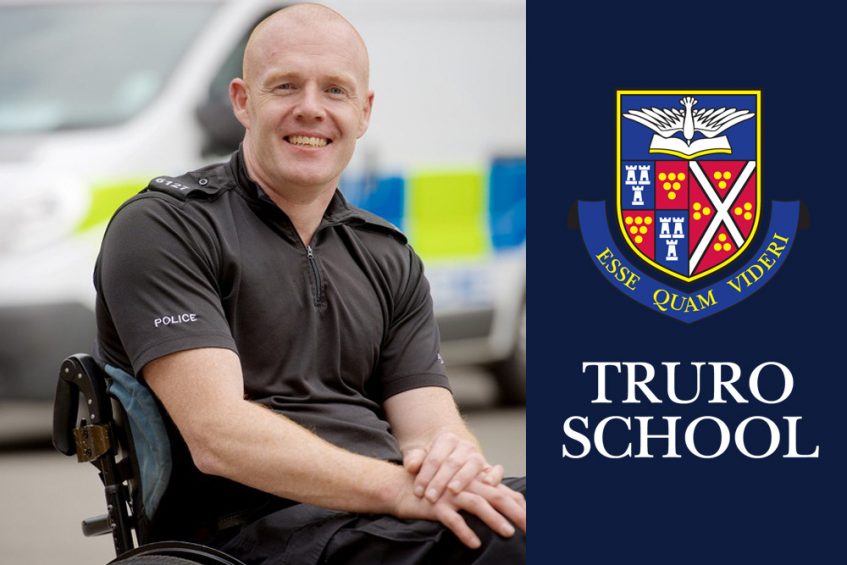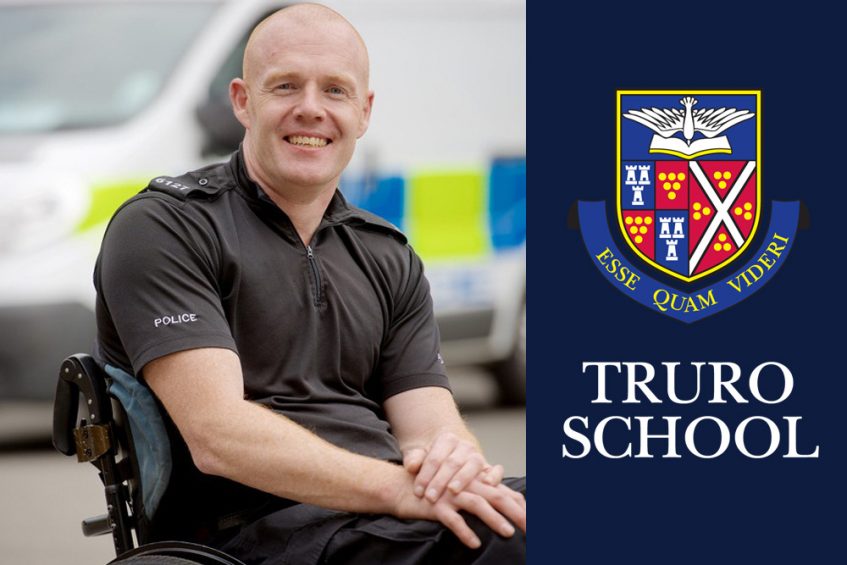 Rob attended Treliske in 1979-1981 and then Truro School 1982-1986.  He left after GCE's doing all sorts of jobs until in 1994 he joined the West Midlands Police.  After undertaking the stringent selection process, he was accepted into the specialist tactical firearms until in 1997, dealing with organised and armed gang crime.  Rob said:
"I never ceased to be amazed by the contrast of day to day life boarding at school and the sort of work I was doing attending armed robberies and fatal drive by shootings in Birmingham, Wolverhampton and Coventry."
Sport was always an important thread in Rob's life –  He recalls:
"Fondest memories being of a time in Epworth House with Mr Worsley-White and in Hall House with Mr Thompson and playing 2nd row for School throughout all my years."
Whilst working as a physical training instructor on the tactical firearms team he completed multiple team endurance mountain races in Snowdonia and the Cheviot Hills and 3 Ironman distance triathlons.
In 2008 a snowboarding accident in the Swiss Alps left Rob paralysed for life.  He had travelled with a group of friends to Zermatt in the Swiss Alps for a snowboarding trip. After an hour on the freezing snow, his friends decided to return indoors for a warming coffee.  Rob chose to stay out alone.  As the snow began to fall heavily, and with visibility dropping, the experienced snowboarder found himself on the wrong path.  With no way back up, he tried to inch his way down the mountain until he suddenly hit clear ice and began sliding out of control – before falling 240ft to what he thought was his certain death.
Rob recalled:
"I just had no doubt whatsoever that I was going to die.  The reality is that everything does rush through your head. For me, it was thinking that I would never see my three children again.  I remember thinking that when you fall off something you have to hit something… and that I had been falling for a long time. When I landed I thought 'I'm OK, I'm alive,' but then I thought, 'no, something is wrong. I can't feel anything from my chest down."
Incredibly, Rob not only survived the fall, but he was able to use his low-on-battery mobile phone to direct friends and a rescue team to his treacherous position in a gorge called Trockener Stegg. The dad-of-three refused to give up on life while lying in the freezing snow for more than an hour until rescue teams arrived. Suffering from appalling multiple injuries and hypothermia and drifting in and out of consciousness, he was airlifted to hospital where doctors saved his life over the coming days – with wife Kathryn by his side.  After six days in a coma and 19 days in intensive care, they were eventually told the devastating news that Rob was paralysed from the chest down.
Yet the prognosis was not the end for Rob; it was the beginning of an extraordinary journey that continues to this day.
The injuries Rob suffered that changed his life forever – a spine broken in four places, nine smashed ribs, and two punctured lungs – left him in a wheelchair.  Miraculously after only 6 months, with amazing resilience and sheer determination, Rob returned to work with the West Midlands Police but in a different role as a police trainer.
He said:
"If I had gone for a coffee with my friends instead of going back out to ski, then what happened to me would never have happened."
However, Rob's tenacity and determination took him in yet another direction and he became the brain child behind a project to steer teenagers away from violent crime, drawing on his own experiences to help schoolchildren avoid the lure of gangs.  In 2010 the campaign Precious Lives was the result of a partnership formed with a mother, Marcia Shakespear, whose daughter Letisha, 17 and her friend Charlene Ellis, 18, were killed in a drive-by gang shooting in Aston over New Year 2003.  Together they spread the message that wrong choices made in a matter of seconds can devastate and change lives forever.  They visit schools telling their stories to audiences of children, hoping to inspire them to shun the pull of the gangs which so many are attracted by.  They tell them that the four gang members who chose to shoot into innocent party-goers, killing Letisha and Charlene, are facing a life with no future staring at the four walls of their prison cells.
Rob said:
"In 2010 I created an initiative taking victims of gang crime into inner city schools to highlight the life changing consequences of carrying weapons and being involved with street gangs. Using my story to show how lives can change forever, in seconds, from a small choice and sharing the experience of mothers of murdered teenagers."
Rob and Marcia's presentation has now reached more than 100,000 West Midlands teenagers and now also involves Alison Cope, whose son Joshua Rivera was fatally stabbed in Selly Oak in 2013.
"I never would have known this life could exist… and the truth is that the life I have now is actually a better life. But it has taken a whole journey and mind-set change to get to this point."
"Every person who has gone through a life-changing situation, perhaps because they've been seriously injured or have committed a serious crime and gone to prison for life for a very long time, will find themselves trapped. Trapped by their circumstances – and I tell you, it is the loneliest place in the world to be."
"If you are trying to live with the knowledge that you will never walk again, never carry your children, never do the job you loved…Or if you are living with the knowledge that you have killed someone and will be in a cell for the next 20 or 30 years then you spend every minute going over what was, what could have been, what might have been, if only, if only, if only…"
On Saturday 10 June 2016, it was announced that Rob has been recognised in the Queen's 90th Birthday Honours List and has been awarded an MBE.  Rob's family and especially his children are immensely proud to see him the recognition he so rightly deserves.  He is now waiting to receive the awarded in person at one of the palaces over the summer.
"It is an honour to receive the MBE, and I feel privileged to be in a position where I can help make a difference. I am passionate about giving the best I can to the communities of the West Midlands and get great satisfaction from hopefully having a positive impact on young people's lives."
"I speak of the choices we make and the values we choose to live by. I have always believed the values by which I have policed and lived by were firmly founded at Truro School."