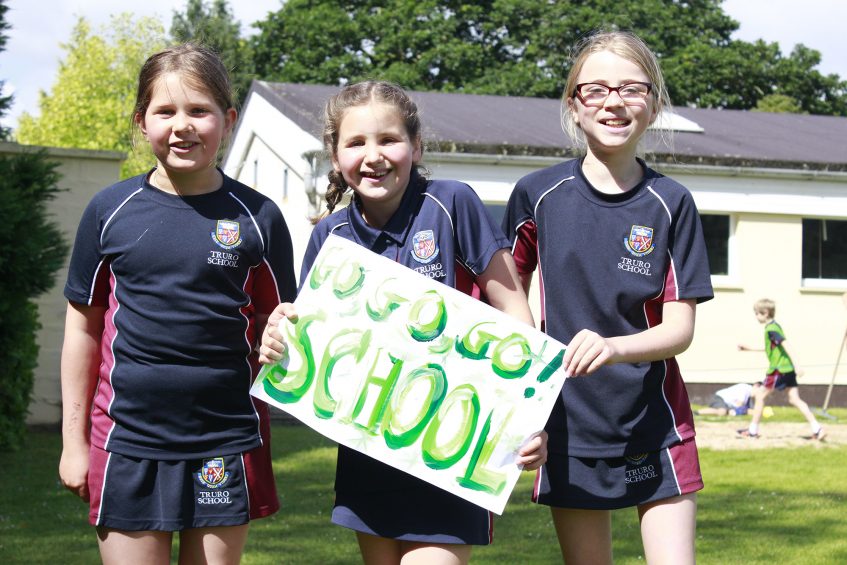 Records tumbled, eight events for all and a record collection shared.
A recipe for a perfect sports day
1 balmy, hot day
Pretty bunting, blowing in the breeze
As many chairs as you can find
180 willing pupils
1 handful of obliging staff
109 heats, 16 finals, 4 hours
8 events per child
1 x 400g of highly excitable parents, dressed in house colours
48 medals of each type – gold, silver and bronze
1 extremely large handful of certificates
2 stopwatches
2 high jumps
4 relay batons
1 happy headteacher, to present medals
1 technology wizard – to pre-record soundbites of existing school records and share their extensive record collection
1 brand-new tug-of-war rope
Refreshments all day long, parents need to keep hydrated too!
Packed lunches for hungry pupils
Gazebos, rest in the shade and watch the heats
Water bottles, not for squirting other pupils with
Sun cream and caps
I think the children will remember this event fondly for a long time. It was a truly inclusive celebration of sport. Every child participated in the following eight events: 60m / 75m sprint, 60m hurdles, 400m / 600m, long jump, high jump, vortex throw, 4 x 50m relay and tug-of-war. The incredible track staff organised over 109 heats and 16 finals in around four hours.
If success can be measured in smiles, then this was a highly successful occasion. It was heart-warming to see the way in which the children encouraged and supported each other at the different events. The sporting values which we are trying so hard to promote, such as excellence, respect, inspiration, determination and fairness were evident everywhere.
Thank you as ever, to all the parents who attended and joined in the fun, supporting their children during the day. We have received so many positive comments from parents about this event. In particular, emails and photographs from various parents sharing special moments for their child. For us, it could be an unseen glimpse of a moment of joy or surprise on their faces – or a child generously congratulating another child after a challenging event, such as the 600m. We'd love to see some more… email sl@truroschool.com.
Sally Luxton – Head of PE at Truro Prep
Student Views
'Sports Day is so fun!'
(Clara, Victrix Ludorum, Year 3)
'My favourite event is the high jump.'
(Finn, Year 6) He set a new school record for the high jump of 1.45m.
'I love sprinting.'
(Sam, Year 6) He set another new record for the 75m sprint of 10.56s.
'I liked the vortex throw.'
(Farrah, Year 4) She won the Year 4 vortex throw. Her distance of 19.90m was as good as that of the Year 6 girls.
'My favourite thing was the tug of war.'
(Bradley, Year 3)
As ever, a heartfelt thank you to all of the teaching staff, who without any grumbling, helped with an endless variety of sports day tasks; measuring, timing, recording, announcing, organising and prize giving. In addition, two extremely hard-working pupils: Jacques (Year 4) and Tristan (Year 6).
Victor/ Victrix Ludorum Winners
Year 3
Victrix: Clara
Victor: Felix
Year 4
Victrix: Beth
Victor: Luke
Year 5
Victrix: Anna
Victor: Felix
Year 6
Victrix: Jessica
Victor: Sam
Overall House Results
Could it have been any closer than this? Congratulations to Vinter!
House
Average points per pupil
Overall
Position
Vinter
9.09
1st
Smith
9.07
2nd
Wickett
8.74
3rd
School
7.98
4th
New School Records
Year 3
No new records
Year 4
Boys' 400m: Luke M (2018) 1:19.52 mins
Year 5
Boys' 60m hurdles: Jack D (2018) 10.24s
Boys' high jump: Isaac S (2018) 1.34m
Year 6
Boys' 75m: Sam W-W (2018) 10.56s
Boys' long jump: Sam W-W (2018) 4.30m
Boys' high jump: Finn L (2018) 1.45m
Image Gallery
A full image gallery from this year's sports day is available via the link below.