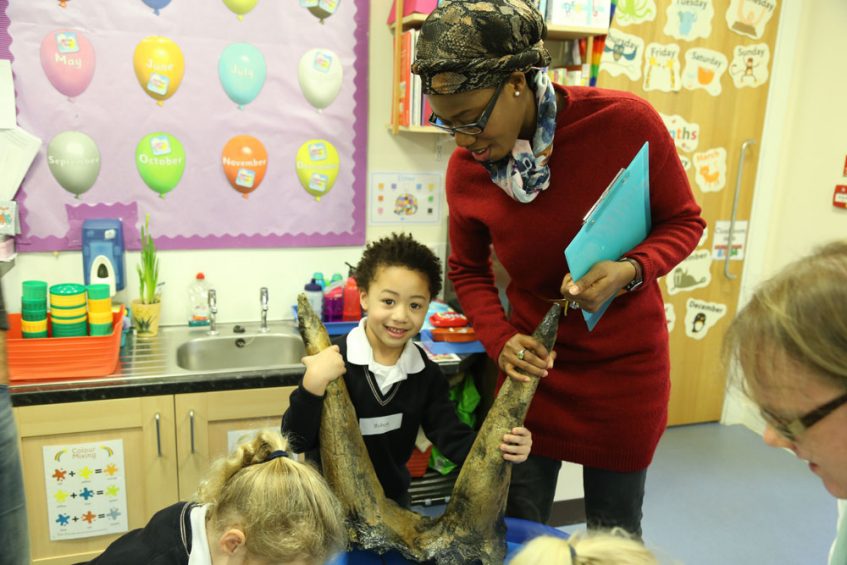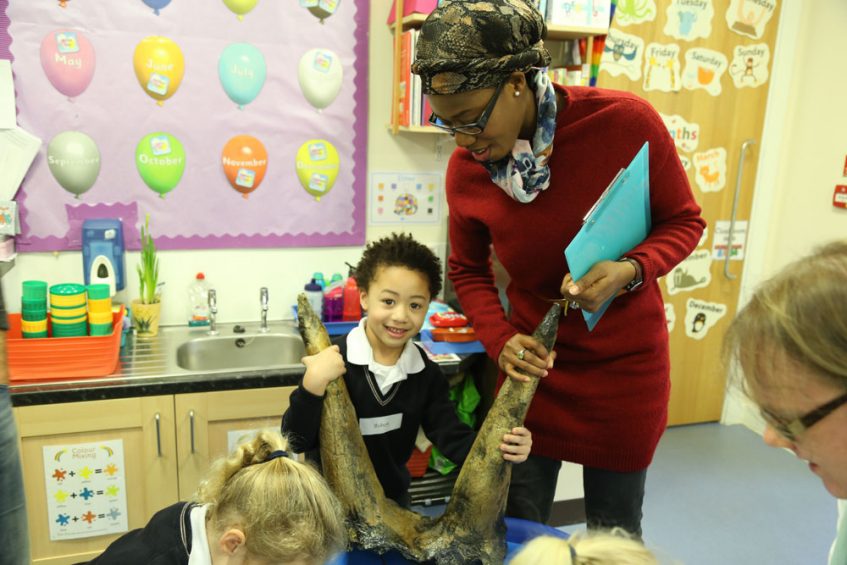 Reception students at the Pre-Prep carried on their excitement from last term's Dinosaur project with a workshop this morning.
Mums and dads were invited to join in on the Dinosaur adventure which saw students take part in a rotation of three activities, including fossil mould making, a 'Dino quiz' and a measuring activity with some life-size dinosaur bones!
The workshop was set up by Pre-Prep teachers Miss Mikael Jones and Miss Searle, as a way to not only involve parents in their children's learning, but to link Truro School and Truro Pre-Prep as one school, with the Head of Geology, Miss Hope and Geology teacher, Mrs Gill, getting involved with the workshop.
From Albertosaurus teeth, ammonite and coral fossils, to name a few, the children were having great fun making plaster cast moulds which they left to dry while they went on to explore the other activities on offer.
With a room full of fascinating dinosaur artefacts, from T-Rex and Brontosaurus femur bones, to Allosaurus foot claws and Iguanodon footprints, children had to think hard with the help of their parents and decide what the best way to measure each item would be. They were given multiple different items to measure with, and had to find new ways to approach the task with each different object.
Moving on to the 'Dino quiz', children had to really pay attention to detail, having to guess from fact sheets which dinosaur each fossil belonged to, and which part of the body it might have been. Was it a horn, or perhaps it was a claw? Some of them were extra hard, with the trick being to measure the teeth on the fossil to find out which dinosaur it belonged to! From Allosaurus skulls to Triceratops brow horns, students were fascinated by the fossils and spent their time exploring all the different possibilities of what they may be.
And while most items could be taken at face value for the fossils that they were, some children were very surprised to learn that one item they had been holding and investigating was actually a coprolite, fossilised dinosaur poo!
Head of Pre-Prep, Mrs Hudson, said that the workshop was a fantastic experience for students to develop their learning and curiosity from a young age.
"It's excellent that we are able to spur our pupils' enthusiasm for Geology from such a young age, getting them involved in hands-on investigations and interactive workshops at foundation stage is immensely important for developing their learning. It's given us the chance to extend links from our Pre-Prep to the Senior School and make use of their fantastic facilities available in the Geology department," says Mrs Hudson.