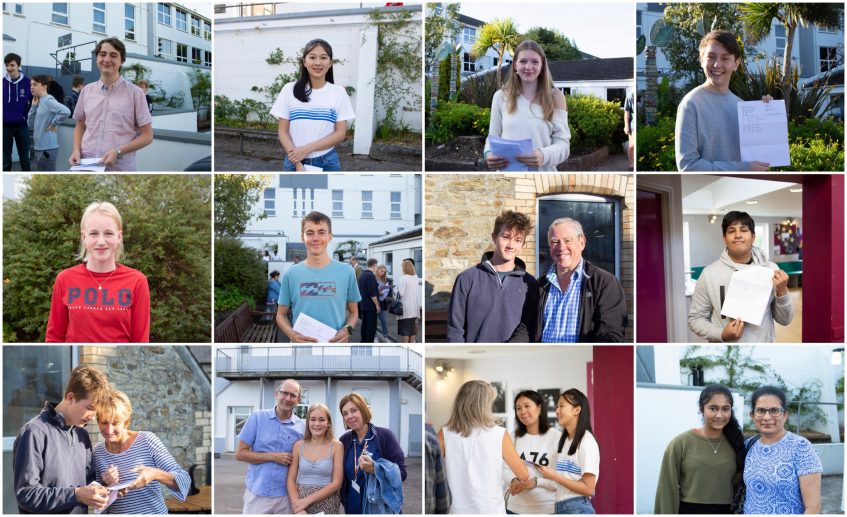 We caught up with a few pupils as they opened their results:
Monty Rix, Six 9s, two 8s, 7, two A*s
I plan to study history, maths and geology. There's so many to thank, the Head of Departments, my subject teachers because they've all really been supportive, my form tutor. It's important to keep calm and have a steady head whilst studying but having a teacher there reminding us of that was really useful.
Ellie Chen, Six 9s, three 8s, two A*s
I did quite well. I was really nervous this morning but now I feel really good because I've got quite high expectations for myself. I'll be studying maths, further maths, biology and chemistry and maybe an Extended Project Qualification (EPQ) as well.
Lucy Mitten Two 8s, two 7s, three 6s, A*
I did pretty well! Even the ones I struggled with I still managed to pass strongly, and I got what I wanted to get so I'm really happy overall. At A-Level I want to do music, Religious Studies (RS) and English Literature which were the ones I got A*s in so I'm really happy.
Kushal Sharma, Six 9s, 7, 6, A, A*
I didn't sleep well last night but I'm really happy now. I did really well, I got three 9s in my sciences which is what I wanted. I want to study chemistry, physics, and maths. I want do physics in the future so it's all good. I was worried about English because at the beginning of my GCSEs, English wasn't as strong a subject for me, but I passed, so a big thank you to Mr Berger for his continued help and support. My form tutor Mr Barnett has been great also. I'd really like to go to Nando's to celebrate but it depends on what my Mum wants to do! My Dad is in Nepal so I have to send a photo of my results to him.
Rosie Bartlett, Seven 9s, 7, two A*s
I was so worried this morning I was thinking oh no I'm going to open it and fail English because it wasn't my strongest subject. I'm in a bit of shock, I got all 9s apart from one 7. I'm going to boarding school in Bath to pursue netball, but I'll keep coming back to Truro School to visit!
Billy Warren, Seven 9s, two 8s, two A*s
I did quite well, ok pretty well! I was pretty nervous this morning not going to lie but now I feel happy because it's all reached a conclusion.
Nila Kandasamy, Seven 9s, 7, two A*s 
I'm happy! I'm going to do maths, biology, and chemistry. I'd like to say thank you to my form tutor, my maths teacher, all of them to be honest!