Welcome Back Ted!
We welcomed Ted back to the boarding house on Friday and we are delighted with the news that he has chosen to become a weekly boarder from next week. He will quickly become part of our academic tracking and targeting process and Mr Nicholas and I look forward to him embracing life as a Pentreve boarder properly from Monday. It is great to have a full, buzzing house and as the evenings get longer the true extent of just what Pentreve has in terms of facilities will be realised. I for one am looking forward to the BBQ's and table tennis tournaments in the courtyard that become a weekly weekend fixture.
Success at the Charity Rock Concerts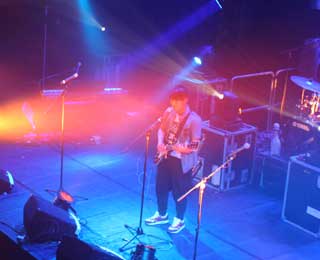 This week has been a busy one for Cyrus who performed in both the junior and senior charity concerts; two concerts organised solely by the pupils wanting to showcase their talents and raise money for charity.
We are fortunate enough to be able to enjoy Cyrus' musical talents on a daily basis; he often holes himself up in the Pentreve office and it is a delight to hear him tinkering away as he composes and practices his most recent piece. The rest of Pentreve were keen to show their support of Cyrus and turned out to watch him perform, singing and playing, to a packed auditorium in the Burrell Theatre. Well done Cyrus, we are all very proud you.
Boarding over the Weekend
The weekend began with super and then the usual Friday evening extra English class with cake, tea and Mrs De Gruchy. The sports hall was taken advantage of and then the boys settled down in front of the TV for an hour before bed.
Saturday morning greeted us with glorious sunshine, the boys enjoyed a lie in before heading up the hill to brunch. Saturday was set to be a free day so the boys visited town, used the gym, played squash, spent time doing some homework and generally relaxed about the house. A supper of chilli was enjoyed and then it was back to the house for pizza.
In a break from tradition we decided that we would make the pizzas this week. So I dutifully headed off to Tesco for the ingredients. The shopping bags were bursting with pizza bases (I wasn't adventurous enough to attempt making these also), tomato pizza sauce, onions, peppers, mushrooms, ham, sliced meats, chillies, bacon, pineapple, sweetcorn and a mountain of cheese and the competition for the most creative pizza began… not before the cheese grating challenge however!
The Mulready kitchen was ambushed by hungry young men, Kobe, Alec and Bosco steered clear of the cheese whilst Fabian and Nils opted to cram as many different toppings as possible on their bases, a lot of fun was had and as usual every crumb was devoured!
Bubble Football at the Sir Ben Ainslie Sports Centre
On Sunday the boys made the most of the lie in and it took some waking them for brunch. Having enjoyed the 'bubble football' weekend activity of a few weeks ago (an excellent find Mr Nic) the boys pleaded with me to book it again. And so we headed up to the Sir Ben Ainslie Sports Centre for two hours of bubbling fun. This time we invited Trennick along for the ride and it was great to see the two houses interacting and having a great time together.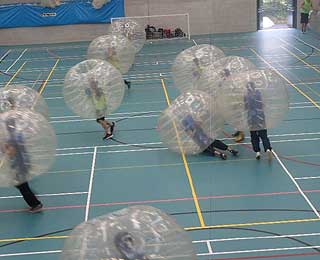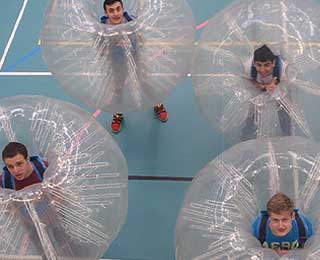 The rest of Sunday afternoon was spent completing homework, sorting laundry and tidying bedrooms before a hearty chicken or gammon supper in the dining hall, the perfect end to a lovely weekend.
Looking Ahead
Over the next two weeks the boys will sit interim tests in most of their subjects as the teachers prepare reports and grade cards. Full reports will be written for the 1st and 2nd years whilst the 4th years will receive the usual progress report (I feel a competition coming on). In other news Fabian and Nils are set to travel to Plymouth on Tuesday to represent the school in the UKMT Team Maths Challenge – good luck boys, I can't wait to hear all about it.