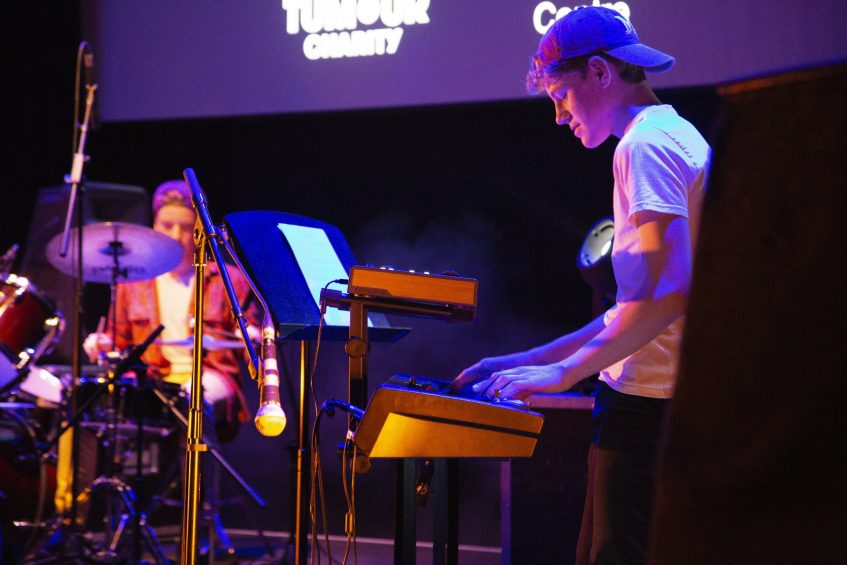 This year's Junior Charity Concert was held at the Burrell Theatre on Monday 4th March.
The event, organised entirely by the students, was expertly directed by Fin W, Alfie L, Jenna K and Ben J and included performances from students across the year groups. The effortless performances highlighted the talent and hard work of the students and the impressive leadership of the organising committee.
Following an excellent fundraising campaign, Fin took to the stage before the interval to receive a live charity head shave!
The night raised money for The Mermaid Centre and The Brain Tumour Charity – exact totals are still being counted but will be confirmed shortly.
You can see pictures from the charity concerts in the gallery. Photos by Max C
With special thanks to:
Mr Ian Brown from the Mermaid Centre, Truro School Music Department and The Burrell Theatre Tech Crew, especially Swen Kearey.
Organised by:
Fin W, Alfie L, Jenna K, Ben J
Performances included:
Luke J – the best intro to a concert. Ever.
Katie M – Starry starry night, Don Mclean
Natasha H – Someone You Loved, Lewis Capaldi
Tom P (with Jesse E and Fraser R) – Let Her Go, Passenger
Harry D (accompanied by Millie D) – Spaghetti Morricone, Arr. Harry D
Grace C – Power of Love, Gabrielle Aplin
Sofie P (accompanied by Jesse E and Alfie L) – Riptide, Vance Joy
Poppy A – Girl on Fire, Alicia Keys
Alfie L and Fred S – 'Phat Jam'
Tom B – Your Song, Elton John
Kate R – One and only, Adele
Lucy M (accompanied by Fred S) – Hostage, Billie Eilish
Joanna Vyvyan – Automobile, KALEO
Millie D – Everglow, Coldplay
Talulla L, Gracie C (accompanies by Alfie L) – When we Were Young, Adele
Fin W – A Love Song, Fin W
Theo C – Wonderwall, Oasis
Natasha H, Milli Y, Anna R, Poppy A – Bohemian Rhapsody, Queen