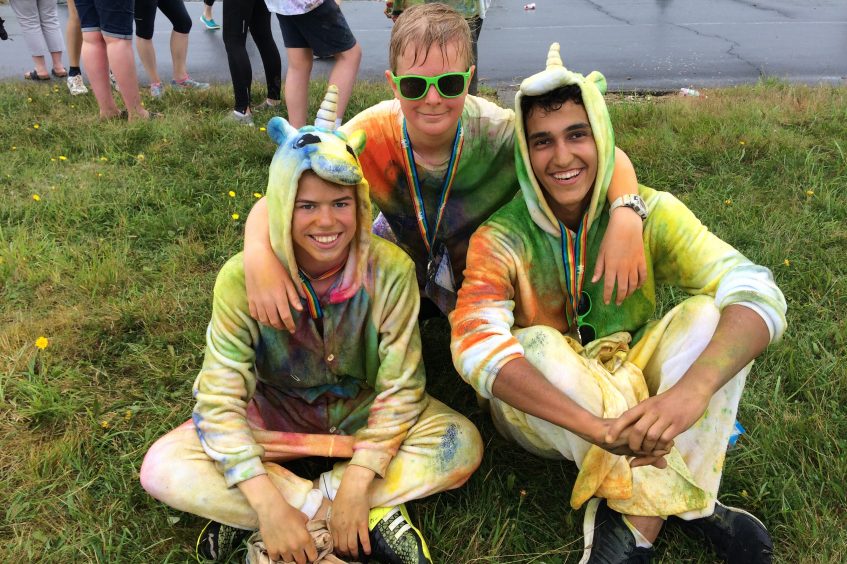 And here it is, the penultimate weekend of term and my final blog of 2015-2016!
There has been a slightly different air about the boys in Pentreve this week. With their exams behind them and after an exhilarating day at the aqua park last Sunday the boys have endured, amongst other things, exam feedback week.
Whilst much of the week has been spent receiving exam results and going over papers, school life has remained busy also. The fourth years spent a day completing Biology and Geology fieldwork and Cam has spent much of his time rehearsing and performing in the junior play. On Tuesday we welcomed a familiar face back to the house with Joe flexi boarding for a couple of nights midweek. With the house full it was a bit of a squeeze but it was great to have Joe in to stay; his energy is infectious and we hope he will come back and do some boarding again in the future.
Friday evening quickly came about and whilst there wasn't a lot of homework to be done, the boys humoured me and settled down to work for forty-five minutes after supper. The usual rounds of SBASC action then ensued and the boys relaxed and enjoyed the house facilities.
Saturday was to be a free day with nothing formal planned. Fahed was up early (I actually thought we had left the television on when I did the wake up round) as apparently there was yet another rugby game to be watched! The rest of the boys slowly surfaced for roll call and a rendition of 'Happy Birthday' for Bosco followed. After a hearty Truro School brunch with all the trimmings the rest of the day was spent visiting town, watching sport and playing FIFA on the PS4. Jay went out for lunch with his parents but otherwise no one ventured too far.
With a pizza and chicken nuggets supper in the dining hall we opted for a Saturday night BBQ instead of more pizza. Mr Mulready fired up the house BBQ and got cooking. Many burgers, sausages, chicken legs and chicken burgers, accompanied by the obligatory 'rubber' cheese slices and copious lashings of tomato and BBQ sauce, were enjoyed in the courtyard. The table tennis table came into its own and the boys made the most of the dying hours of evening sunshine.
Sunday saw all four boarding houses come together for charity when we headed to RAF St Mawgan and the Rainbow Run, a 5km fun run, jog or walk for Children's Hospice South West. An early breakfast set us up well and we boarded the coach for Newquay. Running numbers were fastened to the pristine white t-shirts purchased specially for the occasion and before we knew it we were off and making our way around the 5km course. The course was dotted with paint stations every couple of hundreds of meters and the boys and girls really entered into the spirit of the event; much laughter and hilarity was heard and all thirty two of us that started completed the course in good time despite the rain. The before and after pictures below tell a very colourful story.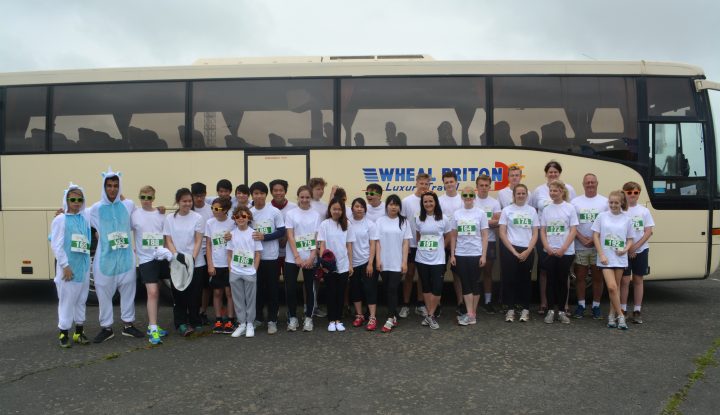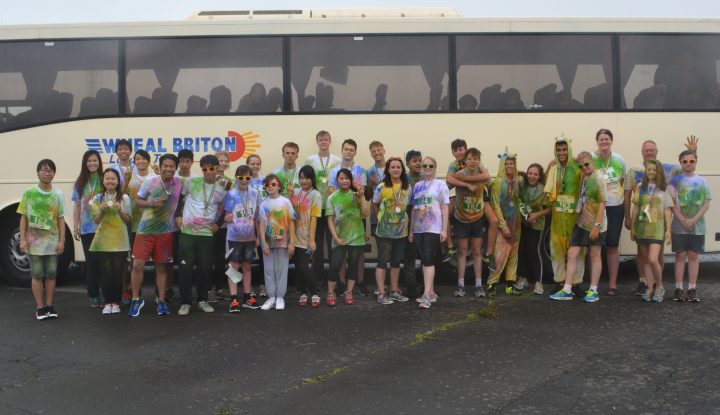 After all the colourful action and a 'picnic' on the bus we headed home for hot showers and a warm up. A supper of sticky lemon chicken, vegetable curry or breaded fish was duly wolfed down and the boys settled in for an evening of more football in the common room. Some prep was completed and the boys are set to go to bed sufficiently exhausted (or is that just me?).
The next two weeks will be super busy. On Monday the fourth years will be off timetable for Careers Day and Tuesday is ear marked for Sports Day where the boys will line up and represent their sports houses in a multitude of athletics events. Whether it is the 100m or the 1500m, the hurdles or the high jump the whole school will be involved and precious points will be awarded and accumulated. Which house will win the coveted Sports Day Cup? Mr Nicholas and I will be secretly (or not so secretly on my part) willing on the Wickett House athletes but, truth be told, and if experience and tradition are anything to go by, Wickett will inevitably finish fourth. Or. Will. They? On Wednesday the boarding community will come together and showcase their musical talents in the Boarder' Charity Concert where we will again be raising money for Children's Hospice South West. If you are free on Wednesday evening, this is an event not to be missed.
Next weekend is boarder's camp. The boys will leave for Hendra, in Newquay, on Friday lunchtime and I know Mr Nicholas and Mr Austin have a full itinerary of events and activities planned. Next week's blog will be awash with photos I am sure…let's just hope the campsite is not a washout too!
And then there is the little matter of World Aims Days and Speech Day…
All that remains for me to do is say goodbye for now and to wish you all a happy, relaxing and family-fun filled summer holiday. It has been a privilege to get to know this current group of boys and I have really enjoyed the last four years working with Mr Nicholas, Mr Barnett, Mr Pomery, Mr Picton and Miss Nineham. Whilst I feel very much a part of the Junior Boys' family, I am excited about my forthcoming role as Housemistress of Pentreve House when it reopens as a girl's boarding house in September.
Have a great Summer!

Mrs Sarah Mulready (Assistant Housemistress, Junior Boy's Boarding)