Drama Scholarships
Drama Scholarships at Truro School in Cornwall
Drama Scholarships are awarded to candidates entering Truro School at 11+, 13+ and 16+.  The value of any scholarship awarded by the school is capped at 10% of the fees. Any help thereafter is given in the form of a means-tested bursary.
All external candidates for a Drama Scholarship are required to register with the School before an application is made. The Director of Drama is always pleased to talk to prospective parents concerning any aspect of Drama Scholarships.
The School is looking for gifted and motivated candidates who will act as ambassadors for the Drama Department and lead by example. 
In return, we offer the teaching and guidance of staff that have a wealth of experience in professional theatre, as well as the superb facilities of the Burrell Theatre.  The Director of Drama mentors scholars through a termly meeting to review progress and discuss personal goals.  Opportunities for scholarship pupils include: performing in a wide variety of productions over the course of the year; working closely with our theatre company in residence – Cube Theatre; one-to-one coaching for the National Youth Theatre and Drama School auditions; the opportunity for 16+ pupils to perform at the Edinburgh Fringe Festival; numerous theatre visits; the opportunity to work with a range of professional theatre practitioners and directors.  LAMDA lessons are also available as a popular extra activity.
Drama Scholarship – Responsibilities
All Drama Scholars are expected to:
Undertake a high level of involvement with both curricular and co-curricular drama activities and to become role models to the wider School community in respect of their commitment to Drama.
Apply commitment, reliability and enthusiasm to rehearsals and related Drama activities
11+ pupils are expected to:
Participate in the Drama Workshop activity on Wednesday afternoons
Participate in the Junior Play
Participate in the main school production
Assist the Department on Open Days.
13+ pupils are expected to:
Participate in the Drama Workshop activity on Wednesday afternoons (during 3rd Year)
Study GCSE Drama (in the 4th and 5th Years)
Participate in at least one school production over the course of the year
Assist the Department on Open Days
16+ pupils are expected to:
Participate in the main school production each year
Lead small rehearsal groups for productions when required
Study A-Level Theatre Studies
Assist the Department on Open Days and with publicity for productions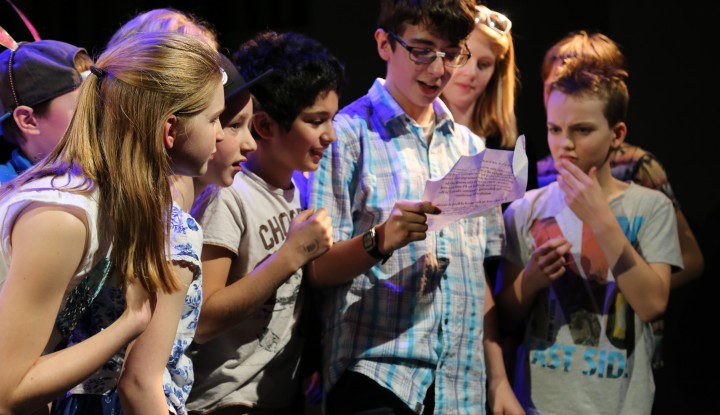 Drama Scholarships – Application Process
Scholarship assessment is not based solely on acting ability, but also on whether the candidate demonstrates the ability to work well with others, enthusiasm for performance, motivation to improve their acting and previous commitment to Drama.
It is expected that Drama Scholarship candidates will be able to provide supporting evidence of previous experience or commitment to Drama. Candidates must provide a reference from a teacher, director or instructor who can testify to the pupil's talent and dedication. Further supporting evidence may include copies of certificates for LAMDA examinations or similar (e.g. Trinity or Guildhall), sent with the application form. Candidates must then attend an audition.
Auditions
Candidates will be required to perform two short, contrasting pieces each lasting between 2-3 minutes, which have been prepared for the audition.  They will also participate in a workshop, during which they will be assessed on their ability to work collaboratively and imaginatively with others.
Auditions for September 2018 entry will be held at The Burrell Theatre on:
16+: By appointment
11+ and 13+ Monday, 15 January 2018.
Completed application forms should be returned to: Director of Admissions, Truro School, Trennick Lane, Truro  TR1 1TH, admissions@truroschool.com
By:
16+ Friday 10 November 2017
11+ and 13+ Friday 15 December 2017