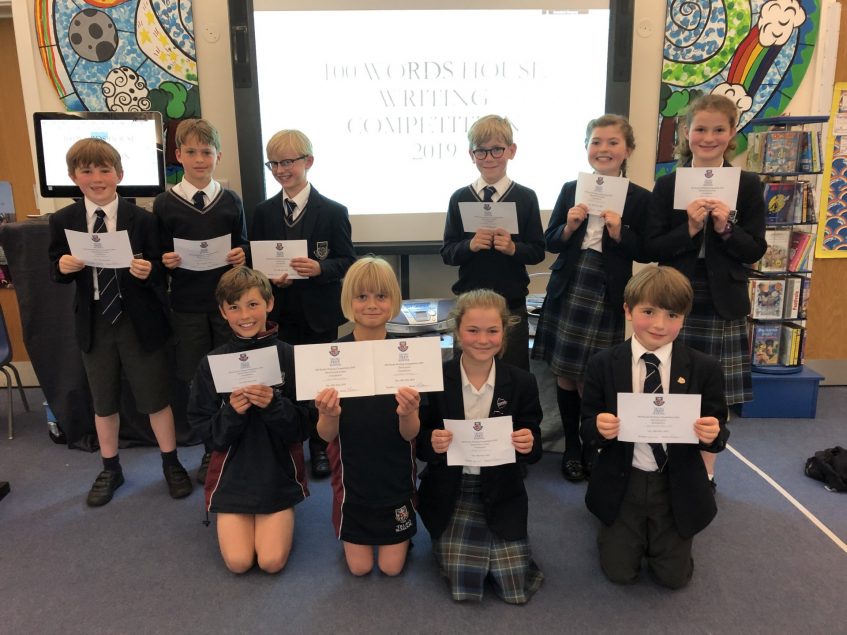 My best advice is to read – whenever you can and wherever you can. There's nothing better than getting stuck into a great story. Apparently, if you read a thousand books, your words will flow like a river (Lisa See).
Have you worked out the meaning of life? Could you tame a fierce, hungry Viking? Would you be able to endure the cold, Pacific ocean – never knowing if help was on its way?
These are the weighty topics explored by our prize-winning writers. Why not read their stories and see what you think?
To borrow the words of one famous writer: 'Everybody walks past a thousand story ideas every day. The good writers are the ones who see five or six of them. Most people don't see any.' (Orson Scott)
I think that we all know what he's talking about – once you have a good story idea, your writing can fly. Our twelve shortlisted writers have all shown that they can take chances and do something really good.
Their writing has completely surprised us – some of their stories made us laugh, some are carefree – others are more considered, more emotive and rooted in personal experience. They all shared one key ingredient – a good idea.
Sylvia Plath, another famous writer, said: "Everything in life is writable about if you have the guts to do it, and the imagination to improvise. The worst enemy to creativity is self-doubt." Her wisdom is really infectious – perhaps you could surprise yourself?
The 2019 finalists:
·         School: 'Papa new guinea' by Isaac (Year 6), 'The pig astronaut' by Nick S (Year 6), 'The meaning of life' by Ted (Year 5)
·         Smith: 'The mouse who went to the moon' by Beatrice (Year 5), 'Zuko's warmth' by Oliver (Year 6), 'Penguin on Mars' by Bella (Year 6).
·         Vinter: 'Mikey the Shetland' by Flo (Year 4), 'The dormouse dilemma' by Oscar (Year 6), 'Waiting' by Scarlett (Year 4).
·         Wickett: 'Silence' by Ella (Year 5), 'When Sigurd came to school' by Lawrence (Year 5), 'Oogy' by George S (Year 5)
In between each of the shortlisted stories, we introduced the children to a range of award-winning published fiction, chosen for the occasion by Mrs Lovett. It's great for them to see how actual writers do it.
The results:
In 1st place: 'The meaning of life' by Ted (Year 5). The judges were hugely impressed by the strong story – a quest for meaning – and the brilliant ending.
In 2nd place: 'When Sigurd came to school' by Lawrence (Year 5). The judges liked the clever twist at the end, the characterisation and use of humour.
In 3rd place: 'Waiting' by Scarlett (Year 4). The judges thought it was well composed; the piece seemed like it was written by someone much older.
Why not read the top three stories and see what you think?
First Prize
'The meaning of life' by Ted (Year 5)
Once a boy wanted the meaning of life.
"Why? How?" he asked his teacher.
"Why? How? he asked the local librarian.
"Why? How? he asked his granddad. (He thought he was old).
But he never got the answer he wanted.
So, he went to the Himalayan mountains, with the packed lunch his mum gave him, searching for the meaning of life…
He crossed rivers, he climbed mountains and finally he got to his destination – the Himalayan temple.
The meaning of life was at his fingertips…He asked his question and the Buddha replied…
"Google it!"
Second Prize
'When Sigurd came to school' by Lawrence (Year 5)
We all heard a massive crash. Olive ran to see what it was. I stayed still and started screaming. It was a fierce, hungry Viking.
Olive was hysterical, so she smashed the fire alarm. Sigurd (the Viking) picked me up, my tone went an octave higher and I nearly got eaten!
Meanwhile, our teacher Jake started doing yoga to calm everyone down, but the Viking didn't fancy that, so he dropped me on my head.
I fainted. Jake stopped doing yoga and called out, "Snack time."
Sigurd sat down quietly and waited politely for his snack.
Third Prize
'Waiting' by Scarlett (Year 4)
I'm just sitting here, like all the other twenty-eight people on the lifeboat. We are all waiting. I don't know what for. Just whatever comes next.
The water of the cold Pacific was already tickling my toes. My fate was being decided. Now, as I speak, the sea gets quieter with every word. The screams slowly fading out from where Titanic disappeared. All the voices have gone.
A light comes to view…the Carpathia is here! A few cheers I hear from behind me. Others have seen the looming, joy filled figure ahead…
Please feel free to browse the full set of shortlisted stories – they can be found on the house noticeboards in the main school building.
Sally Luxton