Thursday 23rd February
Under 13 Boys County Tournament
On Thursday 23rd January, we met to walk over to the U13 County Tournament at Penair. There we met with a large number of teams from across the county. After a quick warm up we were first on to play. A successful win (3-0) against Penair's B team in our first match gave us a good confidence boost. Over the next two hours we played four more matches, two of which we drew (against Richard Lander School and Bodmin College) and one of which we won (1-0 against Liskeard's A team) in wet and cold conditions. Unfortunately, we didn't manage to qualify for the next round and missed out by one point having lost to Cape Cornwall (0-1) earlier in the tournament. However, the boys finished off the day with an incredibly strong match against Liskeard's A team with an outstanding goal from our captain. Throughout the day, each team member demonstrated excellent teamwork, strong determination and fantastic sportsmanship. It was a great opportunity to play against a range of teams and has provided us with ideas of where we can develop our skills and strengths further. Well done boys, a thoroughly enjoyable day.
Miss Wood
Under 12 Girls v Redruth
Won 8 – 0
Under 12 girls played Redruth in two halves of well controlled hockey. The girls demonstrated competent dribbling and passing skills individually and overall as a team. In particular impressive reverse stick control to move the ball past Redruth defenders.
Truro mounted several open play attacks early on in the first half and went 2 goals up with ease. With more strong attacking play and two well worked short corners half time came and their lead was extended to 6-0.
The second half saw more skilful passages of play and another cracking short corner for the blues. Redruth failed to capitalise on a small number of attacks as Truro defence won possession cleanly in the circle and distributed the ball wide and out of danger.
Brilliant play and a well-deserved 9-Nil win.
Miss Munn
Under 13 Girls v Redruth
Won 1 – 0 
I think this is one of the best games of hockey I have seen the girls play, they had all the possession in both halves. They held their positions well which made it easy for them to transfer the ball at pace all over the pitch. They communicated effectively with one another and held the ball calmly and thought about what pass was going to be most effective. They had a number of opportunities at goal but the Redruth keeper played absolutely fantastic and kept the score line from being 10-0 opposed to 1-0.
Well Done Girls!
Miss Manley
Under 14 Girls v Redruth

Won 10 – 0
The girls put the opposition under pressure right from the start and it continued throughout the game. The play all over the pitch was well worked mainly as a team unit, the ball pace was quick and the played simple but effective passes. Once one goal went in a number of others followed, all the goals were well worked! Each goal post was always covered, so we had some goals through tap in's from a short distance as well as some cracking lifted goals shot from the top of the 'D' and a number of deflections. It was great to see the girls use a range of different goal scoring techniques both individually and as a team.
Well Done girls!
Miss Manley
Wednesday 22nd February
Under 18 Girls vs Truro College
Lost 1 – 8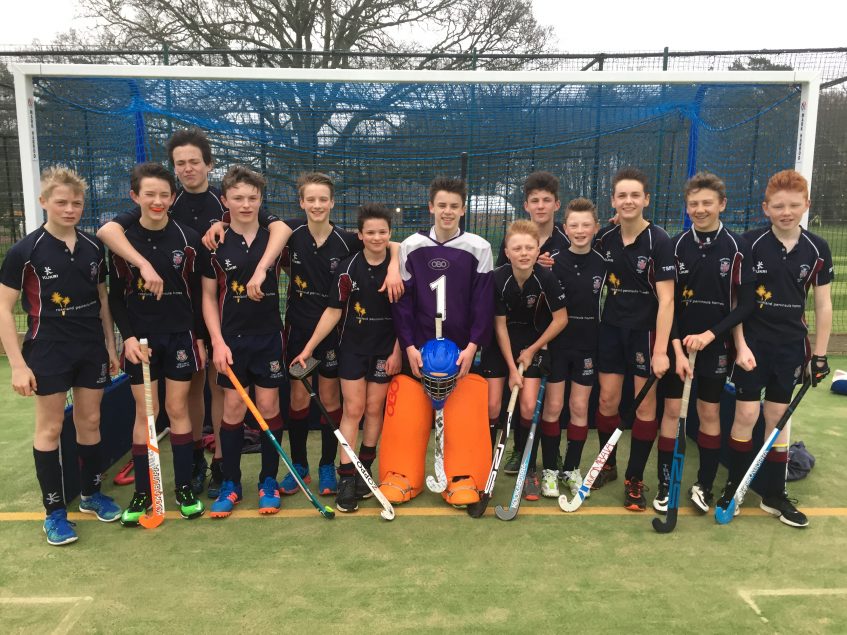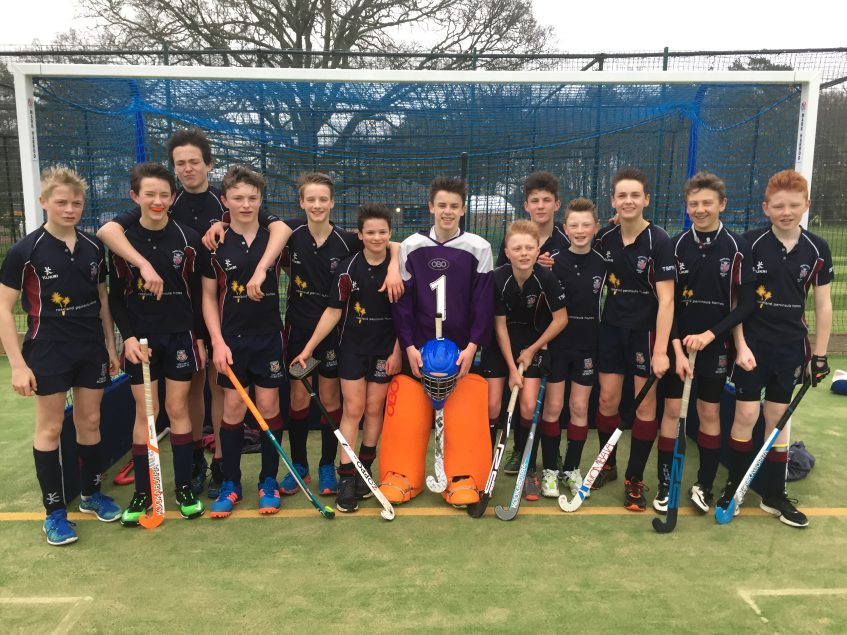 Under 14 Boys Regionals in Canford
Photo above
v Canford: Lost 0 – 9
v Colyton Grammar: Lost 1 – 3
v Millfield: Lost 1 – 2
After a long journey, we struggled to gain any form in the first match against Canford and we were comprehensively beaten 9-0. A special mention to our goalkeeper Bruno who made many excellent saves in our first match.
After focusing our plans we stepped up for our next match. We passed well and utilised the space and wings and gave Colyton Grammar a great game scoring our first goal but losing 3-1.
The highlight of the regionals was our last match against Millfield. We seemed much more focussed and self-assured and this translated well into our excellent match play on the pitch. We worked so much better as a team, marked brilliantly in defence and we were able to hold possession in their 25 resulting in a great goal. We had several other chances in short corners but weren't able to utilise them. Yet again, our goalie Bruno made some amazing saves and has to be our player of the tournament. We lost 2-1 but finished the regionals with our heads held up high. Well done.
Mrs Wyatt
Thursday 2 February
Under 12 Girls vs Camborne
Won 11 – 0
The Under 12's worked hard in their first PSSP fixture last week beating Camborne 11-0. The team, captained by Evelyn, played some great hockey, utilising the width of the pitch well. The defence worked well as a unit leaving Eloise untroubled in goal. The team are looking ahead to the County tournament on Thursday 9th March as well as the remaining PSSP fixtures.
Wednesday 1 February
Under 14 Girls vs Penrice
Won 9 – 0 
After a late arrival from Penrice the girls were thoroughly prepared both physically and mentally to play the game ahead. The girls had a fantastic match against Penrice, with the ball pace strong and the passes successful the girls maintained possession of the ball. They played clever hockey looking at what would be the most successful and effective pass and played it, they were calm and confident on the ball. I gave them targets throughout the game, one being ensuring each player would touch the ball before they had a shot at goal, this got them thinking on and off the ball as a team and individuals. The girls were successful in scoring a total of 9 goals, they were well worked goals.
Well Done girls!
Miss Manley