11+ Entrance Exams
Judging by the stories I hear from friends who live in London and the South East, our 11+ entrance process is relatively unpressurised.   There were nonetheless some nervous young faces as parents dropped off boys and girls on Saturday morning. Our army of 1st Year helpers who have survived and thrived since their own 11+ a year ago certainly helped to put everyone at ease.  The world's most delicious choc-chip cookies between English and Maths may also have been a factor!  I have spent much time over the last couple of months interviewing prospective new pupils. It's always a joyful and refreshing experience discovering how these young people are living their lives to the full and see Truro School as a place so full of opportunity.
I am delighted that 11+ registrations are at their strongest level since 2010, and this at a time when the population demographic of 11 year olds in Cornwall is not in our favour.  I hope the strong demand is driven by positive word of mouth about great pastoral care and how this leads to excellent academic and other achievements. To be fair, another factor is the steady stream of families relocating to Cornwall for lifestyle reasons. I can certainly attest to the positive effects on health and well being from living close to the ocean.
Truro School Cookery
I have been working on our plans for the Truro School Cookery School for some time now and it was exciting to tell our 5th Year students and parents more about it at the A Level options and subject consultation evening during the week.  This has been so well received and captures the zeitgeist in both the national and county consciousness for cooking, baking, natural products, food and hospitality.  Parents seem as keen as pupils at the thought of evening, weekend and holiday cookery courses.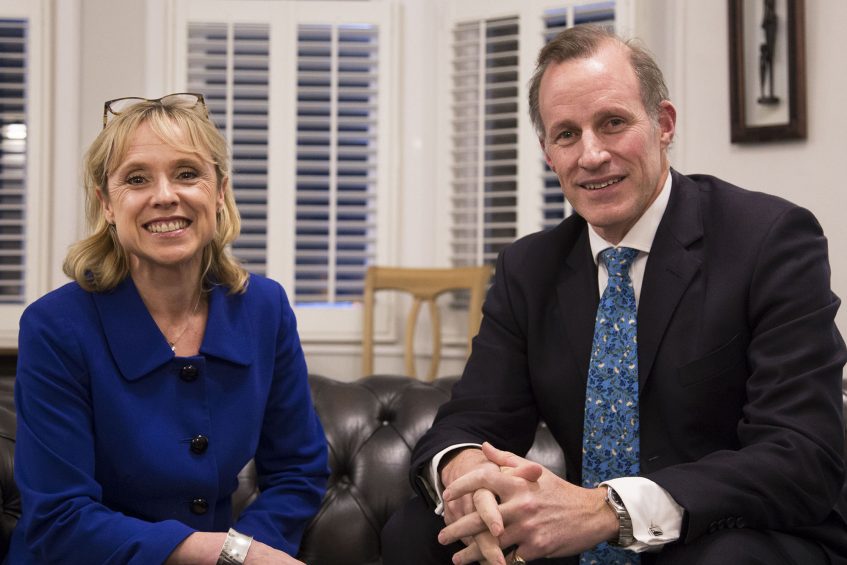 Maria Taylor, the newly appointed Head of Cookery, with Mr Gordon-Brown.
GCSE Drama
The GCSE drama performance evening was terrific.   There is no question that drama develops character, and the skills and personal qualities that our boys and girls acquire through creating, preparing and performing their shows are impressive.  It was lovely to have such a partisan audience of family and friends to add even more energy to the proceedings, and to witness the great support our students show for one another.
Sports at Truro School
We will be celebrating sport in style this term. First up is a Sports Dinner for Sixth Formers (and parents) who have represented the school and have contributed such a great deal to our sporting profile.  I hope that this will become firmly established as an inclusive celebration of the breadth and diversity of school sport, from traditional heritage team sports to smaller minority sports where so many students excel. I for one am looking forward to it. Later this term the rugby gala dinner for both past and present players should be a swashbuckling affair as we raise a glass to the coaches and boys who have given and gained so much from the sport over the last 50 years.
Roll on Spring!