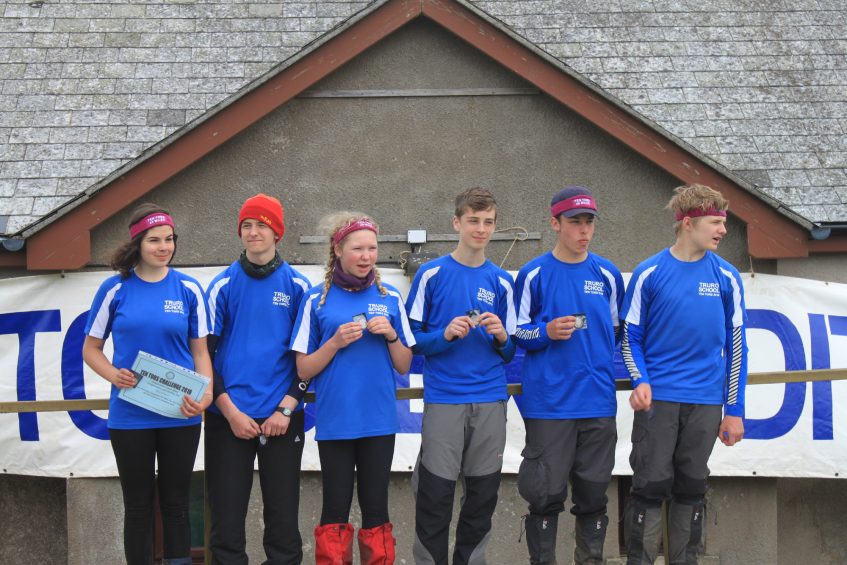 It's amazing to think that over the last 60 years 2.4 million young people in the UK have completed the Duke of Edinburgh's award. I'm pretty sure, all those years ago, that Prince Philip had no idea what a profound effect the award would have on so many lives; building self-confidence, self-reliance, determination, the ability to work in a team and to solve problems, to pick out a few of the benefits. The Association of Graduate Recruiters quite rightly identifies these as exactly the qualities that are sought after in the workplace.
I write this blog on the flight back to Cornwall from London having been invited to Buckingham Palace to celebrate the diamond anniversary of the DoE award. It was fantastic too that one of our DoE prefects, Robert Pryce, had his name pulled out of a hat to be there too. What an impressive ambassador he has been for Truro School and the award. This year we have record numbers of participants enrolled in the award; 106 bronze, 42 silver and 37 gold. Our completion rates are almost double the national average, making our programme one of the finest in the South West. As ever, this is only possible because of the generosity and skill of many of our teaching staff as well as a band of loyal and enthusiastic parents.
If you'll forgive me for waxing lyrical for a moment, I think it's fair to say that this movement will have had and continues to have an enormous and positive impact on the culture of life in Great Britain. As a South African who now considers Britain as home, I think it's a fine thing that this is a nation of walkers, of explorers, of people with a sense of humour, who are able to poke fun at others and laugh at themselves in equal measure, a place where symphony orchestras and choral singing and random acts of kindness are woven into the fabric of life. I reckon the DoE has contributed to this in its own way.
We will be building upon our co-curricular programme in the coming year, increasing the breadth of activities, clubs and societies that I would like to offer our pupils. Finding and fulfilling talents is always life changing and this must be a Truro School commitment as well as an expectation on our pupils. We have a talented common room of teachers and I want each of them to be able to share their passions through the richness of our co-curricular programme. There is a school in Oxfordshire which calls it The Other Half in recognition that in a good school, students learn as much outside the classroom as they do inside it. In my last school I ran a wine tasting club for the upper sixth which was great fun and I daresay reasonably educational. Watch this space! More about that at another time.
Exam season is upon us, the 5th Year are officially on study leave although I hope that many of them will stick to their tried and tested routine and come into school for revision classes. The experience of the lower sixth this term is of more learning and less testing than in previous years. In a year's time when the vast majority of A Levels will be examined terminally, we will enjoy the benefits of a summer term with even greater contact time in the classroom. I look forward to welcoming parents to the upper sixth leavers' chapel service and lunch on Friday. There will be laughter, there will be tears, there will be great music and shared memories with a fine buffet lunch afterwards. Please do come along.