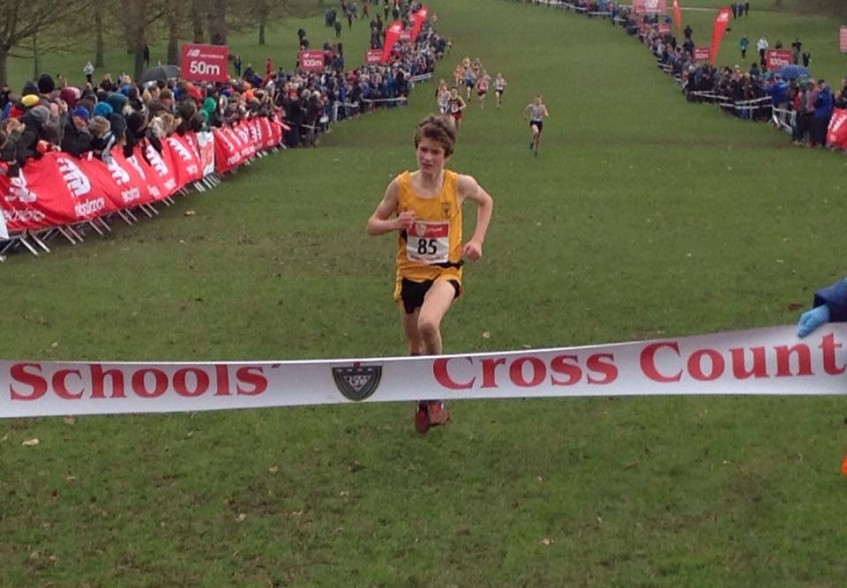 On Saturday five Truro School boys competed against the top runners from 44 counties in the National Schools Cross Country Championships at Wollaton Park, Nottingham. This is the premier national event for the junior and intermediate age groups, and what a day it was for 3rd Year student Harris Mier!


The Story of the Day



At the top of his age group (Junior Boys), and running exceptionally well this year, he should have been one of the favourites but did not get a mention in the pre-race promotional material. That was soon to change, however, as his 4.5km race got underway on what was a fairly flat, parkland course with just one moderate hill and a few muddy sections. From an unfavourable 'pen' position, Harris got a great start, sprinting 400m to the first 'hair-pin' to get into second place.

In his post-race interview, Harris said:
"I knew I needed to get out in front as soon as possible because there was a tight corner early on in the race."

Harris soon took the lead and by the end of the first lap he was in front of a group of seven. Harris looked in complete control as the second and final lap developed. First he broke away with two other runners and then, with 1km to go, he moved up a gear to gradually pull away from them.

Harris said:
"I took the lead fairly early and I knew that there were a lot of people behind me. I was worried that I had taken off a little too quickly but then the race pace slowed down. From there I stayed with the front pack and broke away during the second lap of the course."

Harris entered the long finishing straight on his own being cheered on by a large crowd, finally crossing the tape 8 seconds ahead of the chasing pack!


Team England Qualification
Not only did Harris win this prestigious national title but in doing so he has been selected to run for England in the home international in Scotland in two weeks' time. Harris becomes the fourth Truro School pupil in recent years to be coached to international honours by Coach John Knowles.

Harris said:
John Knowles has been my coach since my brother and I joined Truro School in Year 7. He has helped me to run a lot better. This year we have really stepped up training and it has worked well.
Take a bow Harris Mier, English Schools Junior Boys champion!!! @JK_Team @TruroSchool #proud

— Ed Laslett (@EdLaslett) March 5, 2016
So thrilled Harris Mier has just won junior boys at ESSA Nottingham @TruroSchool @JK_Team

— Pia Birnie (@PiaBirnie) March 5, 2016
Strong Performances All Round
There were other fine performances on the day. In the same race Elliot had what was probably his best race of the year, coming 121st (3rd in the Cornwall team) out of the field of 337. Benjy, being a year young in this age group, was not expecting to be up with the front runners but neither was he expecting to be last after the first 'hair-pin'! After being bundled over he was unable to get back up on his feet in the crowd on this tight corner until all the runners had passed by. Not giving up, he ran superbly thereafter overtaking 41 other runners before the finish.

In the Intermediate Boys race (5.6km), Finn continued his excellent season coming in 33rd overall (2nd in the Cornwall team) but this hides the fact that this ranks him 6th in his year group nationally (he is a year young in the Intermediate Boys age group). Alexander came 133rd out of 335 runners (4th in the Cornwall team), another excellent run given that he is also a year young and this puts him in the top 50 for his year group nationally. Finn and Alexander helped the Cornish Intermediate Boys team to an impressive 12th, the highest placed Cornwall team on the day.

These are exceptional results for all the Truro School athletes and next week they move on to the National Inter-Counties Championships in Birmingham, the top national event for the Under 13 and Under 15 age groups.