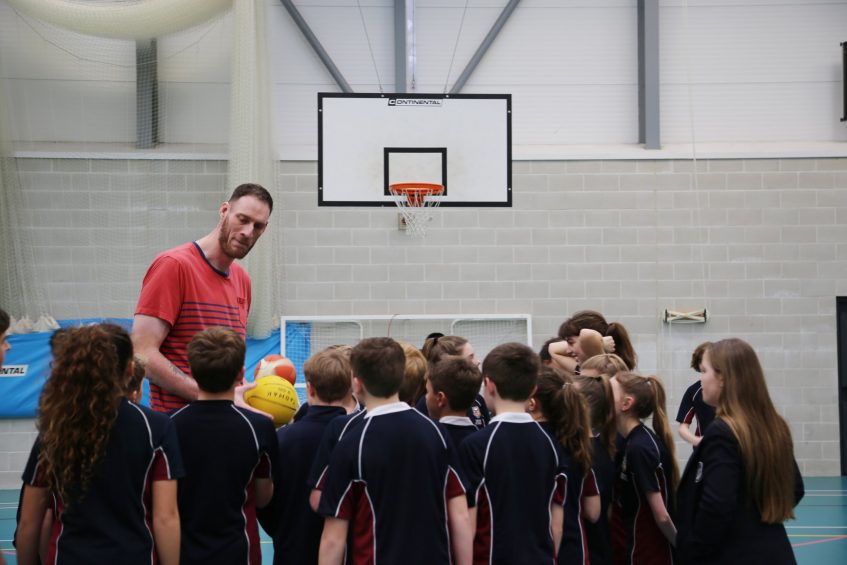 Former NBA Dallas Maverick and current Harlem Globetrotter, Paul Sturgess, visited Truro School on Thursday to put the 2nd and 3rd years through their paces in games.
Paul stands a majestic 7ft7″ and is Britain's tallest man. He is currently the 8th tallest man in the world and the tallest basketball player ever. He has size 18 feet, a hand span of 31 cm, wing span of 7ft10″ and weighs in at 27 stone. Paul has to cram in 9000 calories a day to maintain his physique! He is currently taking a break from basketball and has ventured in to acting. He has starred in the new fantastic beasts film, just completed filming for doctor who and has been working with Jonny Depp and Jude law on the latest Disney movie.
Paul started the lesson with a great talk on accepting your differences from others. His key theme of accepting who you are and believing in yourself was well received from the students. Paul was keen to stress that he has faced a lot of battles and ridicule for being so tall but he refused to let that pull him down. By embracing his size, Paul has become a professional sportsman and now a film star! He also went on to talk about healthy eating and why it is important. The pupils then got a chance to ask questions and find out more about Paul's amazing story. The lesson was finished with games, tricks and pupils swarming around Paul to compare skills and height difference!