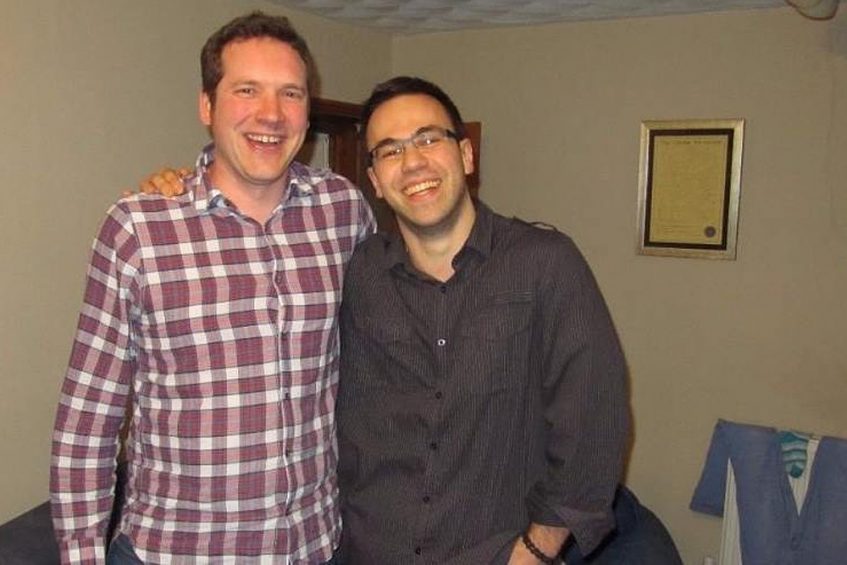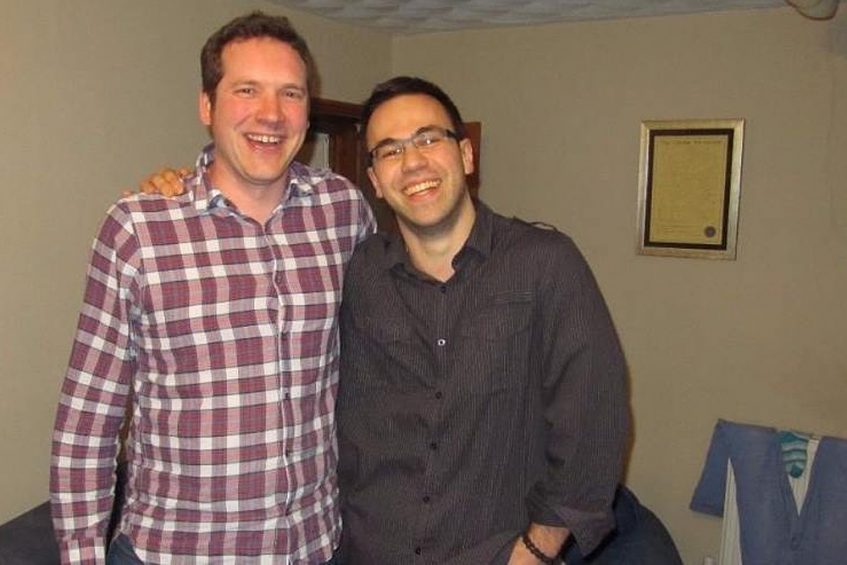 Costa (right) explains how he came to settle in Cornwall.
I am pretty sure it was one of the wintry months in late 1998, or perhaps it was early 1999 that I had my scholarship interview – I am not quite sure.  I do, however, remember treading the slushy mix of snow and mud as I walked towards the Open Society offices in Sofia, Bulgaria.  It was happening very fast and felt twice as unreal – the early stages of the scholarship competition had flown-by and two students from my school had passed to the final, interview stage.  The Open Society competition was funded by the George Soros foundation and offered students in Eastern European English-language schools the chance to study in the UK or US.  I knew it was very competitive and yet, somehow, I had passed the first two rounds and was about to be interviewed by a native English-speaker.  If successful, I could be offered a scholarship to attend a UK public school or, alternatively, an American college.  I wasn't thinking about that at all, though.  I was way too nervous and only hoped I didn't embarrass myself at the interview.
It turned out that contestants were going to be interviewed in groups of three, so as we walked out of the elevator towards the interview room on the second floor, I was frantically thinking of an opening line.  What do you say at such events?  Were you expected to formally introduce yourself?  Distracted by such thoughts, I found that as I stepped in the room my anxiety was gone.  The head interviewer (a certain Mr Dodd) was very charismatic, well-spoken and very British.  He allowed me to steer the conversation towards topics of my own interest – I was convinced I didn't stand a chance of being selected, so might as well have a bit of fun practising my English, right?
I had almost forgotten about the interview and was back in the swing of college routine, when I received the news one afternoon mid-week.  I was attending an English-language school and a portion of classes were taught by native speakers.  I still remember that it was Mr Dozer, an American, who told me at the beginning of our lesson.  He walked in the room and said: 'You are going to England!'.  He was a genuinely nice guy and was so excited for me.  I wasn't – this was so unexpected that I don't think I knew what was happening.  I thought there had been a mistake!  The best thing was that the other student from my school was also successful – he was off to spend a year in America.
There was no mistake though and less than 12 months later, I and 10 or so other scholarship recipients were on a flight to the UK.  We had met at an 'orienteering' session a few months before that but had bonded quickly and were super-excited and super-scared to be on our way to England.  The England we had only read about.  You have to bear in mind that this was a time when Fortress Europe was still out-of-reach for us Eastern Europeans and for a Bulgarian to travel to the UK; they had to fulfil an exhaustive list of requirements, which still did not guarantee the granting of a visa by the British Embassy.  I didn't have to worry about that as we were all granted student visas and, following touch-down at Gatwick were en-route to Fitzwilliam College, Cambridge for a 3-day introduction course.  What an experience that was – meeting students from across Eastern Europe, supping at the medieval –looking Dining Hall (think The Great Hall at Hogwarts)  I was so taken by the Englishness of it all that when the presenter invited questions after a particularly involved session on British customs I raised my hand and blurted-out: "So…do you put the milk in first, or last when you make tea?"…no, not one of my finest moments.
After Cambridge it was the long train-ride to Truro and I would never forget that coast-line as we moved from Devon and into Cornwall.  Everyone had told me that Cornwall was the English Riviera so I knew it was going to get even better!  Later that afternoon I was driven to an evening meal in a genuine English pub – courtesy of Mr Triggs who was the Housemaster at the time.  It sounds cliché but how could I not order fish'n'chips?  I remember my portion came with extra peas!
The following two years went by so, so fast.  Mr Dodd presented my request to the board of Governors and I was allowed to complete my A Level studies at Truro School.  Yes, I was motivated and wished to get a good education but, truth be told, I could not face leaving the school.  I had fallen in love with it!  I remember one of my term feedback cards saying something like: "Costa has become a full member of the Truro School community".  And that was true, I was given an amazing opportunity and was determined to experience it to the full, and that meant participating in everything from golf, football, the odd cricket game (even though I was atrociously bad at it!), school trips with the exchange students, two charity concerts and so on, and so forth.  I was able to hike the Cairngorms with Mr Triggs and a group of boarders in year one, and visit Belgium and France in the second year.  It was a dream-come-true in every sense and I couldn't imagine it ending.
Nevertheless, end it did and all of a sudden reality loomed big and scary.  I had offers to study Chemistry at university but, as it turned out, I was not entitled to a student loan.  That has all changed since Bulgaria joined the EU but back then there was no help.  I had to get a work permit and moved between factory jobs, working as a labourer, gardener, and builder – taking anything available and trying to gain the skills to do the job as quickly as I could.  All of this was in the hope of saving enough and getting to university – after all, that is why I had stayed.  In the meantime, I was also writing to large pharmaceuticals, trusts, any and every company I could think of, in order to seek financial assistance.  Unexpectedly it was Truro School in the person of Mr Dodd that came to the rescue, once again.  He put me in contact with the Adams Youth Trust, which, after a series of meetings agreed to offer me a merit-based scholarship for my part-time studies at the Open University.  I was no longer proposing to study Chemistry, though but followed my real passion – the social sciences.
Six years later and holding a BA (Hons) in Politics, Philosophy and Economics I started work for Cornwall Council.  I spent seven years working for three different Directorates and always moving ahead of planned restructures and threats of redundancy.  In 2005 I got married and in 2011 my wife and I became parents to twins, George and Evelyn.  In 2012 I started a Masters in HR when my lecturers at Plymouth University encouraged me to apply for a PhD scholarship which was to be advertised shortly.  I thought, 'why not' and prepared a proposal.  This led to an interview and in 2013 I was officially a PhD student, studying the impact of low-pay work on worker experiences.  Three years after, and I am about to submit my thesis, applying for lecturing jobs and getting ready for the next challenge.  I never forget how extremely fortunate I have been and how I owe the amazing, exciting, sometimes challenging but never dull experiences of the past 17 years to Truro School.  I don't know what lies ahead but I hope I can always 'be, rather than seem to be'.  Esse Quam Videri.
Costa Manolchev (Truro School – 1998-2001)