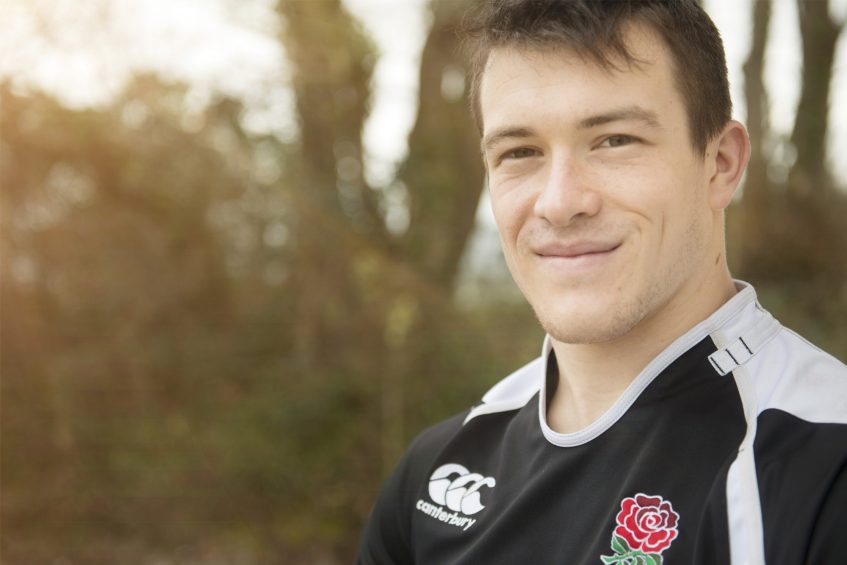 Locryn describes his transition from Rugby to Judo following a serious head injury.
Locryn Williams left Truro School in 2014 having been rugby captain of the Truro School Under 18s, Cornwall 18s and South and South West Under 18s and playing for Exeter Chiefs and the Cornish Pirates.  Rugby was clearly a key factor in Locryn's life.  In March 2015 he headed off to New Zealand to join the Canterbury Crusaders International high performance unit.  The Crusaders are the world's most successful non-international professional rugby team.  Locryn was looking forward to the prospect of a future career as a professional rugby player. 
"When I was in New Zealand I was preparing for the coming season as a professional with Chinnor RFC, based in Thame, Oxfordshire, and attending university at Oxford Brookes.  I had accommodation sorted in a rugby house and my salary would have made me independent with the probability of moving to Championship and then Premiership with each year. So I was pretty set."
Little did he know that his last game in New Zealand would take place in June.  The game was an important one, and if they won would mean the Crusaders would get through to the play-offs.  Locryn describes:  
"They had an overlap of 6 on 2 so I decided to cut them off and force the play. Body on the line kind of stuff. The next part I don't remember.   I was told by the Crusader doctor that I needed 6 months out of the game. This devastated me as all my plans for the coming year had come crashing down."
Locryn was also given the news that if he suffered one more knockout it would mean the end of his rugby career.  This news was devastating; he was in New Zealand with no one there to support him.  He wasn't able to make any plans with his future team or even develop any coping strategies whilst the symptoms of his injury persisted during the following month.  He decided all he could do was try to enjoy his environment and decided to travel in New Zealand.
Returning home to the UK in August, Locryn was having to deal with uncertainty of his condition.  Not playing rugby was very hard for him as sport was an integral part of his life.  He fell back on his other sporting passion – judo.
"The only thing that kept me going to be honest was the thought that actually, during Easter, I could finally get my black belt in judo. So this became my silver lining."
Over the course of the coming months, whilst Locryn was unable to play rugby, he took part in multiple judo tournaments and won a national competition which put him in the running for national squad.  This was a surprise to Locryn as he hadn't been taking part in Judo competitions for over 4 years. He recalls:
Graham Whitmore, (Director of Sport, Truro School) always said I should concentrate on judo instead of rugby!
He fought in the Southend International where he wasn't expected to win or even get into the medal positions but to his surprise he got through to the final and ended up with Silver. 
"I lost with 30 seconds to go to a Judo fighter who had swept the floor with everyone else."
At the London Universities Competition Locryn, still a brown belt, was not expected to do well as in his group he would eventually be drawn against the number 1 seed who was ranked in the British system and Internationally.  The competition attracted a large crowd, including coaches and referees.  Locryn won after 4:30 minutes of fighting and barely remained conscious during a strangle hold.  He received numerous congratulations from those watching.
Locryn remembers:
I lost in the semis after effectively throwing myself, I was exhausted, highlighting the difference between a near pro judo fighter (the guy won in the end) and me, who did it recreationally.
In February 2016 Locryn was approached by Cornwall RFC; would he be willing to play for them as they were low on number?  He was naturally cautious as he hadn't played for so long but he eventually agreed with the assurance that there was genuinely no one else available in Cornwall as he didn't want to take someone else's place.
Locryn said:
I played my best game since playing for Chinnor the previous season. I was congratulated all around, even by the England Under 20s head coach. I was pleased and realised how much I missed playing.
The following game was against Devon in a relegation match and they won but Locryn doesn't remember the game at all.  He didn't remember anything until the pain in the hospital, the like of which he had never felt before.  Locryn recalls the doctor arrived and delivered even more devastating news to him and his family: If he valued his brain, he should never play rugby again. 
He remembers this was his lowest point: 
I was shocked in a word. So was my Dad; rugby runs in our blood with my grandfather playing for and captaining England School Boys, my uncles getting to final England trials and my Dad playing for Cornwall and Devon prior to stopping due to injury. My family grew up messing around with a rugby ball before we can walk, the whole family were gutted.
But what hurt Locryn most was the prospect of losing his other life-line, people were saying that in the coming weeks he wouldn't be able to attempt his black belt in Judo, something he had been working hard for.  He couldn't accept this. 
I refused to listen to the naysayers and fought on the day, there was no way I wouldn't because of how it kept my head above water during my time in New Zealand.
Locryn won all 3 fights, but was left with his head spinning, ultimately he had to concede to taking some time off.
Coming back after the disappointment of his enforced retirement has given Locryn a new perspective: To look up and live life without worry; well maybe with just a little worry. 
"Has judo helped me? Unbelievably so. I needed something to cling to. I was drowning in self-pity and depression, not to put it too lightly, judo was a lifeline which I held on to in the hope it would drag me out, and it worked."
Locryn has been surprised at how much he enjoyed and gained from his judo success and surprisingly, also for being recognised publicly for his determination not to be beaten by adversity and Locryn says his Mum and Dad are ecstatic too.
Everyone at Truro School wishes Locryn well and we hope to hear of his future successes.