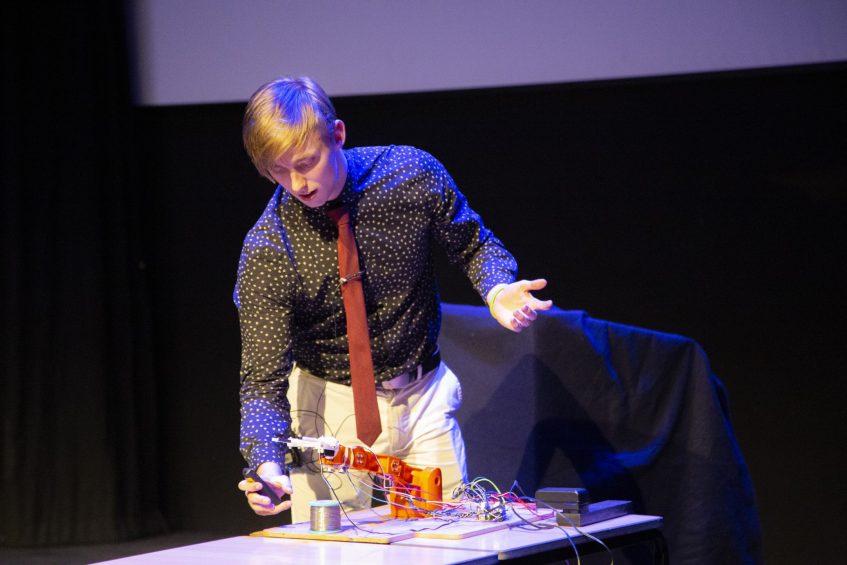 Our unique approach to delivering the EPQ is extremely effective at developing skills that are highly valued by universities and future employers, such as research, evaluation and presentation.
The Extended Project Qualification (EPQ) has developed into a qualification of real distinctiveness for our sixth formers, helping them to hone all the research and independent study skills required at university, whilst gaining a real expertise in a subject area of their choice.
Monday and Tuesday evenings in the Burrell Theatre saw the culmination of these projects with the students performing their viva, explaining their work and taking questions from the floor.
The Extended Project Qualification at Truro School is an established A-Level programme that equips students with a range of professional, academic and personal skills. From researching to referencing; discussing to creating; each student's project is a unique venture into a personalised area of interest. Students select one project from an option of four (artefact, dissertation, investigation and performance) and delves into a defined area of enquiry. After completing their projects, they are finally required to present their work to a non-specialist audience. The following abstracts below are from the 2019 cohort who presented this week.
Billy Bateson – Artefact
Assembling and programming a robot arm that can perform similar actions to that of a factory robot without human input.
My brief was a broad one that allowed me to decide what kind of action I could get my robot to perform. I chose to get the arm to pick up an object totally autonomously as I feel that any human interference would slow down procedures, such as: controlling the movements of the robot or selecting what the robot should move to. This is due to a computer's superior ability to complete tasks as efficiently as possible. The extent that I achieved my brief is that I have been able to prove that my concept is possible when it comes to automated finding. I reached the point where the robot can find an object and move towards it.
Millie Macdonald – Artefact
To design and produce a conceptual mixed media art installation as a form of social engagement in the style of Chinese political artist Ai Weiwei
This Project is very personal to me as it represents my observations during my Childhood growing up in Beijing. I have witnessed the rapidly evolving Beijing and realised the contrasts between its traditional heritage and desire for modernization have sparked controversy. Even as a young girl on her bus route to school I could visibly see the city evolving by the day as new skyscapers emerged from the rubble of demolished villages. Beijing is a place where ancient historical sights stand side-by-side with a thriving avant-garde culture. Modern China is a place with an identity collision between old and new. This dichotomy has been explored by artist and activist Ai weiwei, the inspiration behind my project.
Ben Reed – Artefact
To create a Lavender Indian Game and breeding program through selective breeding, to enable the coronation to be made.
My original brief was to create the breeding program and the Lavender bird, to promote the Indian Game in order to hopefully attract more breeders. This has been achieved and I have created the extra program for the coronation project. This enables me to carry on the project outside of the EPQ and create a more acceptable colour, which will have yellow legs.
James Vanstone – Artefact
Kernow: To design a game about Cornish industry through the ages.
This project is the journey I took in designing a brief for a board game based on industry in Cornwall, detailing mechanics, themes, and implementation of historical events. I chose this theme as I want to increase awareness of Cornish history through an easily accessible medium and a board game is an excellent choice for this, and I wanted to expand my knowledge on designing functional game mechanics and researching content. In terms of meeting my project objectives, I feel that I have met the title and produced a design that I am happy with, whilst also developing my skills in designing, organising and then further refining the game mechanics and aesthetics.
Oliver Lucas – Dissertation
How likely are humans to colonise mars within the next 50 years?
This project identifies the technological advancements needed for the colonisation of Mars to be possible. This includes the life support systems, rocket technology and finances of the mission. The author concludes that colonisation is feasible in the 50-year time period outlined. However, due to a lack of a strong motive and the fact that a lot of the systems required to complete these goals are untested in such a hard environment such as that on the Martian surface or not developed to the level required, this raises some ethical issues of sending humans that may compromise the likelihood of the mission taking place in the next 50 years.
Finn Walker – Dissertation
Should Democracy be replaced with Epistocracy?
This project considers the question of whether or not Democracy (rule by the people) should be replaced with Epistocracy (rule by the wise). It first considers the instrumental argument between Epistocracy and Democracy which concerns which system would produce better outcomes in promoting the 'common good'. The author concludes that whilst Epistocracy may prove to be a viable alternative to Democracy in the future, it needs more detailed work into how it could be realistically set up in a real world scenario before it could be implemented.
Charlie Standen – Dissertation
To what extent is the Marxist interpretation of the causes of the French Revolution still valid?
The importance of this dissertation was not only restricted to the longstanding debate over the French Revolution but also to gauge the significance of how we approach historical debate. Whether ideology is appropriate in influencing historical interpretation, or whether an empirically grounded thesis is always superior to a more subjective one are the significant questions in that they can transform one's outlook on a certain topic. Although it is obvious that one's historical interpretation is bound to be influenced by one's wider held beliefs, the significance of such influence is one the author underestimated at the start of this project. This was certainly the case when looking at the Marxist interpretations and assertions which proved to be very intimately intertwined with their ideology.
Finn Birnie: Dissertation
Doping within the realms of sport: is what's being done enough?
This project looks into doping within sport, this refers to the use of artificial enhancers and methods to gain an unfair advantage over other competitors in sport. The project provides a brief outline of the history of doping and looks into cases such as the Lance Armstrong scandal. The author concludes that the World Anti-Doping Agency and other international agencies have been doing all they can to try and make sport cleaner, with the increased number of tests; improved educational strategies; the development of the prohibited list a simplistic way for an athlete to understand which substances are permitted; the use of whereabouts information to effectively monitor athletes.
James Bourgignon: Dissertation
Is the commercial aviation industry doing enough through innovation in technology to limit its effect on Global Warming?
The aim of the project was to evaluate and compare the various methods that the commercial aviation industry has been implementing which are in the category of 'innovation in technology'. Furthermore, within the discussion the author has come to a decision of the effectiveness of each individual method, these were: Winglets, Composite Materials, New Aircraft, Biofuels, Electric Taxiing System, Fuel Efficiency Software, Changing Aircraft Tail size and Protective Coatings to improve air flow. In the conclusion the author concluded that the commercial aviation industry is doing enough to limit its effect on global warming and to meet the International Air Transport Association's (IATA) target of reducing the commercial aviation industry's net carbon emissions by 50% by 2050, and that the only limiting factor to the success of the commercial aviation industry is time.
Maisy Vincent: Dissertation
Should lessons in drama be compulsory for all secondary school students due to the health benefits (physical, mental, and social) in adolescents?
This project aims to evaluate whether drama should be a compulsory subject in UK secondary schools due to its potential to improve adolescent health. The author explores the health benefits of drama and its ability to be a tool for successful health education while considering the economic and logistical difficulties of offering drama to all students and the factors that could cause reluctance in schools to implement it. It also explores other platforms that could provide similar health benefits in teenagers, such as community programs, and sport lessons. There is a focused case study on how drama could support students with autism spectrum disorder and attention deficit hyperactivity disorder. The author concludes that drama has the ability to improve adolescent health but it would be difficult to make drama lessons compulsory for all secondary school students therefore a preferable platform would be adding drama activities to Personal, Social, Health and Economic lessons or making good access to drama as a co-curricular activity.
Alexander Mccartney: Dissertation
Is Online Journalism Justified in its representation of Venomous Snakes of Malaysia?
This project set out to judge how justified online journalism was in its representation of venomous snakes of Malaysia. The author concluded that online journalism is completely justified in its representation of venomous snakes of Malaysia. However, the author recommended that more emphasis is made by journalists to teach the public about the dangers of snakes and the correct ways to remove snakes from dwellings and thus lower the risk of snake encounters. Furthermore, the author recommended that more effort is made to document snakes that are members of the Hydrophiidae and Colubridae families as their exposure through online journalism is extremely low.
Anna Wuebbena – Dissertation
Should Germany extend it's video surveillance and follow the example of Great Britain?
This project aims to explore the differences between Germany and Great Britain regarding video surveillance. Noticing the remarkably different amounts of video surveillance in both countries, the project considers legal approaches as well as historical viewpoints from historians like Norbert Frei and Manfred Schmidt to find a reason for these differences, as these seem to be the most acceptable and logical approaches. The author discovers that it is not only a question of how reasonable it would be to extend German video surveillance, but also a question of Germany's ability to follow the British example. This dissertation concludes that it is not possible for Germany to do so and on top of that not reasonable as well. However, it would be possible for Germany to extend its video surveillance in a very limited way.
Callum Penry – Dissertation
To what extent were the British to blame for the murder of 'The Twenty-Six Commissars of Baku' in 1918?
The aim of the project was to explore the extent to which the British were to blame for the murder of the 'Twenty-Six Commissars of Baku.' Whilst touching on the nature of the British occupation of Baku and the impact of the affair on Anglo-Soviet relations, far more detailed accounts of those topics can be found elsewhere. The project found that the British were partly to blame for the murder of the Commissars in that it was within their power to stop the murders.  However, there is insufficient substantial evidence to prove that the British were totally to blame in facilitating the murders.