Nursery Taster Sessions
Children aged 2 to 4 years and their parents are invited to attend one of our Nursery taster afternoons on either Friday 2 February or Friday 2 March 2018 (advanced booking required).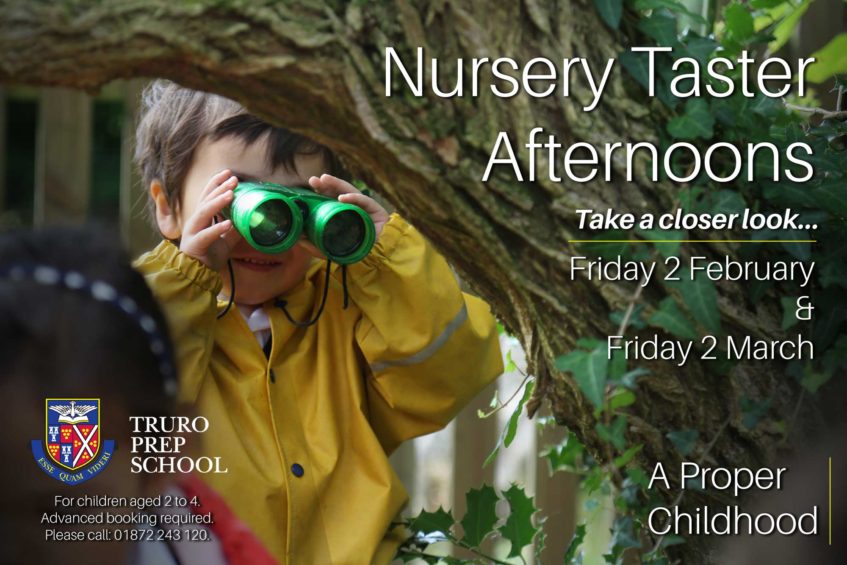 Both events will take place between 1.45pm and 3pm. You and your child will be able to take part in group activities, spend time in our enchanted garden, meet existing Reception pupils and play in the Nursery.
You will be able to take a tour of the facilities, explore the setting and speak to teachers. Alternatively, parents can stay with their children throughout the activities.
You will receive a warm welcome from Head of Early Years provision, Kate Williams, after which you will be free to explore our beautiful setting, where your children can join in a typical nursery 'stay and play' session with fun and stimulating activities.
100% Speaking, Reading and Writing
With 100% scores for speaking, reading and writing in the latest Early Learning Goals data, your child will be guaranteed an outstanding start to their education.
100
%
Writing at Truro Pre-Prep
100
%
Speaking at Truro Pre-Prep
100
%
Reading at Truro Pre-Prep

Click here to find out more about Truro Pre-Prep's outstanding Early Learning results.
Limited Spaces – Booking Required
Please note that there are limited spaces at our Early Years Taster sessions and advanced booking is therefore required. To book your place, please email Simone Weston, Pre-Prep Admissions Manager, via SCW@truroschool.com or call 01872 243120.
3 Reasons to Choose Truro Prep School


Here at Truro Pre-Prep we believe that education is so much more than simply what happens in the classroom.
With the Cornish coastline on our doorstep we like to make the most of our beautiful setting and often take our learning outdoors.
In addition to swimming lessons in our on-site pool, we are proud to have outstanding Forest School provision and facilities. We have two fully qualified and highly skilled Forest School Co-ordinators who through their training are able to bring out the most from the outdoor learning environment.


Bringing up young children can be demanding and we understand that working parents are very busy, often working overtime.
Early Birds' Club is available for pupils in the dining hall from 7.45am with breakfast, games and activities to get the morning started.
There is an After School Care Club that runs from 3:45pm to 5:30pm. Held in the Pre-Prep building, a variety of group activities are available enabling you to work flexibly whilst ensuring that your children are happy and in safe hands.


Our teachers are delighted to provide a rich and varied curriculum at Truro Prep School. Elements of the curriculum include building confidence, understanding the world around us, physical development and much more.
Find out more