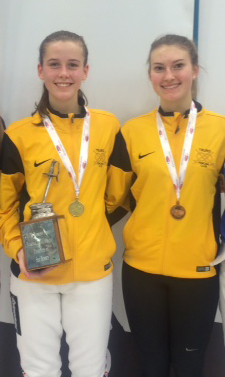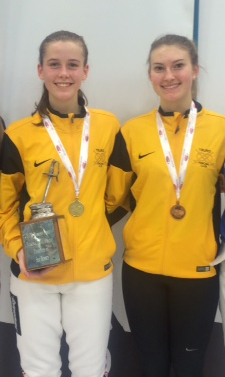 In the Under 17 and Under 20 National Fencing Championships this weekend our younger fencers did themselves proud with very solid results. Eoghan Cromie came 25th in the Under 17 and 55th in the Under 20 foil events. Sophie Whinney clinched 40th place with a fantastic 25th place finish for Daisy Boyes-Hunter in the Under 17 epee competition.

Jamie Craze took a very impressive bronze in the Under 20 men's sabre, along with a 6th place finish the day before in the Under 17 event. Nick Howes finished in a strong 5th place in the Under 20s too. Other impressive Under 17 men's results were Alex Boote's 10th place finish, Luke Haynes' 12th place, Bertie Holdsworth came in 14th and Sam Boorne in 31st. Our youngest entrant, Max Cromie was gaining invaluable experience at such an early age, taking 49th place.


In the Under 17 women's event Caitlin Maxwell continued to fence according to her GB ranking taking home the double, being crowned both Under 17 and Under 20 national champion. Maria Chart also secured an impressive result, taking the bronze in the Under 20 event followed by Jenna Bray in 12th. Keely Rodda had a strong weekend taking 6th place in the Under 17, along with Molly and Lily Wood finishing in 17th and 18th place respectively.