Welcome to the new academic year!
Dear Parents and Students,
I hope you have all had the opportunity to enjoy some Cornish sunshine, or even some from further afield.  Most importantly, I hope that all the children managed to recharge their batteries, ready for the school year ahead, and that memories of sunny days on the beach will stay with them as the dark nights draw in and the excitement for Christmas takes over.
For some, they will be entering their final year of primary school and getting ready for the jump to senior school and for others they will be preparing for those all important GCSE examinations and making plans for what lies ahead afterwards.  Or you may simply be planning well ahead for school years beyond September 2018.  Whatever your plans, we have an event to suit and we look forward to welcoming you to Truro School to show you around and chat about all that school life here has to offer.
Sixth Form Open Evening
Our first of the year is the Sixth Form Open Evening on Wednesday, 27 September 5-7.30pm.  Ideally for those students currently in Year 11 but open to those in Year 10 as well who would like to be well prepared about their next steps.  It is an event for internal and external visitors giving students and parents the opportunity to visit all the A Level departments, talk to Heads of Departments and staff and, most importantly, talk to sixth form students currently studying each course.  In addition, there will be lots of information about the co-curricular opportunities within the Sixth Form which are all so important in preparing young people for moving on to university, apprenticeships or employment:  Leave us with a CV, not just exam results.  Students have the opportunity to follow this visit with a "Sixth Form Taster Day".  Once they have narrowed down their subject options, we can create a day where they shadow our current Sixth Formers in subjects of interest to get the full experience of what it is like to be part of our Sixth Form Community.
To find out more, click here.
Senior School Open Morning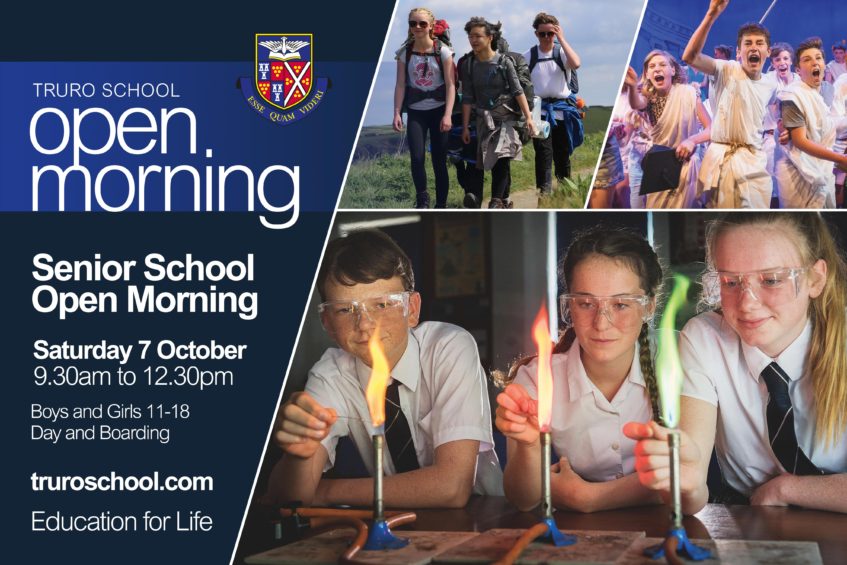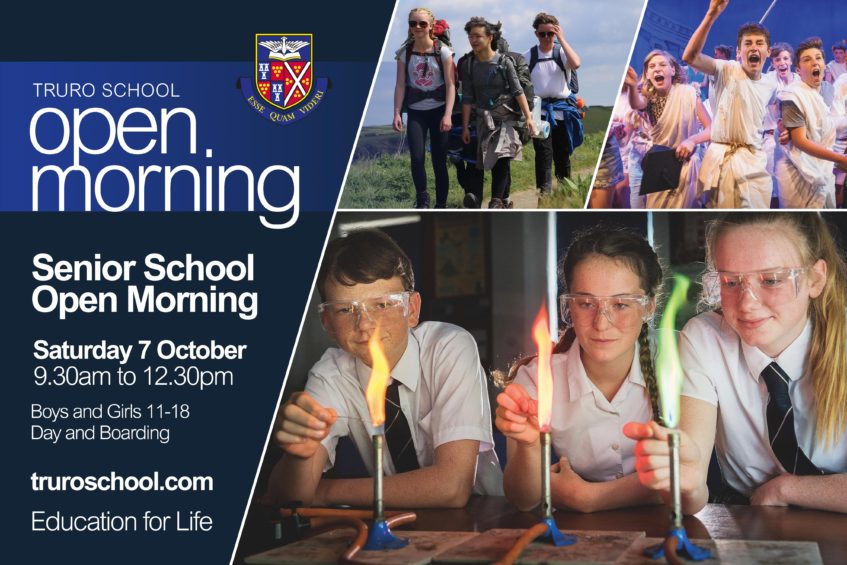 Secondly, our Senior School Open Morning on Saturday, 7 October 9.30am-12.30pm.  Children and parents can wander the campus meeting staff and current students and getting "hands-on" experience in subject and activity environments.  Take a map and stroll at your leisure or use one of our student guides who will look after you as you move from department to department.  Ideal for those in Year 6 at primary schools (or Year 8 at prep schools) but all are welcome.  My advice is that if your son or daughter is keen and eager to "have-a-go" at everything on offer, you will definitely need two visits.
To find out more, click here.
School Tours
If you would also like to see the school "in operation", please contact Emma Williams, my Admissions Assistant, on 01872 246062 or admissions@truroschool.com to arrange a tour during the school day.  I will be able to meet you at the same time to chat through any questions you, or your children, may have.
I look forward to meeting you at one of our events in the future and am very happy to discuss Truro School's admissions process with your over the telephone, if you have specific queries.
Our October Newsletter will give further details about applications and scholarships but please do not hesitate to let us know if we can help.
Wishing everyone a very happy and successful academic year 2017-18 and looking forward to meeting up with many of you.
Jayne Grigg
Director of Admissions