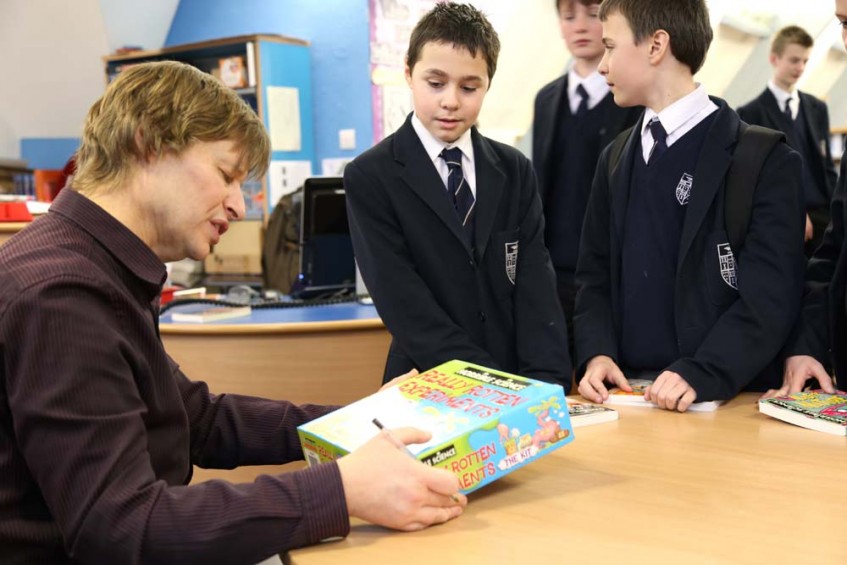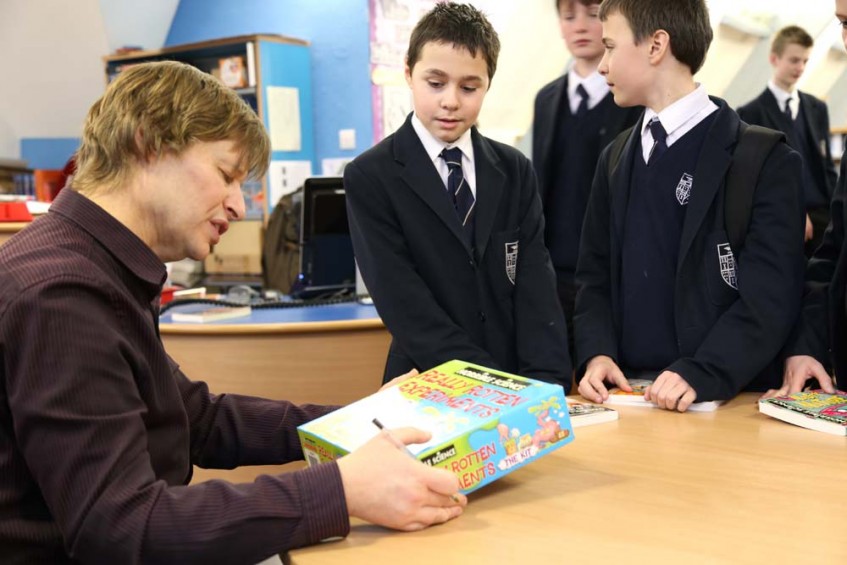 Opportunities to meet a children's author who has sold over 15 million books across 40 countries are scarce, but that is exactly what the Truro School library team had in store for students this week!

Children from Truro School, Truro Prep School and local primary schools, including Shortlanesend, Chacewater and St Mary's C of E (Penzance), all came to see Nick Arnold, author of the Horrible Sciences series, as he spent two days leading a series of fun and interactive science presentations at Truro School on Tuesday 26 and Wednesday 27 January.


With gross experiments galore and capacity crowds in the school's theatre, students were regularly kept on the edge of their seats as science turned messy in each of the presentations.
Katherine Nelhams, one of the Librarians at Truro School, said:
"We chose Nick specifically as he is renowned for being a high-energy speaker, who makes Science fun, engaging and accessible. From the noise made in the theatre we certainly think this was the case!"
She continued:
"The opportunity to invite primary students from other schools became available via a Library Services contact, who was running a reading scheme for local schools. Nick seemed perfect and it was lovely to be able to share the event."
Throughout both days Nick illustrated a range of scientific theories, such as how air pressure, surface tension and gravity all worked together to make water travel upwards through a thin tube to get a poor volunteer soaked with water.
In another experiment Nick introduced the physics concept of inertia and explained, to light-hearted groans from the audience, how inertia had prevented a whole bucket of water falling on a student's head.
Nick Arnold said:
"The aim of my presentations is to bring science to life. What people tend to like best are live experiments. The idea is to inspire students to think about how the experiments work".
He continued:
"Apart from educating and entertaining students, I also hope that my presentations inspire the teaching staff. Science teachers are very enthusiastic about their subject but are often looking for fresh new ways to present various topics."

Each presentation culminated in a question and answer session where students could ask Nick anything they wanted.

The prize for best question went to 'why Horrible Science rather than Nice Science?' Nick answered:
"People seem to like things that are horrible. We want people to say 'yuk' and 'ewww, that's gross' as this actually makes them want to read a bit more. On the whole, people find that kind information a lot more exciting than simply a resuscitation of facts."

The end of each presentation concluded with a book signing, allowing students to purchase one of Nick's books to take home as a souvenir.


Following the event, Year 7 student Aloysius said:
"I liked the presentation because it was fascinating hearing about Nick's books and science. I loved seeing the experiments, especially the bucket of water over Daniel's head!"
This year marks the 20
th
anniversary of the
Horrible Science
series which started up following the success of the world-famous
Horrible History
series.
Mr Arnold continues to write best-sellers in this genre with more highly anticipated books set to be released in the near future.
Truro School Author Visits
Other author visits over the past 12 months have included Meg Rosoff and Anthony McGowan.