The last two nights have seen some incredible performances at the Burrell Theatre as the curtain was lifted on this year's annual charity rock festival.
The Motor Neurone Disease Association (MNDA) was this year's chosen charity and the students have managed to raise over £1000!
MNDA Senior Rock Concert
The Senior Rock Concert kicked off proceedings on Wednesday night (4 March) with Truro School's Sixth Formers taking to the stage, demonstrating a musical master class. One particular highlight was an unusual drum compere by Jon and James that was greeted by rapturous applause by the audience.
MNDA Junior Rock Concert
Last night was the turn of the 1st to 5th years in the Junior Rock Concert. All the students performed exceptionally well in a flawless concert with pitch-perfect singing. There were also plenty of hilariously awful jokes from Stan Somers and Rory Heard throughout.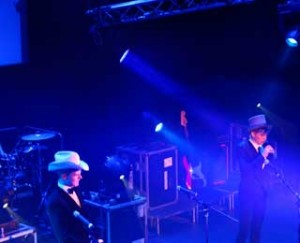 The end of this year's charity rock concerts was signed off in style with an unexpected group finale in which all the acts sang together on stage.
About Motor Neurone Disease
Motor Neurone Disease is a progressive degenerative disease that attacks the nerves in the brain and spinal cord. It effects the way that individuals walk, talk, eat, drink and breathe. The MNDA is becoming the leading charity looking to support all those with the disease and fund research into one day finding a cure.
A Thank You From the MND Association
@JamieCraze @TruroSchool Looks amazing, thank you so much!

— MND Association (@mndassoc) March 6, 2015
The Night in Pictures
To see our pick of the images from both rock concerts, please visit our school gallery.