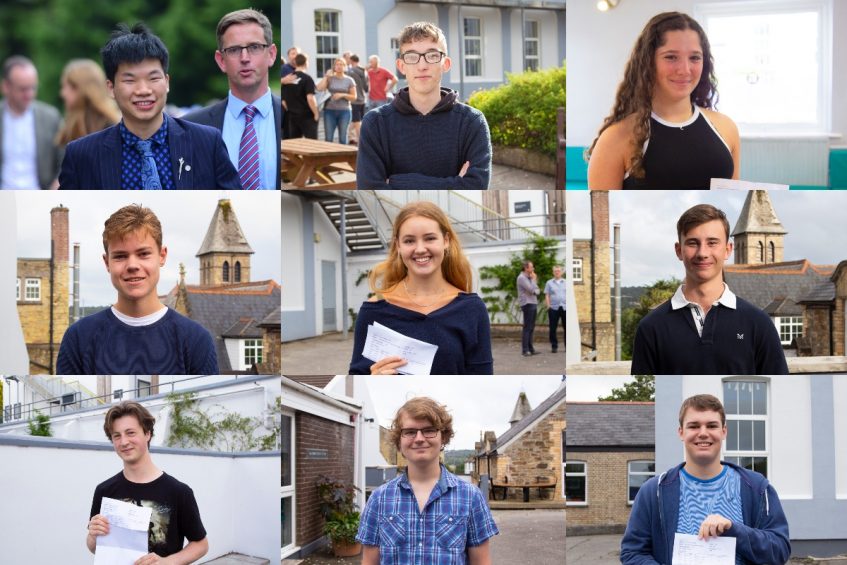 Some of the students we talked to this morning include:
Mars Ma, A*A*A*A*A, London School of Economics and Political Science
I was overjoyed with my A* results in Maths, Further Maths, Economics and Physics. I would like to thank Mr Williamson, Head of Sixth Form and Physics Teacher, for all his help over the last two years and in particular for developing my love for physics by making the lessons so enjoyable.
Millie MacDonald, A*AB and A* (EPQ), Durham University
I studied Geology, Biology and Chemistry but I'm going to pursue Geology at Durham. I'd like to say a big thank you to Miss Hope who was a brilliant teacher, she was the best, and the geology lessons were the best.
James Bourguignon, A*A*B, A (EPQ) Flying School
I'm very happy. I want to be a Pilot so I'm going to apply for a flying School, it was a matter of getting the best grades I could. I had a great time in Sixth Form, surrounded by friends in-between lessons. I appreciated those times more now because in Upper Sixth the lessons become more taxing and you need to knuckle down harder. Mr laity, Mr Pomery, Mrs Wormald, were all amazing, just thank you to all of them!
Pedrek Venton, A*AAA, University of Warwick
I did alright! I'm quite happy with that! I will be studying Philosophy, Politics, Economics (PPE). It's quite difficult to choose a highlight but I've done a lot of music as well as the academic side which was a nice balance. I don't want to single any teachers out because they all stand out to me, and I got on with them all really well.
David Taylor, A*AAAB, University of Bristol
I did quite well, I got my uni offer to study Computer Science so I'm really happy. There were so many highlights! I came out of my shell a lot more, and the balls were a nice way to spend time with friends and celebrate before we head off all over the country. It'll be nice to keep in contact. I will remember all the people and teachers I've met, it's all one big highlight.
Jemma Ball, A*AB, University of Surrey
I'm going to study Economics. All the support my teachers gave me was second to none, and the fun bits in-between studying were memorable.
Oscar Pringle, A*A*A*, University of St Andrew's
I did really well, better than I thought! I'm going to study economics which I took at A-level with Mr Whatley, who's been a really great help. The Gold Duke of Edinburgh (DoE) award was my highlight because we headed off to Slovenia for the expedition which was pretty cool. It was quite challenging and I met some great people out there.
Ollie Brocklebank, A*AB, University of St Andrew's
I will be studying Geology which I took at A-Level, Mrs Wormald was always there for me. Sixth Form allowed us to become more independent compared to school which was nice, the first year was fresh and new.
Finn Walker, AAB and A* (EPQ), University of Leeds
It went great! I got into my first choice at Leeds to study PPE – Philosophy Politics and Economics. Big thanks to Miss Stone who helped me so much with my EPQ because I was predicted an E and actually got an A*, she stuck with me. My EPQ was in political philosophy which has really helped me prepare for my degree.