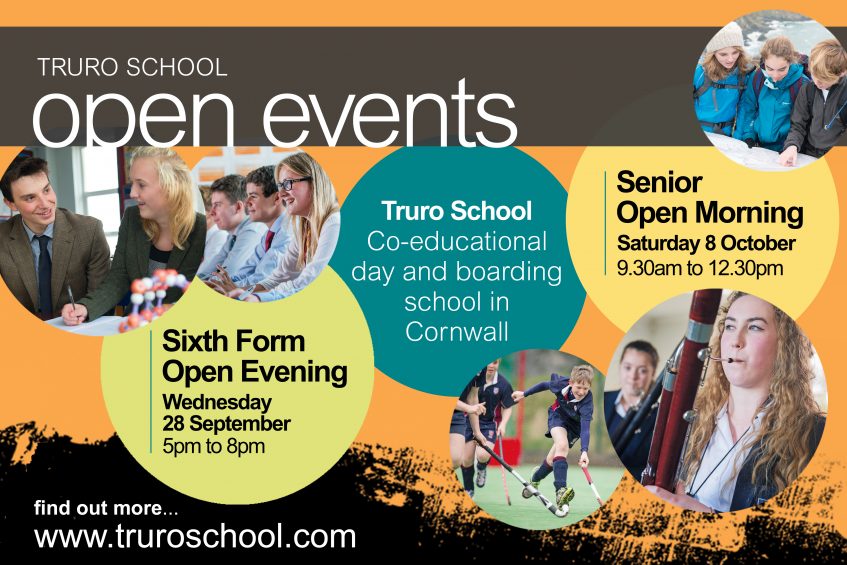 Get a flavour of what Truro School has to offer at our upcoming open events.
Senior School Family Open Morning
Family and friends are invited to come along and enjoy our Senior School Open Morning on Saturday 8th October between 9:30am and 12:30pm. 
From toddlers to grandparents, with a range of activities, displays and performances going on throughout the morning, this event promises to be a fun and interactive opportunity for the whole family to get a real taste of life at Truro School.
Spend as much or as little time on campus as you like, sit down and savour refreshments from the cafe and talk to staff in a relaxed environment.
Sixth Form Open Evening
You are invited to attend an Open Evening between 5:00pm and 8:00pm at Truro School on Wednesday 28 September. Get a flavour of the Sixth Form and talk to teachers and students in your subject areas in a relaxed environment.
Truro School has over 200 students studying their A Levels in the Sixth Form – not only from Cornwall, but the rest of the UK and overseas.
Arrivals on the Open Evening are flexible, however it is recommended that you turn up no later than 6:30pm to give you enough time to get a real taste of what Truro School Sixth Form has to offer. Advanced bookings not required.